After the Galaxy Z Flip 3's release last summer, the Samsung Galaxy Z Flip 4 will have a tough act to follow. With that particular design, Samsung improved all aspects of its clamshell-style foldable phone while lowering its beginning price to a much more manageable $999.
However, there is always potential for improvement, particularly in the still-nascent area of foldable phones. When a new version of the Galaxy Z Flip 3 launches later this year, Samsung has lots of opportunities to improve upon the current model. The Samsung Galaxy Z Flip 4 could alter the game as its predecessor did in terms of battery life and durability.
Specifications(Expected)
The Galaxy Z Flip 4 appears to be pretty similar to the current model based on the early leaks around it. According to a report, Samsung may retain the Galaxy Z Flip 3's 6.7-inch internal and 1.9-inch exterior screens. That would make sense given how well designed the Flip 3 is and how helpful the external display is.
Additionally, there are claims that Samsung has tested a Galaxy Z Flip 4 model with an under-display camera(opens in new tab). We sincerely hope that is not the case, given the subpar one on the Galaxy Z Fold 3. According to the source of this rumour, Samsung intends to lighten the Galaxy Z Flip 3 by changing the hinge configuration.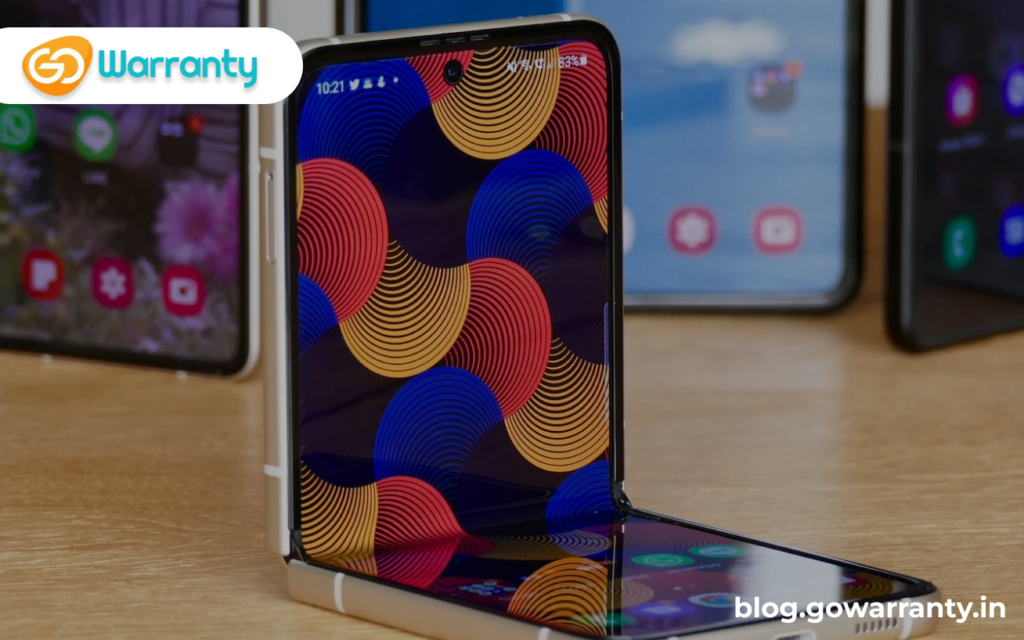 The Galaxy Z Flip 4 may use the same 3,300 mAh battery as the Flip 3 according to certain speculations. But according to two reports, Samsung intends to boost the overall capacity by 400 mAh. That's a respectable improvement, but considering the poor battery life of the existing Z Flip, Samsung must do more to raise the phone's productivity.
A fingerprint sensor that is positioned on the power button could be another resemblance to the earlier model. The Z Flip 4 and Z Fold 4 are better off without an under-display fingerprint sensor for the time being, despite Samsung's efforts to develop one for its foldables.
Table
| | |
| --- | --- |
| Chipset | Qualcomm Snapdragon |
| No of cores | 8 (octa core) |
| RAM | 8 GB |
| RAM Type | LPDDR5 |
| Height-Width | 6.50in-2.83in |
| Pixel Density | 401 ppi |
| Colour Reproduction | 16M Colours |
| Resolution | 1080 x 2460 pixels |
| Display Type | Dynamic AMOLED |
| Colour Reproduction | 16M Colours |
| TouchScreen | Yes, Capacitive, Multi-Touch |
| Rear camera setup | Dual |
| Rear Camera | 12MP(Primary), 12MP(Secondary) |
| Front camera | 10 MP Resolution |
| Flash | LED Rear flash |
| Video Resolution | 1920×1080 @ 30 fps |
| Camera Features | Auto FlashAuto FocusFace detectionTouch to focus |
| Battery Type and capacity | Li-ion, 3700 mAh |
| Fast Charging | Yes, 25W |
| Internal memory type | 256 GB, UFS 3.1 |
| Operating System | Android v12 |
| Custom UI | Samsung One UI |
| SIM Configuration | Dual SIM |
| Wi-Fi | Yes |
| Bluetooth | Bluetooth v5.0 |
| GPS | Yes with A-GPS |
| Fingerprint sensor | Yes, Side |
| Face Unlock | Yes |
| Other Sensor | Light SensorProximity SensorAccelerometerCompassGyroscope |
Design
Samsung skipped the second generation of the Galaxy Z Flip to align it with the Galaxy Z Fold series, and the Galaxy Z Flip 3 was a modest revision of the original Galaxy Z Flip. Based on what we've seen and heard, the Z Flip 4 may be yet another minor adjustment of the current model's design.
A number of renderings effectively display this. According to reports, the Z Flip 4 will be a familiar size and form with a bigger exterior display area. Inside, according to leaker Ice Universe, the Galaxy Z Flip 4's display crease would be significantly less obvious, which would address one of the most common criticisms about foldable phones.
The Z Flip 4 could receive a new hinge, similar to the Galaxy Z Fold 4, which might make the phone thinner. Though we believe the larger Fold will benefit more from this since it will make Samsung's foldables more portable, we will never be opposed to a more minimalist design. The only thing we have to rely on is that there will be four different colour options. They will reportedly be gold, silver, light blue, and light violet in colour.
Battery Life
The battery life of the Galaxy Z Flip 3 was appalling. It didn't even last six hours in the adaptive refresh rate setting in the Tom's Guide battery life test. That is not ideal. We believe that was partially brought on by the bigger cover display, 120Hz internal screens, and increased power consumption. If you chose the Galaxy Z Flip 3, we advised keeping a charger nearby in our review.
We would want to see longer battery life on the Galaxy Z Flip 4. Simple, but until Samsung includes bigger power packs, it would be a tall task. The Snapdragon 8 Plus Gen 1 chipset's increased power efficiency offers us some extra optimism about the likelihood that the Z Flip 4 may last longer.
Fast Charging
The maximum wired charging speed for the Galaxy Z Flip 3 was 15W, which is pitifully slow when compared to the rest of the market, much alone devices that cost $1,000 or more. We expected the Flip 3 to charge much more quickly, especially given how poor the battery life was, especially since phones like the OnePlus 9 Pro can charge at 65W. The Galaxy Z Flip 4 ought to have a minimum of 25W, which is what the Galaxy S22 measures. (The wired charging rate for the Galaxy S22 Ultra and Galaxy S22 Plus is 45W.)
More Durable and Gapless Hinge
We've received complaints that the Galaxy Z Flip 3 devices are cracking after only a few months of ownership, despite the fact that Samsung made significant improvements to the durability of the most recent generation of its foldables. Even if we lack personal experience to back up these studies, it's alarming to learn that some phones don't survive their first year of use. Foldables still have a long way to go in this area.
Ideally, the Galaxy Z Flip 4 would continue to gain strength and longevity. No one wants to spend $999 on a phone for it to malfunction and/or become unusable within a year, much alone a few months. Perhaps the hinge's reported modification will be beneficial in this aspect.
Although Samsung may have invented the foldable phone, Oppo really outperformed the Korean manufacturer in one crucial area: hinge design. A gapless hinge may be seen on the Oppo Find N. Since there isn't a gap between the displays at the hinge, the inside screens should be better protected from dust and damage. The Galaxy Z Flip 4 (and Galaxy Z Fold 4) should have a gapless hinge, in our opinion.
Warranty Plan
| | |
| --- | --- |
| Warranty | 1 Year Manufacturer Warranty |
| Extended Warranty | 2 years Extended Warranty from the GoWarranty for the Samsung Galaxy Z Flip 4 phones |