Devialet, a French manufacturer of audio technology, has revealed a high-end soundbar for India. The Devialet Dione is a top-of-the-line all-in-one Dolby Atmos 5.1.2 soundbar for your home entertainment requirements, but it costs an outrageous Rs. 2,39,000! The premium soundbar claims to give a genuinely immersive audio experience in an all-in-one small gadget without the need for a separate sound woofer thanks to its eight subwoofers as well as nine aluminium full-range speakers. Pre-orders for the Devialet Dione are presently being taken, and it will shortly be on sale in Devialet retail locations.
Devialet claims that the Dione soundbar is supported by a variety of unique Devialet technologies, ensuring superb sound quality for all home entertainment requirements. The premium soundbar offers a totally immersive audio experience in a small, all-in-one package by combining a number of current proprietary technologies with two new patented ones.
Specifications
Style
A soundbar with a distinctive design is the Devialet Dione. It is mostly built of black plastic, with grey cloth covering the front, sides, and up-firing speakers on top. The middle channel of the bar is a plastic sphere that allows it to adjust its acoustics depending on whether it is mounted on a wall or put on furniture. Although the Devialet Dione doesn't have a separate subwoofer, the bar itself has one built in.
Due to its width, the Devialet Dione cannot be placed in between the legs of a 55″ TV stand. It won't obstruct your screen if you set it flat on a piece of furniture because it isn't that tall. Our measurements reflect the bar when it is installed on a wall since we tested the bar with it supported by two stands to simulate how it would behave when mounted on a wall.
The power connection and inputs are accessible through a hole on the rear of the Devialet Dione. Additionally, the bar has universal mounting holes on the bottom that allow you to install it to a wall. The bar already has lugs to fasten it to your wall, but you'll need to purchase the screws and dowels separately.
Build Quality
The Devialet Dione is really well constructed. It has a robust overall feel, with tight, enduring plastic and fabric. Once in place, there is no need to worry about the middle channel's "orb" sliding because it is constructed of plastic and is fairly robust. Nevertheless, leaving scratches on the plastic bar top with your fingernails is possible. It's disappointing for such a high-end bar, but you should be able to wipe them away with a cloth.
Stereo Frequency
Excellent stereo frequency response is a feature of the Devialet Dione. It has a room correction function that automatically adjusts audio reproduction to your particular room's acoustics. The bar offers a bass-heavy sound profile with plenty of rumble when it is turned on. The balanced mid and treble registers, however, ensure that the vocals and lead instruments are still extremely audible. As a result, the bar is appropriate for listening to the majority of audio content, from vocally intensive music genres to TV series. The sound was clearer and more enjoyable when the bar was set on two stands instead of the table, which is how we tested it to see how it would function when hung on a wall.
Surround Sound
The Devialet Dione's surround sound performance is average. The bar has side-firing speakers that provide the illusion of a phantom surround sound. However, the experience with specialised surround speakers produces a more realistic and clearer sound. Instead of speakers being positioned all around you, sound effects appear to emanate from speakers that are located in front of you. Unfortunately, you cannot upgrade its performance by adding separate back speakers.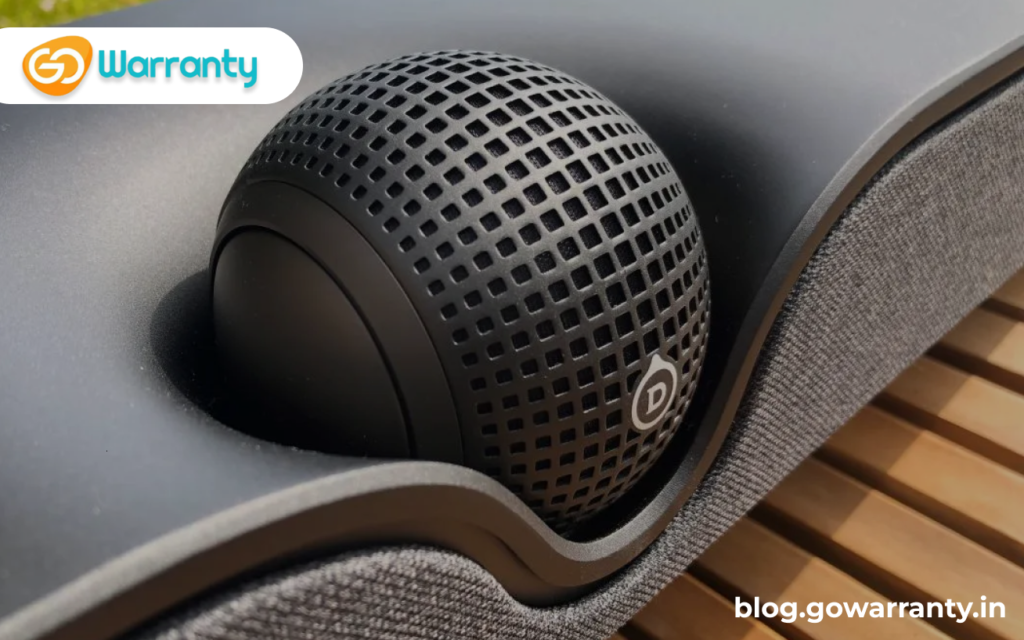 If you install it to the wall rather than placing it on a table, its soundstage with Atmos content delivers a rather immersive listening experience. When it is installed, you experience greater bass rumble, making action-packed images appear more clear and realistic. You can also feel the bass punch from your sofa, much like you would in a cinema. The bar may also have a rather well approximate height, giving you the impression that sound effects are synchronised with the action on your screen and coming from above and all around you. When used as a standalone bar, The Devialet Dione performs admirably.
Connectivity
Both HDMI and Optical cables are provided in the package for a simpler setup when connecting the Devialet Dione to your TV. The lack of a Full HDMI In connector prevents you from using the bar as a hub for high-quality passthrough between other devices, such as your TV and your PC.
Audio Format Support
The most widely used 5.1 surround sound format on Blu-ray discs and many streaming services, Dolby Digital, is one of the many standard audio formats that the Devialet Dione supports. Additionally, it supports various object-based and lossless formats, like Dolby Atmos. Although this format isn't very popular on its own and doesn't support DTS, it frequently serves as a backup for Blu-Rays with greater DTS-HD MA quality.
Latency
There is a little delay between the audio you hear and the video you see on your screen when using the Devialet Dione because of its rather high latency through its ARC and optical connections. It's most obvious when lip-syncing mistakes are made in dialogue-heavy media, like TV shows. Unfortunately, there are no tools in the app to assist you fix this problem, however your TV could have some functions available. Your actual experience may differ since various TVs and applications handle latency compensation.
Additional Features
Bar Controls
The Devialet Dione has a few touch-sensitive buttons on top that you may use to operate its fundamental functions. You can mute and unmute the microphone, change the level, play/pause your audio, turn on Bluetooth, and play/pause your audio. However, these mics are a component of the bar's room correction feature; if you leave it muted, the feature is deactivated. There isn't a voice assistant available. The Devialet Button also allows you to switch between HDMI and Optical inputs and enter standby mode by pressing it for seven seconds.
Devialet App
You can control any option on the bar, including some that you can't change using the buttons on the bar, using the Devialet App, which functions as a remote. You may, for instance, access room calibration, alter the EQ settings, turn on Night Mode, and move the bar. Additionally, the LED status may be changed, allowing you to dim it if necessary. Overall, the software is simple to use and straightforward.