The Corsair HS65 Surround headset resembles SteelSeries' Arctis series strikingly, despite a few cosmetic changes that make it appear like a packaged version of the HS55 Stereo headset. But what sets it apart most from similar products is a tiny USB dongle that connects to your computer and a clever interface with the iCue software from Corsair. However, the dongle lacks the intelligence to produce Dolby surround sound. To make use of that function, you must have iCue running in the background.
A 3.5mm combo connector on the USB dongle connects to the cable running from the headset. The HS65 Surround headphones can be connected to almost anything else that accepts an analogue audio connection with the use of that cable, and they can also take advantage of software surround sound features like Windows Sonic or Tempest 3D on the PS5. Of course, systems that don't employ a USB dongle won't support Corsair's bundled surround sound, so in those situations you'd be paying extra for a feature you can't enjoy.
Specifications
What are the Pros?
Great Communication
Many gaming headphones place a high priority on the sound they produce, but they also need to have a good microphone so our teammates can hear us over gunshots and explosions. Surprisingly well, the Corsair HS65 Surround succeeds in that.
For a headset at this budget, the microphone clearly picked up my voice. Positioning is not a problem because it remained audible whether it was near or far from my lips. Through iCUE, Corsair makes latency-free SideTone available. The ability to hear the level of my own voice is fantastic for preventing me from yelling at colleagues when the game audio picks up, even if it would be good to have that option without the programme.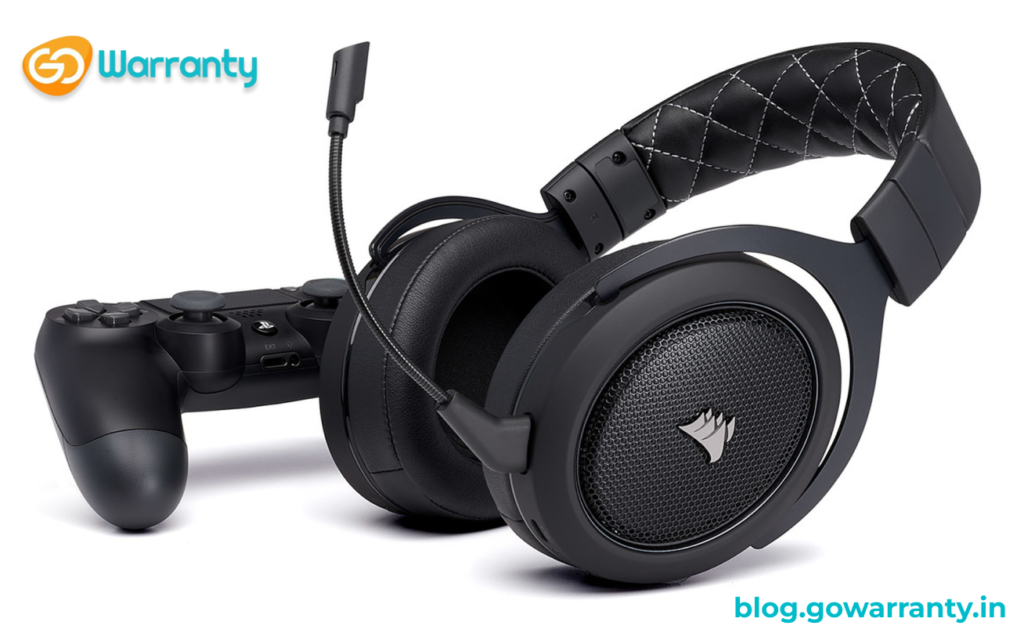 However, it is a little strange that Corsair chose to use an omni-directional microphone, which captures noises from all directions. This headset may be suitable for you if you want your colleagues to hear your loud mechanical keyboard because it may pick up some background noise. Fortunately, my voice was heard far more clearly and loudly than anything else, and it even managed to keep my speech's plosive consonant sounds from being clipped.
Very Comfortable
Corsair excels in comfort.
If a headset makes you want to take it off after a half hour, it doesn't matter how wonderful the audio is. Even some expensive headsets fall short when it comes to comfort, but Corsair seems to have made a real effort. The ear cushions are really plush yet substantial enough to prevent my ears from rubbing on the ear cup inside.
Corsair has included a large cushioned strip to the headband, which performs a fantastic job of spreading the weight of the headset equally. This headset didn't leave me feeling sore on the crown of my head, which is something that a bald head really puts to the test in terms of comfort.
Bright Audio
Although it doesn't provide the best audio quality, this headset does create bright and clear sound. Whether it's the slinking bass line or the sheen of cymbals, I can generally appreciate what I can hear while I'm listening to music. A sizable portion of the spectrum is always present thanks to the Corsair HS65 Surround, and the EQ is auto-balanced well enough for music.
The most emphasis is placed on mid-tones, which helps discourse to be heard clearly. There is enough audio power to cut through game sound effects like rumbling explosions and gunfire.
What are the Cons?
The bass fades into the background
Even while the audio may be powerful at the low end of the spectrum, the bass tends to get lost when there is more activity throughout the whole sound spectrum. While there is still some thud, it becomes more difficult to distinguish the subtleties of the bass notes as the mids and treble begin to take centre stage.
The bass can be heard well when listening to solo bass lines with minimal guitar and synth over top, but it is obviously buried once a few instruments are piled on top with vocals. When it gets hectic, some of the highest frequencies—like cymbals and chimes—also lose their poignancy. Additionally, the soundstage isn't very broad, making it difficult to distinguish individual instruments.
Limited use of surround sound
If you can hear what's coming up behind you in a game, you won't be as easily caught off guard. Surround sound may be a game changer, especially in the home theatre. Unfortunately, surround sound doesn't really change the game in this situation. When surround mode is on, the Corsair HS65's soundstage does receive a little but pleasant improvement. It can add a little flavour to the music, but it's not a certain way to improve 360-degree awareness in video games.
In general, a game with solid sound design will allow you to follow the plot even while using stereo headphones, and some games will even provide their own unique surround sound options. When I tried the Dolby surround sound audio on the HS65 Surround in Overwatch, it confused me rather than sharpening my focus.
When I was hopping about as Reinhardt and I heard the heavy footsteps of another Reinhardt directly behind me, I believed I had been flanked because the headset spaced noises out a little bit but didn't always put them correctly. When I turned around, all I saw was empty space.
Verdict
The Corsair HS65 headset's primary selling point is surround sound, however it is poorly executed in comparison to similarly priced competitors. It also has some additional good features, but so do its rivals, and those rivals provide more significant enhancements or features to go beyond the most basic budget headsets.
Wireless gaming headphones like the SteelSeries Arctis 1 or Razer Barracuda X are priced within striking distance of the HS65 Surround. There are those with poor surround sound as well, such as the HyperX Cloud Stinger Core, but you can find these for far less. All of these wireless alternatives are excellent, but at least the HS65's microphone is on par with SteelSeries clearcast microphones in terms of quality.