Among the many products announced by Google at its 2022 I/O conference, including the Google Pixel Tablet, Pixel 7 Pro, and the long-awaited Google Pixel Watch, one stood out as a little strange: a new Pixel-branded tablet. While the Pixel 7 lineup and Google's first smartwatch were unveiled in full at Google's October hardware event, the iPad competitor is not expected until 2023.
This isn't Google's first tablet; the company has released a number of them since the original Nexus 7 hit the market in 2012. Its most recent product was the ill-fated Google Pixel Slate, which was released in 2018. While the information on the Google Pixel Tablet is limited at this time, there is enough to whet your appetite.  However, the company has hinted that the tablet will come in two colours, both with 100% recycled aluminium bodies as well as porcelain-style finishes. Based on the information so far, the Pixel Tablet will also support other accessories such as pen input, and given the inclusion of four connectors on the tablet's back, we wouldn't rule out a keyboard dock.
Price and Availability
The Google Pixel tablet will not be available until 2023, and we have no idea how much it will cost. If the tablet is missing certain mobile-focused components, such as GPS hardware, it could be a relatively low-cost offering, but it's simply too early to tell.
We also don't know if the tablet will be sold separately or only with a charging base, or how much the rumoured Pro variant will cost. Google appears content to tease the device in bits and pieces in the short term, so don't expect a massive information dump anytime soon. Nonetheless, we'll be monitoring developments as well as updating our coverage as we learn more.
Hardware and Specs
We heard very little official news about the Pixel Tablet between the initial tease this spring at I/O as well as Google's more recent Brooklyn hardware event. Google has now confirmed that the device will use the same Tensor G2 chip that powers the Pixel 7 series, and has even shown off the magnetic dock that has been seen in previous leaks. 9to5Google discovered evidence of two separate docks in development while poking around the APK for an internal build of the Google Home app. It's not clear what distinguishes the two docks, but the second one could be for a rumoured Pixel Tablet Pro (more on that later).
The tablet may also include a powered stylus accessory, which may be included or purchased separately. The blog NuGiz reported in May that a Google tablet codenamed Tangor had been certified by the Universal Stylus Initiative, an organisation that "defines industry-wide standards for interoperable communication between an active stylus as well as touch-enabled devices."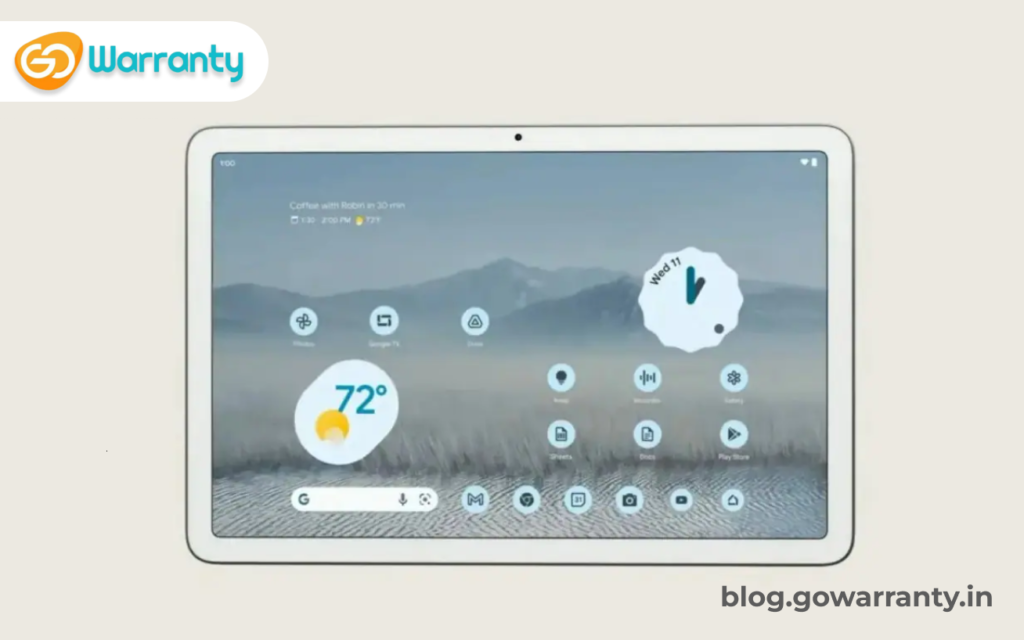 First Generation Tensor CPU
In September, developer Kuba Wojciechowski discovered evidence in AOSP code that the Pixel tablet dubbed Tangor again will use a first-generation Tensor CPU, though Google has since disproved this. Wojciechowski has also stated that the Pixel Tablet will not include GPS hardware or a cellular modem, which makes sense given that the device will serve as both a tablet and a smart home device.
Soon after, Wojciechowski leaked additional information about the hardware. The Pixel tablet will obviously have a 10.95-inch display roughly an inch larger than the one on the Nest Hub Max and will be available in 128- and 256-gig storage configurations. Wi-Fi 6 will also be supported. Android 13 QPR1 Beta 1 has also been discovered to contain animations depicting docking and undocking a Tangor-branded tablet with similar hardware to what we saw at Google I/O. That all makes sense now that Google has confirmed the Pixel Slate will use a magnetic dock.
There are also references in Android 13 QPR1 Beta 1 to hardware codenamed tangorpro, that also, given that Tangor is almost certainly the Pixel tablet, seems to imply that a Pro version is in the works. It's unclear what would distinguish the devices, but a higher-end model could theoretically include the GPS and LTE hardware that the base model clearly lacks. However, we haven't seen any proof of this.
Software
Apart from the fact that the Google Pixel tablet will run Android, little is known about its software. Google has shown the device with both an Android tablet interface and a Google TV interface. Google TV is displayed on a tab labelled For you in that view, with other tabs labelled Highlights, Shop, as well as Your stuff also visible in a menu on the left side of the screen. In August, industry veteran Mishaal Rahman discovered evidence that the Pixel tablet (codename Tangor) may only run 64-bit apps, which might mean improved memory performance at the expense of compatibility with 32-bit apps.
The Tensor chipset will be in its third iteration by 2023, as Google stated that the Pixel 7 and Pixel 7 Pro will be powered by a Tensor 2 processor, and who knows what AI and neural network algorithms will be laid inside the silicon, so Google may be correct in predicting that its upcoming slate will be the "most helpful tablet" for people ever. The design isn't anything out of the ordinary, with big swinging bezels to grab and all, but its soft edges slope towards the front panel rather elegantly, and it will presumably be available in the cool pastel colour that the Pixel 6a will be landing in come July 21 when you can preorder one of them.