If you want to play games and experience other interactive experiences in VR without being tethered to a PC or docking your phone, the Meta Quest 2 (formerly known as Oculus Quest 2) is the virtual reality headset for you. The Meta Quest 2 improves on its predecessor with a more intuitive and slicker design, increased performance, and a higher display resolution. Based on my testing, the Meta Quest 2 is far from perfect. The controllers, for example, are unreachable. Overall, the Meta Quest 2 is the best VR headset for the majority of people. Just keep in mind that a Meta Quest 3 is rumored to be on the way.
Price and Availability
The Meta Quest 2 currently starts at $399 in the United States and £399 in the United Kingdom for the 128GB model. However, we recommend paying a little more for the 256GB option, which will cost $499 or £499 but will hold a lot more games and apps.
Design
In terms of design, the Meta Quest 2 is quite appealing for a virtual reality headset. Normally bulky goggles have been replaced with a light and comfortable headset that is no less than 10% lighter than its predecessor. The headset's simple strap and four camera sensors give it a simple and clean aesthetic, which means it looks good both sitting on a desk and mounted on one's head. Furthermore, a light grey color makes the Quest 2 amazing.
The headset's sparse, well-placed button and port layout contribute to its seamless design. A power button is located on the right side of the headset, a volume rocker is located on the right underside, and a USB-C port and headphone jack are located on the left for charging and audio. The Meta Quest 2's lenses can be adjusted with three different viewing settings by pinching or spreading them out manually right inside the headset, eliminating the requirement for the switch that sat at the bottom of the original Quest.
Setup
The Meta Quest 2 is an all-in-one VR system that, like the original Quest, does not require you to set up any external sensors or cameras; everything you need is right in the headset. The setup process is simple: put on the headset, activate your account via the Oculus mobile app, define your play area, and you're ready to go.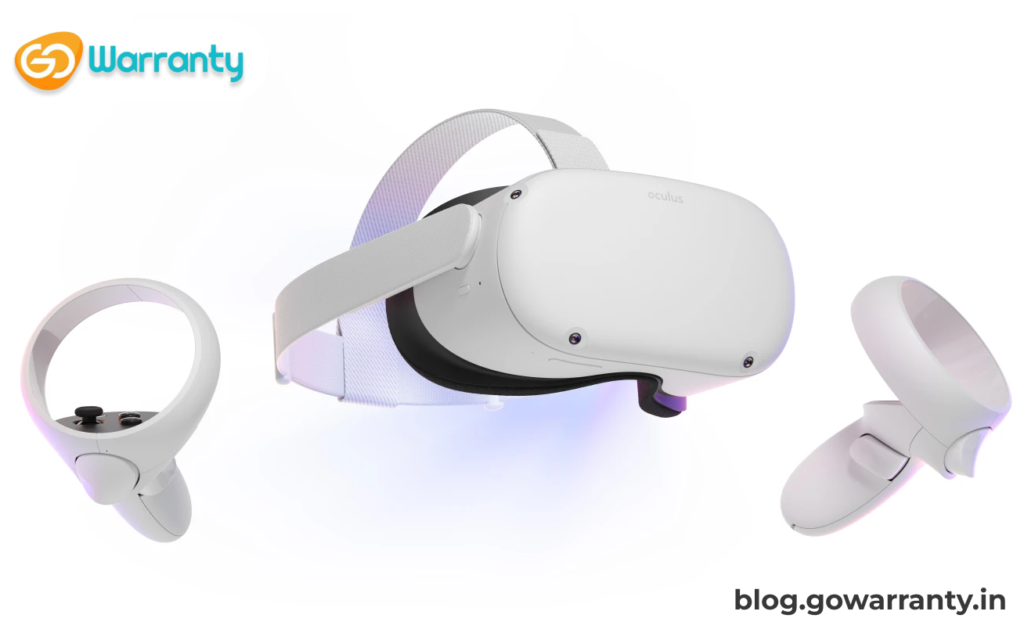 Controllers and Tracking
The Oculus Touch Controllers in the Meta Quest 2 have been redesigned to provide better gesture tracking. The setup is largely the same as before: each of the scoop-shaped controllers has two shoulder buttons for actions such as firing weapons and grabbing objects, as well as clickable analogue sticks and a pair of face buttons. You should also use the included wrist straps to keep them from flying away in the middle of a lightsaber battle.
The Meta Quest 2 controllers were comfortable and simple to use across a wide range of games and experiences. I was able to snag easy headshots in Pistol Whip thanks to the snappy triggers and accurate motion sensing, and I had no trouble hacking away at colour-coded blocks in Beat Saber thanks to the rhythm-action.
Performance
The use of a Snapdragon XR2 chip has given the Meta Quest 2 a performance boost over its predecessor. The Quest 2 has a significant upgrade in specs over the original Quest, which was equipped with a Snapdragon 835 CPU, a chipset designed more for smartphones than VR headsets. This means that the Meta Quest 2 runs much more smoothly than the older VR headset, resulting in smooth and snappy menu navigation. And, thankfully, there was no lag when I was playing games while downloading several other titles in the background.
Apps
The Meta Quest 2 is more than just a gaming device, with a plethora of entertainment and productivity apps that allow you to watch videos and collaborate with others in novel ways. In a 360-degree YouTube VR video, I was virtually standing at the summit of Mount Everest, and I was surrounded by the mesmerising percussion of the Blue Man Group when watching their virtual concert in the Oculus TV app.
The Oculus TV app also let me ride a virtual roller coaster, which got my adrenaline pumping and almost made me cry before I remembered I was at my desk. The Spatial app provides an impressively robust virtual workspace for document and 3D model collaboration. Meanwhile, I was able to use my Windows 10 PC in an immersive VR environment thanks to the Virtual Desktop app.
Audio
The built-in positional audio on the Meta Quest 2 isn't new; it also appeared on the Quest and Rift S but it still blows my mind each time I use it. The headset's built-in speakers provide crisp, loud sound without the use of headphones, as well as some impressive directionality. I could hear nearby bee buzzes and bird chirps while relaxing in my home screen oasis, and I could easily pinpoint enemy fire while blasting away in Pistol Whip.
The built-in microphone on the Meta Quest 2 also performed admirably. I had no trouble coordinating with a friend in Path of the Warrior, as well as his voice sounded crisp and clear coming from his own Quest 2.
Battery Life
The battery life on the Meta Quest 2 is rated at 2 to 3 hours: 2 if you're mostly playing games and around 3 if you're mostly watching videos. This was mostly in line with my testing, as I only had to plug the Quest 2 in every few days while using it in small chunks. I discovered that the battery was around 50% after several sessions of playing games on a fully charged Meta Quest 2 for more than an hour.
Verdict
The Meta Quest 2 has that delightfully simple "it just works" magic that reminds me of the first time I picked up a Nintendo Switch or an iPhone. The Meta Quest 2, like its predecessor, removes the previous barriers to entry into virtual reality, namely the need for a powerful PC and tonnes of wires and sensors, and packs a tonne of great experiences into a sleek device that you can pop on at a moment's notice.