The Canon PIXMA G7020 Wireless Megatank printer is ideal for home use. It has an excellent cost-to-print ratio, and its high black and colour yield means you can print a lot of pages before having to refill the ink tanks or have to buy new ink bottles, making it a cost-effective option. It also includes a sheetfed and flatbed scanner for scanning multiple documents as well as more fragile items like photos. On the negative side, it prints black text and colour documents slowly, and it employs a two-line full-dot matrix display, which some may find limiting.
Design and Display
The Canon PIXMA G7020 has a solid plastic body. The ink tanks are easily accessible because they are located beneath the scanner, and the scanner lid does not fall while you are refilling ink or dealing with paper jams. Paper jams can be accessed from the printer's back or by lifting the entire scanner. A slider adjusts the front and rear paper trays for different page sizes. However, the rear input tray can become stuck while being removed or replaced from the printer. The Canon PIXMA G7020 is a relatively small printer. It's heavier and taller than the Canon PIXMA TR8520, but it shouldn't be a problem in most situations.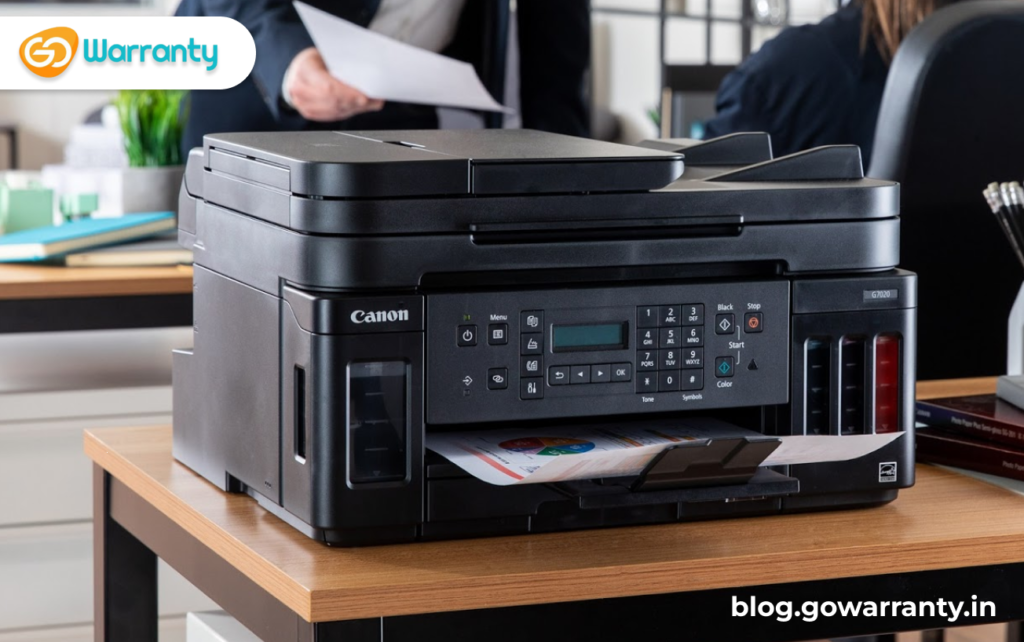 The Canon G7020's display screen is subpar. It has a monochrome 2 Line Full-Dot Matrix Display, giving it a vintage, calculator-like appearance. However, because it can only display a limited amount of text at a time, some people may find it restricting. There are also physical buttons surrounding the screen, and while the screen cover can be tilted, the display screen has poor viewing angles. You can go for Epson EcoTank ET-4850 if you want a similar printer with a better display.
What's in the box?
User manual
Installation CD
4″x 6″ Photo Paper Plus Glossy II sample pack (3 sheets)
Fax cable
Canon GI-20 ink bottles
3x GI-20 PGBK
1x GI-20 Cyan
1x GI-20 Magenta
1x GI-20 Yellow
Power cable
Cartridge and Scanner Features
The ink cartridge system on the Canon PIXMA G7020 is excellent. It produces a large number of black and coloured pages, allowing you to print stacks of documents before these tanks need to be refilled. This printer can use third-party ink, but doing this might void the warranty.
The Canon G7020 has a flatbed scanner for scanning thicker documents or more delicate items such as old family photos. The sheetfed scanner allows you to scan multiple documents at once; however, double-sided documents must be manually scanned on each side because this printer lacks a duplex scanning feature. Since this printer includes an integrated fax, you can easily scan and send documents to others.
If you don't require an automatic document feeder and want to save money, consider the Canon PIXMA G6020, which is actually the same printer without an ADF and is less expensive.
Scan Quality
While the DPI limit appears to be 600 at first , if you look under the "Drivers" tab, you can perform an advanced scan at a higher resolution with Canon's My Image Garden software. These options are available in the "ScanGear" tab of the Canon IJ Scan Utility app. To achieve 1200 DPI, turn off "thumbnail preview mode" (located on the left top corner of the "scan advanced" settings page) if the document you're scanning is larger than 100mb.
Cost-per-print
The Canon G7020 offers an excellent cost-per-print ratio. Printing in black, colour, or photo is very affordable because each ink tank can produce a large number of pages before needing to be refilled. While you can purchase each bottle separately, Canon also sells a bundle pack that could save you even more money in the long run. Keep in mind that even if you only print in black, most inkjet printers continue to use the colour ink for servicing tasks, so you will most likely need to refill them at some point.
Printing Speed and Size
When printing black and colour documents, the Canon PIXMA G7020 is extremely slow, which can be frustrating when you're in a hurry. It also takes less than a minute to print one 4″ x 6″ photo.  The Canon PIXMA G7020 has 2 adjustable paper trays with sliders that can hold various paper sizes. The rear paper tray can also be extended to accommodate larger paper sizes such as legal paper.
Colour Accuracy
The colour accuracy of the Canon G7020 is sufficient. It struggles the most with blacks and browns, but it prints other colours accurately enough. It works well for adding a pop of colour to office reports, school assignments, or casual photos.
Connectivity
The Canon PIXMA G7020 offers numerous connectivity options. You can connect to this printer wirelessly using Wi-Fi via your router or Wi-Fi Direct. You can also print from your mobile device if you have Apple AirPrint installed on your iOS device or Mopria Print Service installed on your Android device. This printer can be wired or directly plugged into your computer via a USB input for a wired connection. There is no Bluetooth support, and there is no place to plug in external storage, unlike the Canon PIXMA TS9120.
Canon PRINT Inkjet/SELPHY, which is available on Android and iOS, is used by the Canon PIXMA G7020. You can use this app to print, scan, as well as copy directly from your mobile device. You can also order new ink, see what you've scanned directly on the app, and print pages from the internet.
Verdict
The Canon G7020 is an excellent family printer. It prints high-quality photos, which is ideal for physically preserving memories. It also includes a sheetfed and flatbed scanner for copying, faxing, and scanning documents. It has an excellent cost-to-print ratio for black and colour documents as well as photos, so you won't have to keep refilling the ink tanks all the time.