The Dell G15 (2022) is a 15.6-inch gaming laptop and is a budget friendly laptop. It comes with an Intel Core i5-12500H or i7-12700H CPU and a range of NVIDIA GeForce GPUs, ranging from an RTX 3050 to an RTX 3070 Ti. There are several display options, including FHD (1920 x 1080) 120Hz, FHD 165Hz, and QHD (2560 x 1440) 240Hz. Memory and storage are user-upgradable up to 32GB and 1TB, respectively. There are three USB-A ports, one USB-C port, an HDMI 2.1 port, Ethernet, and a 3.5mm headphone jack. The USB-C connector allows for video output but not charging or Thunderbolt 4. There are three colour options for this laptop: Dark Shadow Grey, Obsidian Black Special Edition, and Spectre Green with Camouflage.
Design and Build Quality
The Dell G15 laptop has a straightforward design. Aside from the patterned speaker grills as well as the orange-coloured keyboard backlight, it's not overly gamer. Since it has a tapered shape, it appears thick and chunky from the back but much thinner from the front with the lid closed. The laptop has vents on both sides, the back, and the bottom. It comes in three different colours: Dark Shadow Grey, Obsidian Black Special Edition, and Spectre Green with Camouflage.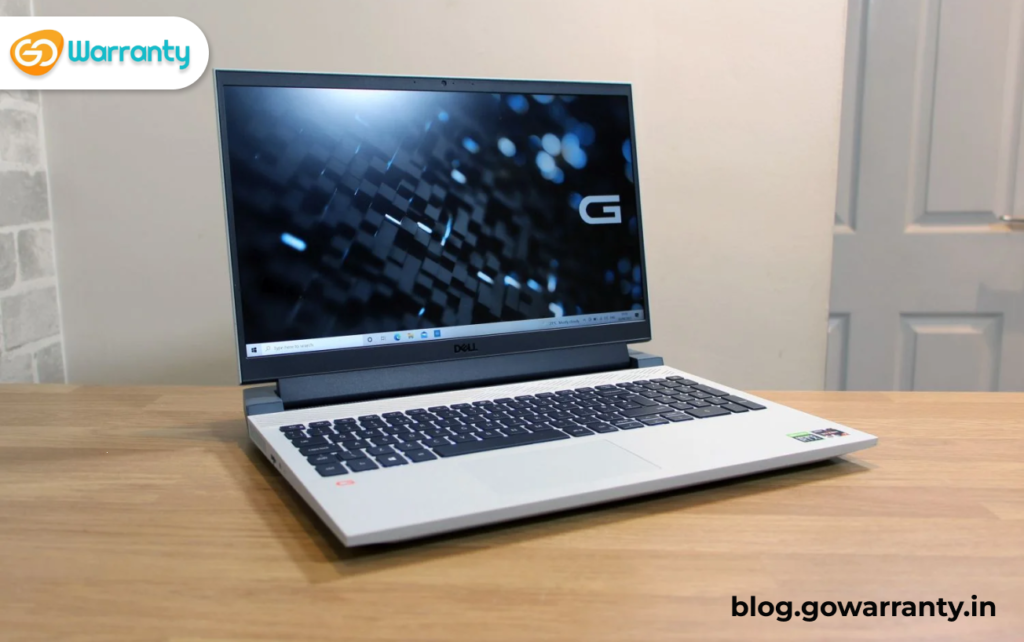 The build quality is acceptable. There are no flaws in the construction, but it also does not feel particularly sturdy. It has a cheap-feeling plastic chassis with a finish that easily picks up fingerprints and scratches, and the display and keyboard deck flex. The lid of the Obsidian Black Special Edition model is made of aluminium. The hinge on the Dell G15 5520 is satisfactory. When opening and closing the laptop, it feels smooth and solid, with almost no wobble when typing aggressively or moving the laptop around.
Display
A 1080p resolution is fairly standard for a gaming laptop of this size, and it's a good match for the NVIDIA GeForce RTX 3050, 3050 Ti, and 3060 because it's not too difficult to drive. Images and text are reasonably sharp, and there is enough room for split-screen multitasking. The 1440p display appears sharper, but to get the most out of it, you'll need to pair it with the NVIDIA GeForce RTX 3070 Ti, as the other GPUs cannot push high frame rates at 1440p. The 16:9 aspect ratio is good for gaming and media consumption, but some may find it lacks vertical space for productivity, that require more scrolling when reading a document or website.
The 1080p 120Hz panel is the most basic display configuration. It is more responsive and has a slightly clearer image than a standard 60Hz panel, however the response time is slow, resulting in noticeable ghosting behind fast-moving objects. The advertised response time for the 1080p 165Hz panel is 13ms, which is faster yet slow for its refresh rate, as well as the same goes for the 1440p 240Hz panel, that has an advertised response time of 10ms.
Keyboard and Touchpad
The keyboard on the Dell G15 gaming laptop is excellent. It has a fairly standard layout that is easy to get used to and feels spacious. The plastic used for the keycaps is sufficient because it is neither premium nor inexpensive. The keys have a lot of travel and don't require much force to operate, but they have a mushy feel to them. Overall, it is a pleasant typing experience that does not cause fatigue over time.
The touchpad is average. Despite the fact that this is a 15.6-inch device, it is quite small. Palm rejection isn't an issue, but it doesn't always respond to taps, as well as actions like dragging and dropping can be irritating. Furthermore, the click mechanism is mushy and cheap.
Speakers and Webcams
At maximum volume, the Dell G15's up-firing speakers get quite loud with little loss in sound quality. They emphasise the mids and low-treble frequencies to generate clear vocals, but they lack bass and treble extension and sound boxy and hollow.
The video quality of the webcam is good. Despite being a 720p camera, it captures a good amount of fine detail with vibrant colours, good exposure, and minimal noise. The microphone is loud and clear, with little background noise, but voices are slightly nasal.
Connectivity
The Dell G15 gaming laptop has a good selection of ports. Its USB ports all support USB 3.2 Gen 1 data transfer rates (up to 5Gbps). The USB-C port can send a video signal to an external display, but it does not support charging, so it cannot be used to charge the laptop. Thunderbolt 4 is supported by the USB-C port on models equipped with an NVIDIA GeForce RTX 3060 or 3070 Ti.
RAM and Storage
This laptop can be configured with 8, 16, or 32GB of memory. For gaming, at least 16GB is recommended because 8GB is insufficient for some games and will cause stuttering. Furthermore, the 8GB model employs a single RAM module in a single-channel configuration, which can limit performance in CPU-intensive scenarios. This laptop has storage up to 256GB, 512GB, or 1TB PCIe NVMe SSD.
Battery
The Dell G15's battery life is very poor. Whatever your workload, you'll need to plug it in at a certain point to get through a typical 8-hour workday, and the same holds true for media consumption. You'll need to keep the laptop plugged in almost the entire time if you're gaming or doing demanding tasks like video editing. Some models have a larger 86Wh battery, so if battery life is important to you, check the specifications first. Battery life varies significantly depending on your usage and the configuration of the laptop.
Verdict
The Dell G15 is an excellent gaming laptop. The laptop can be configured with powerful Intel 12th Generation CPUs and various NVIDIA dedicated GPUs, all of which provide a smooth gaming experience at 1080p. If you want better visuals, there's also a QHD 240Hz display option, though you'll need to pair it with the top-tier NVIDIA GeForce RTX 3070 Ti to get good frame rates. Under load, it does not become excessively hot or loud, and there is no noticeable throttling on the CPU or GPU.