When looking for the best gaming desktops, it can be difficult to find a good value, but the Lenovo Legion Tower 7i does. It's still more than INR 2,45,000, but it provides flagship components as well as performance for less than the competition. Despite a lingering issue with memory speed, the Lenovo Legion Tower 7i feels like a long-term investment when combined with a stylish design and standard component sizes.
Specifications
The Lenovo Legion Tower 7i is significantly improved over the previous generation. It advances from Nvidia RTX 30-series GPUs to the RTX 40-series, and also from 12th-generation to 13th-generation Intel processors. However, Lenovo increased the processor class to Intel's Core i9, which is paired with an RTX 4080 graphics card.
This is the only model currently available, but I expect Lenovo to offer more affordable options in the future. For the GPU, Lenovo upgraded from the RTX 3080 to the RTX 4080, which may appear to be a simple swap, but it isn't; while the RTX 4080 and RTX 3080 are technically in the same class, the newer GPU is around 40k more expensive.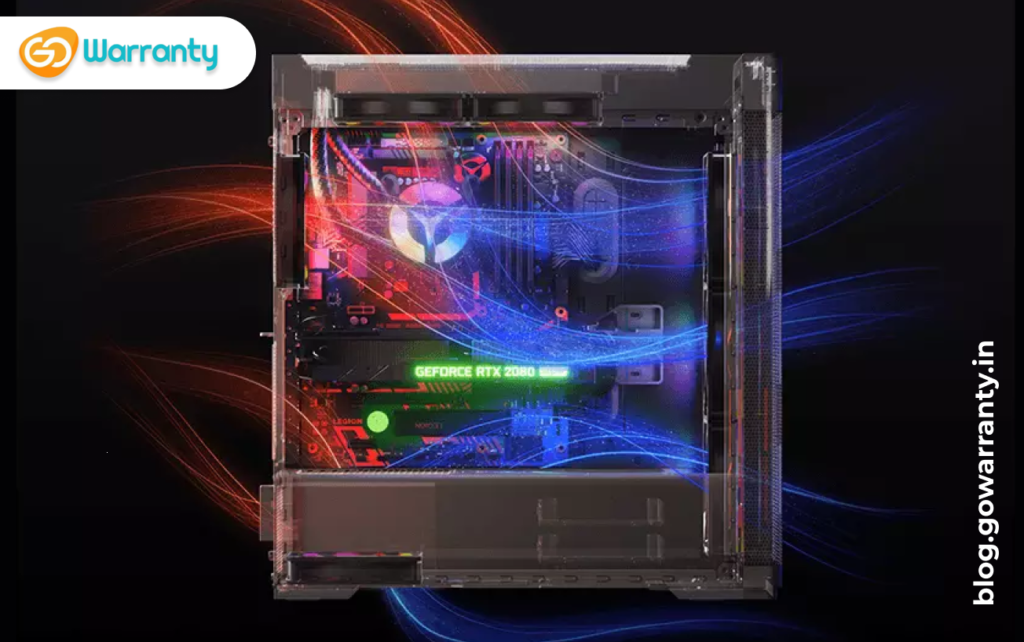 As a result, the Lenovo Legion Tower 7i is more expensive. A desktop computer that used to cost around INR 1,75,000 now costs INR 2,75,000. You get a much more capable GPU as well as a significant increase in CPU performance. However, I would have liked to see an option for Intel's Core i7-13700KF, which would have saved some money without affecting gaming performance significantly.
The Lenovo Legion Tower 7i is more expensive than its predecessor, but it is still not overpriced. The Tower 7i costs 50k more than a similarly configured Alienware Aurora R15. The MSI Aegis RS 13 is about 25k less expensive, but it has a slightly slower processor. It's also worth noting that last-generation desktop computers are still quite expensive. The Tower 7i is roughly the same price as the Asus ROG Strix GA35 with an RTX 3090 and Ryzen 9 5900X.
A Simple Design
Unless you go for an expensive option like the Falcon Northwest Tiki or Origin Neuron, prebuilt gaming desktops haven't caught up to custom-built PCs in terms of design. Since it is simple, the Tower 7i is a breath of fresh air.  You're getting a standard mid-tower design with some subtle curving around the edges. The tempered glass side panel provides a full view into the machine and complements the sandblasted finish.
It's also not over-the-top in terms of RGB. If anything, the Tower 7i can have some additional lighting. The only RGB lighting on the GPU comes from the logo and a really nice cutout on the backside shield of the GPU. It glows and illuminates the heatsink, and it looks great. To be honest, I'm disappointed that Lenovo doesn't sell this as a separate GPU.
Unfortunately, that appealing lighting has vanished into a sea of nothingness. A couple of RGB fans would help to make the Tower 7i feel more cohesive.
Totally Upgradable
Nothing prevents you from upgrading the Tower 7i, and Lenovo even encourages you to improve on the current design. The chassis is a standard mid-tower, similar to many of the chassis on our list of the best PC cases. That's good news if you have thought of upgrading your PC in the future.
Everything in the Tower 7i is standard, so you can swap out components, including the motherboard. The case also has two drive sleds in the basement and two SSD mounts in the back. Even better, Lenovo has pre-routed SATA connections to the drive sleds, allowing you to easily expand your storage.
CPU potential is very limited
The Core i9-13900KF processor at the heart of the Legion Tower 7i is one of the best available. As you can see in our Core i9-13900K review, it dominates most productivity tasks, and the Tower 7i showcases the processor well. However, I am concerned about its utility in all tasks. This is due to RAM speed, not the processor. Lenovo advertises 5,600 megatransfers per second (MT/s) memory, which is correct, but the memory only operates at 4,400 MT/s.
Full RTX 4080 Power
Even with slower RAM, the Tower 7i provides adequate gaming performance. The RTX 4080 can fully stretch, matching and sometimes outperforming the results we found in our RTX 4080 review. The RTX 4090 in the Alienware Aurora R15 is more powerful, but the RTX 4080 is still a capable 4K graphics card. Across my test suite, including Cyberpunk 2077 at maximum settings, the GPU averaged more than 60 frames per second (fps) at 4K.
Pre-Installed McAfee
Lenovo includes a suite of software preinstalled on the machine. You'll mostly be interacting with Lenovo Vantage, which has GPU and CPU monitoring tools as well as lighting controls. Lenovo Welcome provides updates and support, while Lenovo Arena allows you to launch your games. That isn't an issue, though I could do without Arena.
Otherwise, there's a Steelseries utility for audio management and McAfee. Pre Installed antivirus software is always annoying, but McAfee takes the cake when it comes to pop-up ads. Almost every time I booted the system, a notification would appear informing me that my computer was at risk and that I needed to renew my subscription. The Tower 7i comes with a free month of McAfee Live Safe, but after 30 days, you'll see the same thing.
Uninstalling McAfee is notoriously difficult, but it is possible. Although the inclusion is not good, Lenovo is far from the only manufacturer to include antivirus adware on prebuilt gaming desktops, so it's difficult to find fault with the Tower 7i.
Verdict
It is one of the most amazing prebuilt gaming desktops I've seen. It performs well and has an appealing, understated design, and it's fully open to future upgrades, demonstrating a level of foresight that few brands can match. The main issue is the RAM configuration, which may be limiting the machine's performance when it isn't necessary. My testing revealed no problems, but memory-intensive tasks may suffer. Fortunately, you can manually increase the memory speed, so this is a fixable problem.