If you're looking for a high-end home entertainment audio system and have a large budget, you won't be disappointed. Many people prefer a multi-speaker system with a dedicated home theatre amplifier. But this requires a lengthy setup and installation procedure that includes installing the speakers and routing power and audio cables around the room. Even if you're ready to spend a little more. You might want to consider a Sony HT-A7000 soundbar for its ease of setup and use.
The Sony HT-A7000 soundbar is designed specifically for this type of consumer. This premium 7.1.2-channel single-bar speaker system, priced at Rs. 1,49,990, offers premium performance with Dolby Atmos and DTS:X compatibility. Bluetooth and HDMI connection, Dolby Vision and 8K HDR pass-through, and more.
This combination, when combined with the optional Sony SA-SW3 wireless subwoofer (priced at Rs. 29,990), which I've already tested here, might result in a good home theatre system with a small physical footprint. Is this the greatest high-end soundbar on the market right now? Learn more in this review.
Price
The Sony HT-A7000 7.1.2-channel soundbar is available in India for Rs. 1,49,990 as a standalone device. Sony, on the other hand, sells it as a package with extra speakers. To expand your configuration, you may purchase the SA-SW3 subwoofer (Rs. 29,990) or SA-SW5 subwoofer (Rs. 61,990), as well as the SA-RS3S wireless rear speakers (Rs. 35,990).
Specifications
With a weight of 8.7kg, the Sony HT-A7000 bar speaker is fairly huge and hefty. It's about the same length as a conventional 55-inch television. But it's also wide enough to require a large table or home entertainment unit to accommodate it. The HT-size A7000's (and price) make it best coupled with a high-end television. Also, its built-in connection and amplification eliminate the need for an AV receiver or home theatre amplifier.
With a metal grille, a glossy top surface, and fabric covering the two top-firing overhead channels, the bar speaker looks upscale and very beautiful. On the top of the soundbar are touch controls for power, Bluetooth connectivity, signal source, and volume. The HT-A7000 includes a tiny monochrome display on the front that shows the device's power status, active source, and volume levels. From a distance, the display was a little difficult to read, but it's more than suitable for the job.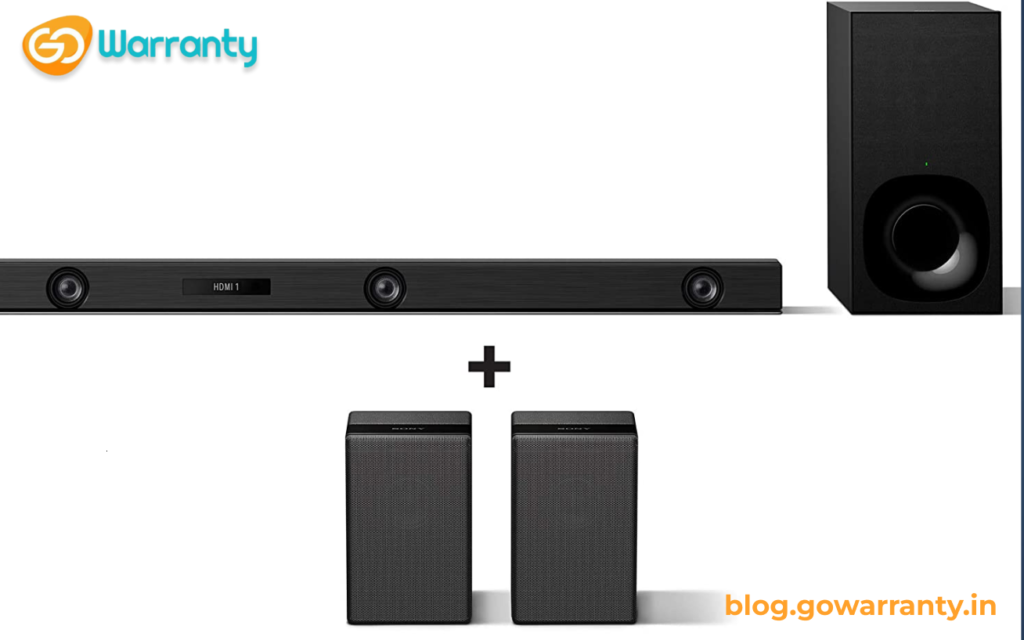 AirPlay and Chromecast provided better audio quality than Bluetooth, although there were occasional connectivity issues with AirPlay that caused music to stop playing or the speaker to not respond to playback controls on my iPhone on occasion. When used with an Android smartphone, Bluetooth was more consistent in terms of connectivity, as well as LDAC Bluetooth codec support provided good sound quality.
Features
The Sony HT-A7000 comes with a remote control that has extensive controls for navigation, display, subwoofer volume control, and sound mode selection, among other things. The soundbar's power cord, a 3.5mm audio cable for wired communication. Also, an HDMI cable are all included in the sales package.
Comprising five front speakers, two beam tweeters, two top-firing overhead-channel speakers, as well as a built-in subwoofer, the Sony HT-A7000 is a 7.1.2-channel speaker system. The overall rated power output of this soundbar is 500W. Wireless communication with compatible Sony devices, like the HT-A7000, is simple to set up on the SA-SW3 subwoofer. Which has a rated output of 200W.
The top and sides of the Sony SA-SW3 wireless subwoofer have a dull, patterned texture, while the front is covered in fabric. There are power and wireless connection buttons on the rear, as well as a connector for the accompanying power cord. A little indicator light on the front of the subwoofer displays the device's power and connection status.
Performance
Beyond its style, connectivity choices, and basic specifications, the Sony HT-A7000 is an absolute powerhouse in terms of performance. It was quite simple for me to set up and run, and despite a minor learning curve and a few changes, I was able to get the HT-A7000 and SA-SW3 to function at the level I expected from a soundbar system costing more than Rs. 1,50,000 in no time.
I mostly used the Sony HT-A7000 and SA-SW3 as a sound system for my television while viewing movies and TV shows in a variety of audio codecs, including Dolby Audio, 5.1 surround, and Dolby Atmos, with HDMI ARC connection. I also utilised Apple AirPlay and Bluetooth to broadcast music on occasion.
Even though it didn't employ any sophisticated audio formats, Dune on Amazon Prime Video was possibly the most memorable of all the movies and TV series I saw while using the Sony HT-A7000 soundbar and SA-SW3 subwoofer. The deep, rumbling audio initially made fantastic use of the subwoofer, but with no modifications, vocals sounded too faint and were lost in the movie's dramatic background noises and strong action parts.
Turning off the DSEE Extreme mode, allowing the Auto Volume adjustment setting, and switching the Voice Dynamic Range function to 'Auto' addressed the problem fast and effortlessly. This allowed the soundbar to adjust sound levels on the fly to fit whatever was being played. Indeed, it swiftly and dynamically altered itself to fit softer voices in scenarios as needed. This had an unfavourable effect on soundtracks, notably the opening credits, which sounded odd. The singing and action sequences, on the other hand, sounded fantastic.
Verdict
Although a soundbar will never be able to equal the quality of a true surround sound system. A good soundbar has enough potential to make the distinction inconsequential. The Sony HT-A7000 is extremely amazing, boosting sound across genres and material. While also providing essential post-processing and fine tuning when needed. This is a formidable home theatre system when combined with the Sony SA-SW3 subwoofer. Yet it is still simple to set up and run.
However, at roughly Rs. 1,50,000 for the combination, it's indisputably costly; arguably more so than it needs to be, given other soundbars that are just as excellent, such as the Sony HT-Z9F, can be had for much less. There isn't much else that comes even close to what the Sony HT-A7000 has to provide if money isn't an issue and you're seeking for a very fine (and handy) home audio system to compliment your premium television and home décor.