Huami released the Amazfit T-Rex 2 for purchase in the United States on Tuesday, May 24. It will be available for pre-order in Europe soon. This is a tough smartwatch with high-precision GPS technology that is suited for the outdoors. A sweat-wicking silicone strap is also included. It is claimed by the makers that it can endure extremely low temperatures. Also, comes with a long-lasting battery that depends on the operation mode. Also, gives up to 45 days of backup. Amazfit's all-around health management tools are also included in this wristwatch.
Price and Availability
The Amazfit T-Rex 2 is available for purchase on the Amazfit US website, with prices starting at $229.99. (roughly Rs. 18,000). Astro Black & Gold, Desert Khaki, Ember Black, as well as Wild Green are all mentioned as colour possibilities. From June 1st, this Amazfit smartwatch will be available for EUR 229.9 in Italy, France, and Germany (roughly Rs. 19,000).
Design
Compared to the previous model, the newly released smartwatch has a more durable build and a longer battery life.
A polymer alloy chassis as well as military grade certification will be included in the smartwatch. A touchscreen display will be featured on the sports watch. There will also be more beneficial features such as a heart rate and SpO2 sensor.
Precision GPS technology will be used to provide more to the consumers. Amazfit is a brand of smart wearable technology. Zepp Health is the brand name for the items. Smartwatches, fitness bands, and other health and sports equipment are among their offerings. The company was founded in 2016, and it has been steadily increasing its product line since then. The new iteration will be the Amazfit T-Rex 2.
For a limited time, the Amazfit T-Rex 2 website will be available on Amazfit's official US website. According to the manufacturer, the Amazfit T-Rex 2 will last 45 days on average for consumers. The smartwatch has been released in the United States, but no date has been set for its sale in India.
Specifications
Huami has included dual-band location in the Amazfit T-Rex 2 smartwatch, as well as compatibility for five-satellite navigation systems. Users may trace their progress through congested cities and through nature trails using these high-precision real-time navigation tools. The Zepp App may also be used to import popular trails. This smartwatch is built to last in a military-grade environment. According to the business, the Amazfit T-Rex 2 can work in temperatures as low as -30 degrees Celsius. It also has a 10 ATM water resistance rating. Which means it can withstand water pressure equivalent to up to 100 metres.
If it detects significant altitude changes, this wristwatch can remind users to do a blood oxygen saturation test. The Amazfit T-Rex 2 may also be programmed to monitor blood oxygen levels in real time. It also has over 150 sports modes and ExerSense technology, which can recognise eight different types of sports motions automatically.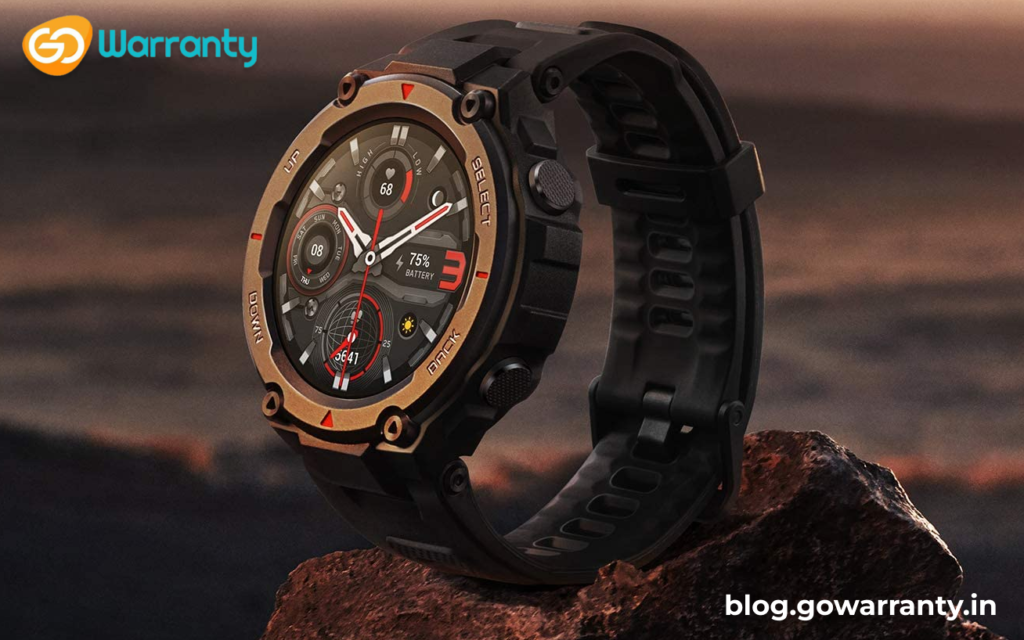 The new Amazfit smartwatch has a 1.39-inch AMOLED display with a resolution of 454×454 pixels. The Amazfit T-Rex 2 has a 500mAh battery that, according to the manufacturer, takes roughly 2 hours to fully charge. This smartwatch, according to the makers, may last up to 24 days under typical use. There is indeed a Battery Saver Mode that, according to the manufacturer. It extends the battery life by up to 45 days.
Amazfit T-Rex Pro vs T-Rex 2: Comparison
Its Amazfit T-Rex is a tough watch for outdoor enthusiasts. The first version of the game was released a few years ago. It crams a lot into a design that can withstand a lot of abuse. After that, the business released a Pro version roughly a year ago. Today we have learned of Amazfit T-Rex 2 which comes with some handy upgrades.
Amazfit T-Rex Pro vs T-Rex 2: Design and hardware
You can seek distinctions in appearance across the three generations, but it won't be easy. They're all roughly the same size and shape, and they're all designed in the same way. A high-strength polymer is used to protect the device against drops, shocks, and the environment. Despite this, the watch is rather light, weighing around 60 grams without the strap.
Meteorite Black, Desert Grey, and Steel Blue are just a handful of the colour possibilities available for T-Rex Pro. Rock Black, Army Green, Gun Grey, Came Green, and Khaki are available in the non-pro version. The Pro's outer bezel features a metal-spray finish, giving it a more premium appearance. The strap is also a little more opulent.
The display size is one significant difference. T-Rex 2 has a 1.39-inch HD AMOLED display with a 454 x 454 pixel resolution. The other two have a 1.39-inch AMOLED display with a 360 × 360 resolution. As a result, this is a significant update because it makes it easier to keep track of your data when on the go. Corning Gorilla Glass 3 protects the display in all situations, and there's also an anti-fingerprint coating.
Amazfit T-Rex Pro vs T-Rex 2: Features
The Amazfit T-Rex is a fantastic outdoor watch, especially when you consider its pricing. It provides a lot of value for the money. For those who do not want to pay an arm and a leg for a Garmin. The watch is an excellent option.
You receive all the essentials in terms of fitness and activity monitoring, including the option to track several sports. All of this is made possible by Huami's own operating system, which is simple to use and runs smoothly. The Pro edition adds to the original by adding extra features. For instance, instead of the initial 14, users can now track over 100 sports. A variety of popular outdoor sports modes are among them. ExerSense is also a brand-new concept.
Verdict
The T-Rex is a fantastic military-style timepiece. You'll be hard pressed to find another gadget that gives so much for so little. A wonderful alternative to the more expensive Garmin. It's a wristwatch worth considering if you're into a lot of outdoor activities and rough settings.