1440p gaming monitors are finally in the market (which I believe are the best fit for most PC gamers) have moved to 360 Hz refresh rates, which were previously only available at 1080p. The 27-inch Asus ROG Swift PG27AQN is at the forefront of this new category, and it comes at a premium price: expect to pay $1,049 if it's in stock at all. Many gamers will find the price extremely expensive, but if you want 360Hz at 1440p, the Asus PG27AQN is your only option.
Design
The Asus ROG Swift PG27AQN is designed in the company's well-known, aggressive Republic of Gamers style. A beefy, thick display panel with an LED-backlit ROG logo as well as a wide tripod-like stand with a cyclone design on its neck are among the features. It's a brash, direct look. The build quality is superb. When pressed, the monitor's thick plastic panels creak slightly but feel sturdy, allowing for minimal flex across the back panel and along the bezels. The stand is a solid piece that keeps the monitor firmly in place and could be used as an improvised weapon in the event of a zombie apocalypse.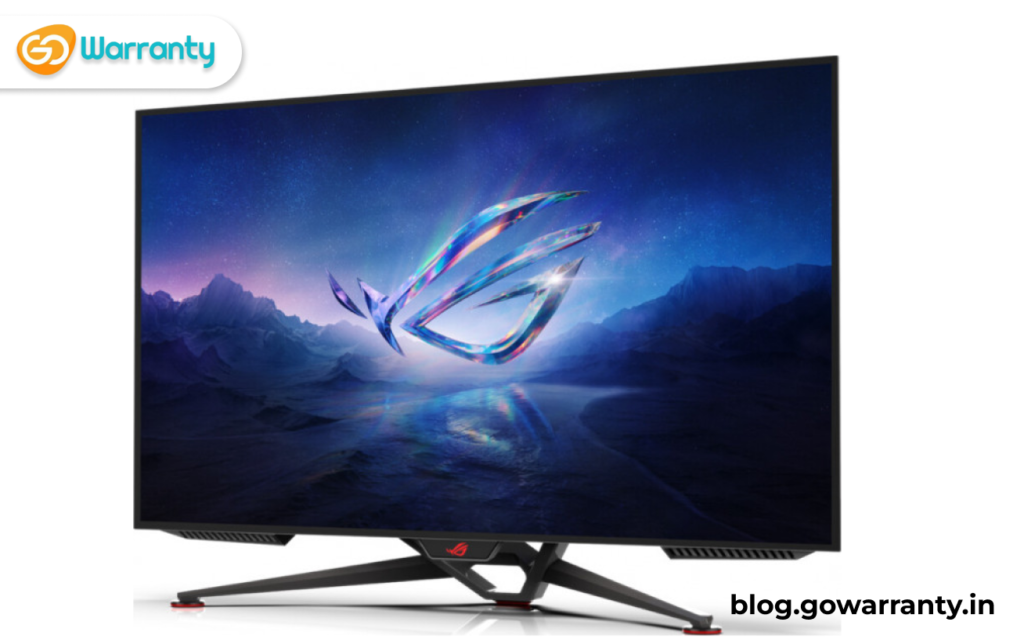 Connectivity and Features
High-end refresh rates, like the Asus ROG Swift PG27AQN, can cause connectivity issues. It has three HDMI 2.0 inputs and one DisplayPort 1.4a output, which appears to be quite a lot. However, the HDMI inputs are limited to 144Hz and cannot handle 1440p at 360Hz (or 240Hz at 1080p). Only the DisplayPort 1.4a port supports 360Hz.
It's disappointing to see only one 360 Hz input on a 360 Hz monitor, but a gaming PC is the only input device capable of delivering 360Hz. This restriction only becomes an issue if you intend to connect multiple high-end gaming PCs.
A USB-B upstream port drives two USB-A downstream ports for connecting wired peripherals to the monitor. These ports are also used if you enable the supported Nvidia Reflex Analyzer. A 3.5mm audio output completes the connectivity. There are no speakers on the monitor.
This monitor has a 25-inch display mode, which is important for competitive gamers. It limits the usable display space to that of a 25-inch monitor when turned on, but only when fed a 1080p input signal. It's a niche feature, but it could be very useful for gamers on the "progressive path." This means that when a 25-inch 360Hz monitor is desired (or required), this monitor can also function as a 27-inch display.
Image Quality
Before delving into image quality, I must first mention a pair of odd decisions made by Asus. The sRGB colour gamut mode and dynamic backlighting were both enabled by default on this monitor. As a result, the out-of-the-box colour palette is more limited and less vibrant than many players will expect, and the display can display vertical bands of grey in dark scenes. After noting these issues, I activated the wide gamut mode and disabled the dynamic backlight.
With those changes, the Asus ROG Swift PG27AQN is a strong performer in most games. It has an extremely high maximum brightness of 495 nits in SDR mode, so the image is always punchy even in a brightly lit room. Colour accuracy is excellent, and the wide colour gamut covers 95 percent of the DCI-P3 colour gamut and 89 percent of sRGB.
HDR Image Quality
The Asus ROG Swift PG27AQN is a VESA DisplayHDR 600 certified monitor, which means it passed VESA's peak brightness test at more than 600 nits. That sounds great on paper, but it's less impressive in practice. Contrast is still an issue because the monitor has a low contrast ratio, it cannot display extremely bright scenes without increasing the brightness of the screen's dark areas.
Motion Performance
The Asus ROG Swift PG27AQN's image quality is clearly not its strongest suit. To be fair, that is not how this monitor is advertised. This is the first 1440p 360 Hz monitor available: the point is motion performance.  Fortunately, the monitor excels in this area.  At the monitor's maximum refresh rate of 360Hz, gameplay appears extremely clear. Although it isn't perfect (no monitor is), the clarity allows you to read small fonts and see fine interface details while scrolling or panning the camera.
Competitive Gaming
The Asus ROG Swift PG27AQN is designed for competitive gaming, but it also performs well in more mundane tasks. The high maximum brightness, good colour accuracy, and 1440p resolution of the monitor provide a clear, crisp, and functional experience. For some content creation tasks, such as 4K video editing and professional photography, 4K resolution is preferable, but there is an obvious trade-off between refresh rate and resolution. If you want 4K, you won't get 360Hz.
Competition
The Asus ROG Swift PG27AQN is the only 27-inch 1440p 360Hz monitor available right now, as well as the only one announced. It does not have a direct competitor.
This monitor may be compared to 24-inch and 25-inch 360Hz monitors such as the Alienware AW2521H, Acer Predator X25, and Asus ROG Swift PG259QN by competitive gamers. In non-competitive games, the PG27AQN's 27-inch screen is definitely more immersive, so it feels like an obvious upgrade. Due to the new Ultrafast IPS panel, the PG27AQN has slightly better motion performance.
Verdict
The Asus ROG Swift PG27AQN is a marvel of motion clarity. It's the market's first 27-inch 1440p 360 Hz monitor, as well as the first to use an Ultrafast IPS display. These advancements deliver exceptional motion clarity across a wide range of refresh rates. Unfortunately, the monitor's motion clarity has no effect on its image quality, which is adequate. To be clear, it's a very attractive monitor in a variety of settings. However, the contrast ratio of the monitor is rather low. While it can achieve high levels of brightness in HDR, it lacks the nuance and contrast needed to look good in HDR games. Moreover, this is a simple decision.