HP Dragonfly Pro Chromebook laptops are available in two flavours: Windows 11 and ChromeOS. Both are aimed at freelancers or other small business users who require a high-quality laptop with modern features and live support 24 hours a day, seven days a week. Today we're looking at the ChromeOS version, but I'll go over the Windows 11 version later.
The ability to contact technical support directly from the laptop to resolve issues is a new feature that sets the Dragonfly Pro line apart from most other laptops. Fortunately, HP does not simply rely on this to make it an appealing premium Chromebook offering. The HP Dragonfly Pro Chromebook comes in only one configuration, with a Core i5-1235U processor, 16GB of RAM, and a 256GB PCIe SSD for INR 82,699. It is available in both black and white. This makes it an expensive Chromebook, but it is less expensive than HP's other enterprise-oriented models.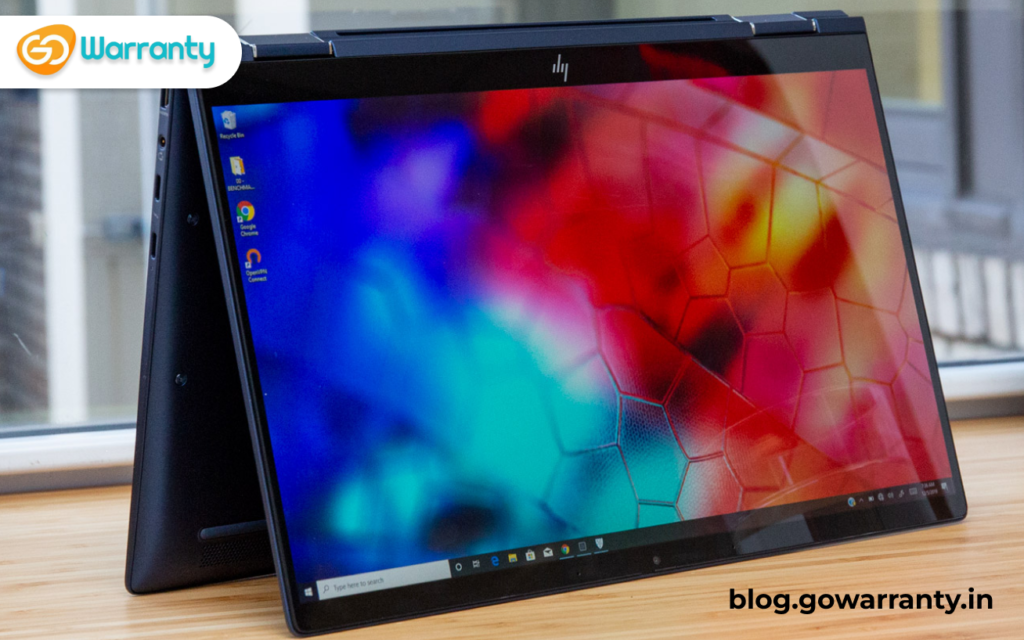 Design
The lid of the Dragonfly Pro Chromebook opens smoothly with one hand while still providing enough friction to keep the display firmly in place. The aluminium chassis is rock-solid, and the lid will not bend no matter how hard you try. This Chromebook is built to compete with the best Windows and Apple premium laptops, such as the Dell XPS 13 Plus and the Apple MacBook Pro 14, which is unusual. Notably, HP's previous best Chromebook, the Elite Dragonfly Chromebook, wasn't quite as reliable.
It has an all-black or all-white design with just a silver HP logo on the lid and speaker grills on each side of the keyboard to add some flair. Minimalism has recently become popular in laptop design, but that doesn't make the Dragonfly Pro Chromebook unappealing. It isn't. It's actually quite appealing, with just the right mix of lines and angles to give it a sleek appearance. The top and bottom display bezels aren't the smallest you'll find, but it still has a modern appearance when open.
The Dragonfly Pro Chromebook isn't the thinnest or lightest laptop on the market, measuring 0.70 inches and weighing 3.33 pounds, but it's still very portable. The Acer Chromebook Spin 513 is 0.64 inch thinner and 2.83 pounds lighter, but the difference isn't significant.
Keyboard and Touchpad
The keyboard is well-designed, adhering to the standard ChromeOS layout, with large, comfortable keycaps and plenty of key spacing. The switches are light and snappy, but they could use more pressure. It doesn't quite match the quality of the HP Spectre keyboards, but it's close enough for long typing sessions.
Since the touchpad is haptic, it supports "clicking" across the entire surface. It's very precise, and the haptic feedback is fantastic, giving you the feel of solid physical buttons without the noise. It has one of the best touchpads on a Chromebook, and it's also a good size for a 14-inch laptop in general. In my opinion, it outperforms the haptic touchpad on the Dell XPS.
Connectivity
While four Thunderbolt 4 ports are impressive in terms of modern connectivity, they are the only ones available. For legacy devices, you'll need some dongles. HP also chose not to include an audio jack, which I dislike, but it's unsurprising given that the smartphone industry has gone in this direction as well, and a few other notebook makers are following suit.
24/7 Pro Live Support
HP's new Pro Live Support service, available 24 hours a day, seven days a week, offers chat or phone support with a live agent. It's free for the first year, then $11 per month for up to 36 months. Once you've created an HP account, simply open the HP Support Assistant app and click the support agent link.
One of the most powerful Chromebooks
ChromeOS does not require nearly the resources that Windows 11 or MacOS do. Because it is a lightweight operating system based primarily on web technologies, it can get away with fewer components. The Dragonfly Pro Chromebooks are powered by a 12th-generation Core i5-1235U processor, a 15-watt 10-core (two Performance and eight Efficient), 12-thread CPU with a maximum Turbo Frequency of 4.4GHz. It's a mid range processor for Windows 11, but a high-end processor for ChromeOS.
Add in the 16GB of RAM, which is a lot for a Chromebook, and the Dragonfly Pro Chromebook is one of the fastest ChromeOS laptops we've tested. It's the fastest processor we've tested in Geekbench 5 multi-core mode, and it won the web-based Speedometer 2.0 test. I pushed the laptop hard, opening multiple tabs as well as running several Android apps in the background, with no slowdowns.
Battery Life
Battery life was lower than that of the other Intel Core Chromebooks in our comparison group, as well as that of the majority of ARM-based Chromebooks. If your ChromeOS workflow is particularly demanding, you won't be able to get a full day's work out of the machine.
Display
The Dragonfly Pro Chromebook has a 14.0-inch 16:10 IPS display with a resolution of 2560 x 1600, which is a good resolution for its size. HP claims a brightness of up to 1,200 nits, which I can't test because my colorimeter doesn't support ChromeOS. During my testing, however, I found the display to be extremely pleasant to use. I don't require such high brightness, but it would be useful if I worked in areas with a lot of ambient lighting (or outside). The colours were vibrant and natural, and the blacks remained true without fading to grey. It's a great display for productivity or creative work, and it should appeal to the majority of users.
The audio was excellent, with plenty of volume to fill my home office. At full volume, there was no distortion, with clear mids and highs and a hint of bass.
Verdict
The HP Dragonfly Pro Chromebook is incredibly fast, well-built, and has several features that put it on par with its Windows competitors. There aren't many ChromeOS machines with haptic touchpads and Thunderbolt 4, let alone live 24/7 technical support. It's pricey at INR 82,699, but it's one of the best Chromebooks available and elevates the platform to compete more directly with Windows 11 and MacOS.