The Sony ZV-E1 is the company's latest vlogging-focused camera, but it takes the concept to the high-end full-frame realm. This is a camera with the sophisticated selfie mics and face-to-camera approach of previous ZV models, but it shares many internals with the a7S III and FX3. The Sony ZV-E1 will be available in black or white in early April, with pre-orders beginning on March 30th. The body alone will cost around INR 1,80,499, and the 28-60mm F4-5.6 zoom will cost around INR 2,05,000.
New Additions
The ZV-E1 has the same 12MP sensor as the a7S III and FX3 (probably 48MP with quartets of pixels binned down to 12MP). These are both high-spec, video-focused cameras, making them an obvious choice for a professional-grade vlogging camera.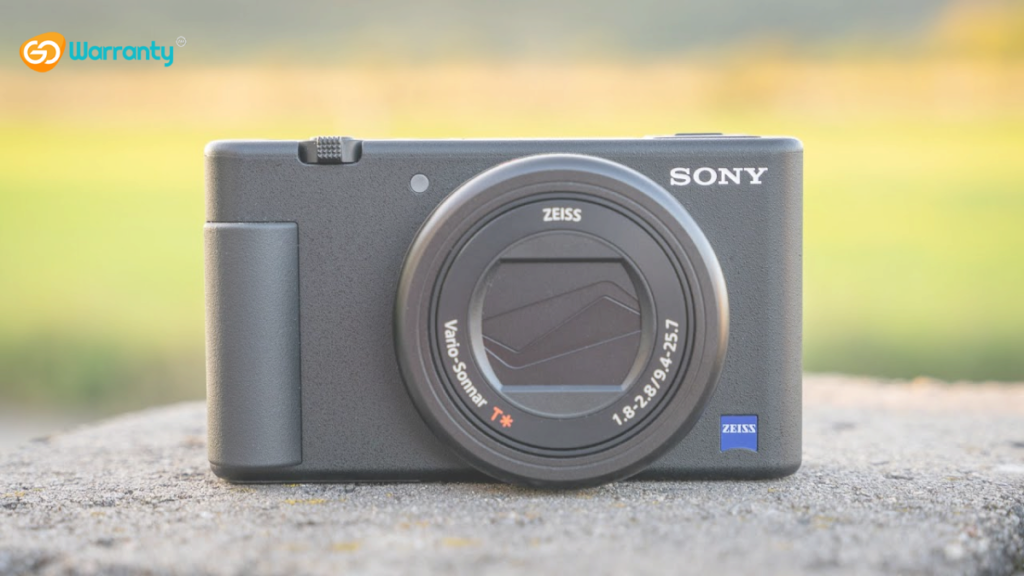 Due to this sensor, the ZV-E1 can deliver UHD 4K video at up to 60p without cropping. This 3840 pixel wide footage was captured from a 4.2K pixel region, but any mode that crops into any significant extent is actually capturing less than 4K and upscaling. On the Sony ZV-E1, there are numerous such modes. The camera also includes the a7R V's 'dedicated AI processing chip,' which makes it more effective at running the machine-learning-derived algorithms that underpin several of its key features. With this camera, Sony appears to be eager to use the term "AI" whenever possible.
iAuto Video Mode
To switch between shallow and deep depth-of-field, there's a dedicated (though customizable) button on the top of the camera. Some options can be disabled by pressing the Menu button: good luck getting there without dropping the camera if you're facing it. Using Sony's 'Super resolution zoom,' the zoom rocker around the shutter button can be used to crop in and upscale.
While in the camera's most automated video mode, it attempts to be creative with depth-of-field. It controls aperture in tandem with subject detection, not only setting exposure based on detected faces but also gradually stopping down if a second face appears in the scene, providing adequate depth-of-field if a guest or co-presenter appears on camera. When they leave the shot, the aperture is reopened.
CineVlog Mode
Another button, this time on the camera's touchscreen, activates the CineVlog mode, which places the camera in the appealing, low-contrast S-Cinetone colour profile, shoots at 23.98p, and outputs a 2.35:1 – cinematic widescreen – crop, slotted between black bars (the output footage is still 16:9 UHD). It's essentially a one-touch button that allows you to give the camera's output a more 'cinematic' look without having to learn how to do so.
Dynamic stabilisation and framing stabilisation
Image stabilisation modes are available on the Sony ZV-E1. There are two modes: standard, which uses the camera's sensor-shift stabilisation, and active, which crops in and uses both sensor-shift and digital stabilisation. There's also a 'Dynamic Active' mode that zooms in even more, allowing the digital stabilisation to cover a larger area and correct larger movements.
Sony has added a feature called Framing Stabilization to this latter mode because it crops in on the sensor and has so much freedom to move its capture window around. This changes the crop not only to stabilise the footage, but also to keep a subject in the centre of the frame. It employs the company's 'human pose estimation' system, which is based on a human movement model and has proven capable of recognising people in a scene even when they turn away from the camera. As a result, rather than simply compensating for your shakiness, it also compensates for your framing and composition.
Auto Framing
A similar mode, designed for tripod use, sees the camera crop in on a region of the frame and follow the subject as they move around: panning and scanning to maintain composition. This mode allows a single operator to walk around within a wide-angle shot with no one behind the camera. You can choose between three crop levels and change the tracking speed. There are even options that cause the camera to zoom in on the subject as soon as it enters the frame.
Body and Handling
The Sony ZV-E1 resembles an a7C in appearance, but without the viewfinder, it is even smaller. It is the smallest and lightest full-frame interchangeable lens camera with in-body image stabilisation, according to Sony (presumably that means the Sigma fp is smaller).
It's an unusual camera in terms of ergonomics. The flip-out touchscreen and on-screen interface suggest it's meant to be shot with the camera facing you, but the hand grip and button placement suggest otherwise. It is possible to hold the camera with the lens facing you, but there is no indication in the grip design or placement of the [REC] button that this was the designers' intention. If you intend to hold the camera, a good wrist strap is a must.
Battery
The good news is that, despite the reduction in size, the ZV-E1 still has space for Sony's larger, 'Z' type battery. The NP-FZ100 battery has a capacity of 16.4Wh. This gives the camera a rated capacity of 570 shots per charge. As is customary, most people will receive twice this amount. The CIPA figures for continuous video recording time and 'actual' time (when the camera is turned on and off intermittently) are 140 and 95 minutes, respectively.
The camera can be charged via USB or powered and operated via USB. It is also UVC/UAC compatible, which means it can be plugged into a computer as a USB device and function without the need for additional software.
Verdict
There's something strange about writing first impressions of a camera , but I don't think that's what makes writing a Sony ZV-E1 article so difficult. For the past two or three years, a disproportionate number of product briefings we've attended have focused on 'creators,' whether the product in question is a Nikon Z fc or a Panasonic S5 II. 'Creators' are a loosely defined group of users, but making videos for platforms like YouTube and TikTok appears to be critical to the concept.