The Samsung Odyssey Ark is a visual treat. It's the most powerful gaming monitor we've ever seen, with a 55-inch 1000R curved screen, multitasking menus, integrated lighting, and dedicated control pad.
The Samsung Odyssey Ark ($3,499), billed as a "personal gaming theatre," recreates an entire desk setup with all of its bells and whistles. While the device may be a little flashy for a work monitor, it can certainly be used to manage projects. It's also a smart TV, so you can watch your favourite shows on it. You can also game, work, and watch at the same time, thanks to the Odyssey Ark's versatile multitasking interface.
The Samsung Odyssey Ark is a towering and completely immersive presence, especially in its vertical orientation, dubbed "Cockpit Mode." We know "immersive" is a buzzword in gaming, but the Odyssey Ark could be the new gold standard for large-format monitors, as well as one of the best gaming monitors for people who can afford it.
Price and Availability
The Samsung Odyssey Ark is now available for pre-order for $3,499 USD. It will be released in September 2022.
Though the market for high-end gaming monitors is expanding, the Ark falls into the "splurge" category. The closest competitors are the Alienware 34 QD-OLED gaming monitor ($1,299) and the 43-inch Acer Predator CG437K ($1,599).
Specifications
Design and Display
At first glance, the Odyssey Ark could be mistaken for a curved television due to its size (in the horizontal orientation, that is.) However, details like the 1000R curve, integrated light bars on the back, and a large central stand give the impression of a sophisticated spaceship. When you rotate the display to the vertical orientation, the magic happens. I expected to struggle to turn the screen — at 5'4″, I couldn't even reach the top of it — but it moved surprisingly smoothly. I tried to be gentle with it, but Ark was never anything less than strong. It was obviously designed to handle switching between the two configurations.
Meanwhile, the all-matte display is meant to reduce glare, so you won't see your own face reflected back during gameplay. There's certainly more room for glare with a large screen like this, but the display kept distracting ambient lights at bay during my hands-on session.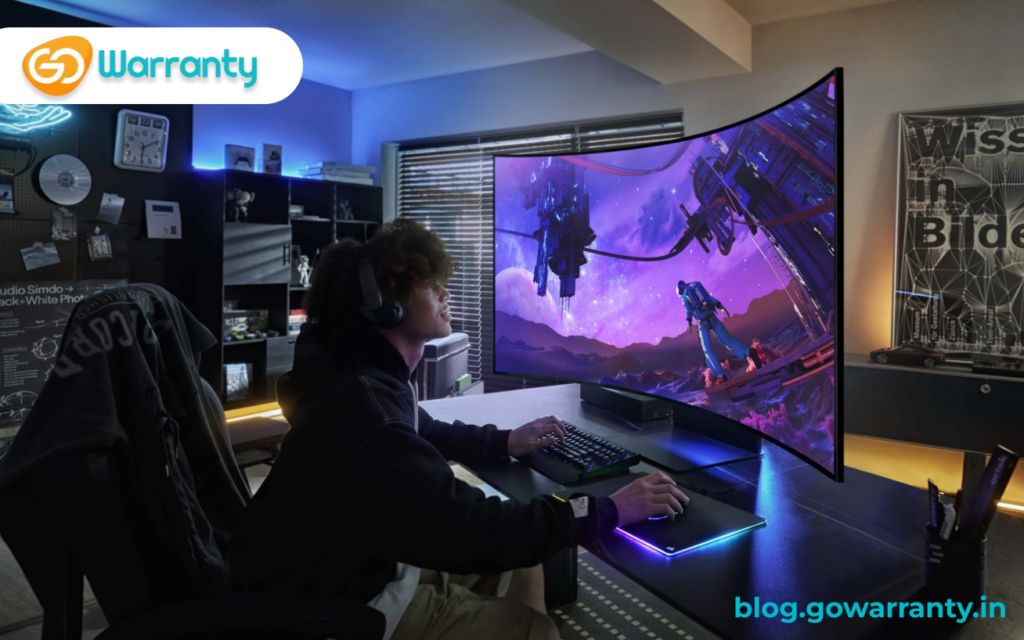 Interface and Navigation
When I wasn't looking at the Odyssey Ark, I was looking at the monitor's desktop control panel. This notepad-sized remote, known as the Ark Dial. It is designed to sit next to your mouse or keyboard and control the monitor's numerous features. It has a physical dial with an extremely satisfying clicking mechanism, as well as a charging solar panel. The Ark also includes a version of the Eco Remote from Samsung's 2022 TV lineup, but the dial is critical to the experience.
That experience, however, takes some getting used to. Navigating the Odyssey Ark and all of its features via dial will require some practise. After about 20 minutes, I began to get the hang of it. But I knew it would take a few days to memorise the dial's various functions. Aside from general navigation, the dial has two special features. First changing the size of your input screen and the second is curating your Multi View layout. If you're only using one app or input, you can reduce the viewing size to 27 inches. For example, to see your entire game in a narrow field of vision. You can use Multi View to create a variety of multi-input layouts and save your favourites for quick access.
For my demonstration, Samsung reps set up Flight Simulator on the Xbox Series X console in a big window, with a YouTube playthrough video as well as a Wikipedia page on the Pyramids of Giza in two smaller windows.
In vertical mode, each window is stacked on top of the others like a sandwich. Multi View is compatible with gaming inputs, screen mirroring, and the majority of built-in Samsung apps, allowing you to consume or participate in multiple types of media at the same time.
Performance
We intend to run our standard battery of monitor tests to see how the Odyssey Ark compares to Samsung's other gaming monitors. We'll also compare it to the previously mentioned Alienware 34 and possibly the Sony InZone M9. However, based on specs and my hands-on, we already have an idea of how the Samsung Odyssey Ark performs.
Samsung's neural quantum processor ultra powers the Odyssey Ark. This should enable AI upscaling, object area detection, contrast understanding, complex depth of field, and other applications. Users can expect cinematic and responsive gaming on this massive, all-encompassing screen when paired with a Quantum Mini LED 4K screen at 165Hz and 1ms lag. I played Flight Simulator and Forza Horizon 5, and the level of immersion hypnotised me. In addition, even on sharp turns, my whip in Forza drove smoothly.
Forza also allowed me to test the monitor's audio. The Odyssey Ark has four speakers in each corner and two woofers in the centre, allowing it to support Samsung's Object Tracking Sound feature, which I've come to know and love from testing TVs. The engines of the car sounded distinct — the sound seemed to have a direct line to my ears due to the angle and size of the curved display. Of course, you could pair a Bluetooth headset or connect a Bluetooth speaker to a source. I didn't get a chance to test it, but you should be able to hear sound from up to two inputs at the same time.
Verdict
The Samsung Odyssey Ark is exceptional in every way. Is it required as part of a high-end gaming setup? Certainly not, especially given the $3,499 price tag. For that price, you could get at least two GeForce RTX 3090 Ti graphics cards. But it was difficult to walk away after sitting in front of the Odyssey Ark. The large screen, smooth rotation, and multitasking capabilities create a unified entertainment experience unlike anything else I've used before.