The MacBook Air M2 lives up to the name "Air". The new MacBook Air is a breath of fresh air because Apple combined an even faster M2 chip with a significantly thinner and lighter design. Carrying and using this 2.7-pound notebook reminds me of the iconic original Air that Steve Jobs pulled from a manilla envelope 14 years ago. Something this bright can't possibly be that powerful, can it? Yes, it is possible.
Design and Colours
When closed, the MacBook Air M2 is so thin that it could be mistaken for an iPad (especially if the Apple logo is facing out). This notebook is extremely thin. A regular Bic pen, which measures 0.44 inches thick with the lid open, appears bulky in comparison to this machine. Overall, the Air M2 is 20% smaller in volume than the previous Air, but it has a larger 13.6-inch display. I'm not a fan of the top-of-the-screen notch, which breaks the aesthetics by swooping down to the bottom of the Menu bar, but it wasn't too distracting during day-to-day work.
If you want to make a statement, I recommend getting the MacBook Air M2 in Starlight (pale gold) or Midnight (dark blue), but Silver or Space Grey are also options. However, if you choose the Midnight colour, keep an eye out for scratches, as this colour is said to scuff easily.
Ports
Apple keeps the MacBook Air M2 port selection to a minimum. On the left side, you'll find two Thunderbolt 4/USB 4 ports, as well as a MagSafe power adapter. The latter connection makes it simple to magnetically attach the cable connector to the system, and it also helps prevent the laptop from falling if someone accidentally pulls too hard on the cable. I'm grateful Apple brought this back.
Display and Audio
In terms of display quality, the MacBook Air M2 has finally caught up to the MacBook Pro M2. You get a bright and colourful 13.6-inch panel (2560 x 1664 pixels) for watching videos, editing photos, and doing whatever else you want.
I was captivated by the level of detail in little Gru's eyes, hair, and scarf as he exploded down the road on a jet-powered bike while watching the trailer for Minions: The Rise of Gru. Furthermore, the picture was bright enough that I could enjoy the action from a variety of viewing angles. The panel on the MacBook Air M2 also performed well in our lab tests. It had an average brightness of 489 nits and a maximum brightness of 495 nits with HDR content.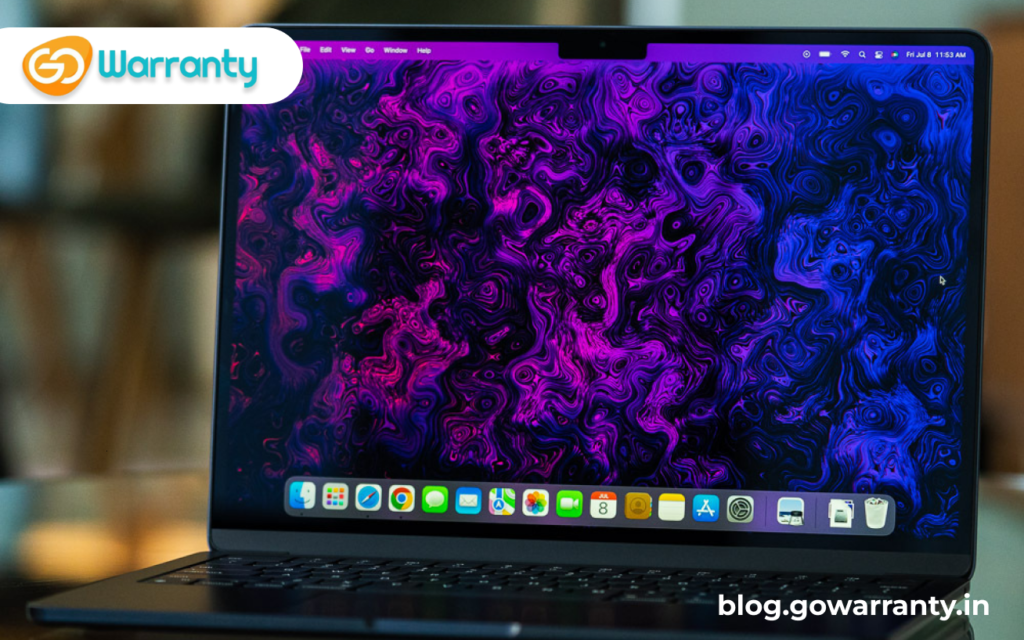 Performance
The best thing that I can say about the MacBook Air M2 is that it easily manages Prime Day deals workload (which is quite intense). I was juggling dozens of Google Chrome tabs, switching between Slack messages, and editing photos in Photoshop while also uploading files to our CMS. And the MacBook Air M2 handled it all with ease.
I only noticed lag once with the new Air, and that was when I had more than 100 tabs open in Chrome across multiple windows. However, I didn't notice any difference in performance for everyday tasks when compared to the MacBook Pro 14-inch with M1 Pro chip, which is a huge compliment.
The MacBook Air M2 scored 1,932 on the single-core CPU test and 8,919 on the multi-core test in Geekbench 5.4, which measures overall performance. The MacBook Air M1 scored 1,736 on single core and 7,575 on multi-core in an older 5.3 test. This is 11% faster on a single core and 17% faster on a multi-core system. The MacBook Pro M2 performed similarly to the Air M2, reaching 1,898 and 8,911.
Graphics and Gaming
Our MacBook Air M2 came with a 10-core GPU rather than the standard 8-core CPU found in the $1,199 model, but we can share how this GPU performed and will update once we test the entry-level model.
With the resolution set to 1920 x 1200, the MacBook Air M2 achieved a fairly smooth 27 fps (30 fps or better is ideal) in Rise of the Tomb Raider. At 2940 x 1920, that dropped to 15.3 frames per second. The MacBook Pro M2 scored 24.9 and 12.2 frames per second, respectively.
Battery Life and Charging
The MacBook Air M2 is one of the most durable laptops available for the price. The new Air averaged 14 hours and 6 minutes on the Tom's Guide battery test, which involves continuous web browsing at 150 nits of screen brightness. This is slightly slower than the previous Air M1 (14:41), but it is still excellent endurance.
In comparison, the XPS 13 OLED lasted only 8 hours, while the Asus Zenbook S 13 OLED lasted 11:02. The Surface Laptop 4 clocked in at 10:46. Still, the MacBook Pro M2 reigns supreme, with a whopping 18 hours and 20 minutes of battery life.
Keyboard and Touchpad
The Magic Keyboard on the MacBook Air M2 proved to be quick and responsive. The key mechanisms are quick enough, and the travel is adequate as well, as I had no trouble writing and editing documents during a long bus ride. I averaged 69 words per minute with 96% accuracy on the 10fastfingers typing test, which is within a normal range.
The large touchpad on the Air, as usual, is accurate and makes it simple to perform various gestures, such as pinching to zooming and showing all open apps. I like having a Touch ID button embedded in the keyboard because it makes logging in easier, but I wish Apple would support Face ID to make system unlocking even faster.
Verdict
The MacBook Air M2 is simply the best laptop for the money. You get stellar performance, a vibrant display, and excellent battery life all wrapped up in a delightfully portable design. Yes, $1,119 is a steep price, although I'd easily recommend this system over the $999 MacBook Air M1 that is still in the lineup due to its superior performance and display, as well as a sharper webcam and MagSafe charging.