Sennheiser has been a mainstay in the world of active noise cancelling (ANC) headphones for many years. As a result, it's no surprise that it's eyeing the current crop of popular active noise cancelling headphones. Sennheiser, on the other hand, does not release new products as frequently as its competitors, preferring to make fewer but more significant updates. The Sennheiser Momentum 3 Wireless is several years old, and its successor must fill big shoes. We had a week with the Sennheiser Momentum 4 Wireless to learn everything there is to know.
Sennheiser's Momentum Wireless ANC headphones represent the company's efforts to create a consumer-oriented set of headphones for frequent commuters with larger wallets than the average headphone buyer. The Sennheiser Momentum 4 Wireless, the latest iteration of this line, faces stiff competition in its category from Bose, Sony, and Apple. Sennheiser, on the other hand, has a track record of providing things that others will not—and the same is true here.
How does it feel to use Sennheiser Momentum 4 Wireless?
The Sennheiser Momentum 4 Wireless comes with a fabric case with rigid plastic, an aeroplane adapter, a USB-A to USB-C cable, and a 2.5mm to 3.5mm TRS cable for use with non-Bluetooth sources. While that is a lot of accessories, the carrying case has a mesh pocket, flexible loops, and plenty of room to store them all comfortably. Getting a good fit with the Sennheiser Momentum 4 Wireless is simple, and the somewhat thick padding made of soft leatherette material has enough give to accommodate glasses, which I really appreciate.
When you first use the Sennheiser Momentum 4 Wireless, you should install the Sennheiser Smart Control app to ensure you have the most up-to-date firmware. You'll be able to start listening almost immediately after powering up and putting the headphones on your head. A number of creature comforts are only available when you activate them via the app, so play around with Smart Control before uninstalling it.
When you take the headphones off your head, a feature called "Smart Pause" is activated, which automatically pauses your music and puts the headphones into standby mode. You can also tell your headphones to automatically hold any calls you are currently on with the same action. Finally, you can customise the level of ANC, enable Adaptive ANC to automatically adjust it based on your surroundings
How To Control and Connect it?
The Sennheiser Momentum 4 Wireless, like the Sony WH-1000X series of headphones, uses touch gestures to control playback and answer calls. Even if you don't have the chart below, it should be simple to understand and implement on your own. Furthermore, there is a single button on the right side of the headphones that allows you to turn on or off the Momentum 4 Wireless, but it also serves a few other purposes. When the headphones are turned off, press and hold this button until the lights flash to enter pairing mode. Tap it once to mute your microphone while on a call.
The Sennheiser Momentum 4 Wireless, like any other wireless headphones, connects to your phone, computer, or other source via Bluetooth. You can also listen to music from a computer using the 3.5mm jack or the USB cable. If you stick with Bluetooth, you can use the SBC, AAC, aptX, aptX HD, or aptX Adaptive codecs.
We usually recommend that listeners with this many options use the AAC or aptX HD codecs, depending on their phone. AAC is superior on the iPhone, whereas aptX and aptX HD are far more constant on Android devices (despite aptX Adaptive offering a lot on paper). Really, this is a minor point now that phones have come so far—however, if latency is an issue when using the headphones, please use AAC or aptX Adaptive, as this will reduce latency from about a quarter of a second to almost nothing.
Battery
We programmed the Sennheiser Momentum 4 Wireless to perform our standard battery test of continuous music playback at 75dB. (SPL). The headphones last 56 hours and 21 minutes (with ANC turned on), which is an excellent result! As always, your mileage may vary depending on how you use the Sennheiser Momentum 4 Wireless, but this result puts it far ahead of the closest competing ANC headphones.
What is rarely discussed is that longer battery life can imply longer battery life. The fewer charge cycles applied to the cell over a longer period of time, the longer the battery can hold its charge. It's worth considering if you're concerned about the environment or the economy.
In addition to a physical power switch, there's an Auto On/Off feature that turns the headphones on or off based on their position. The headphones will turn off if you put them down after listening. They will turn on when you put them back on your head.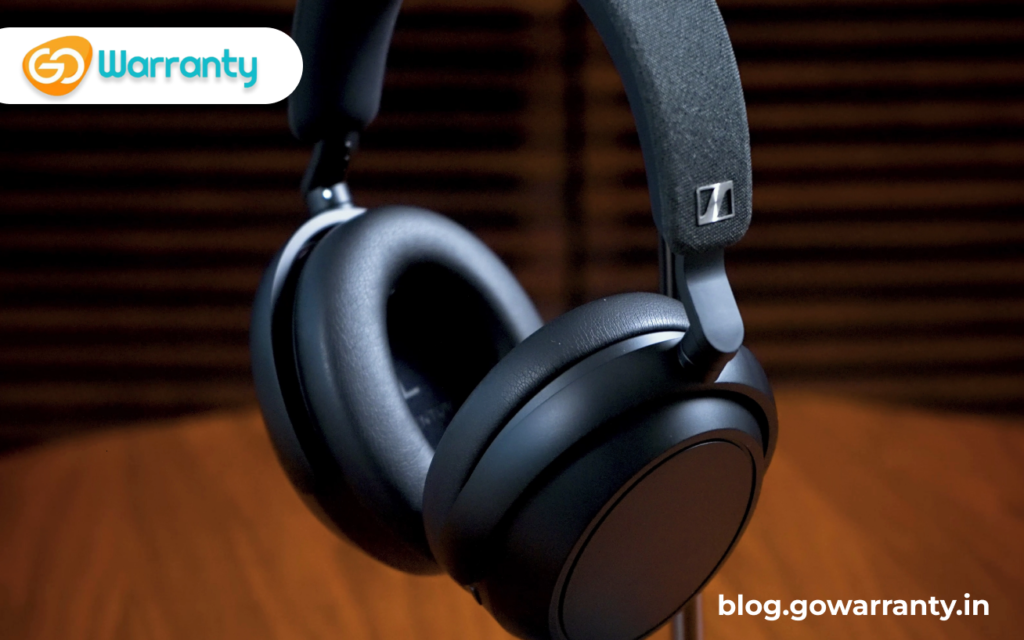 Noise Cancellation
The Sennheiser Momentum 4 Wireless, like the other frontrunners in the ANC headphone category, does an admirable job of preventing outside noise from reaching your eardrums. Although it does not outperform its competitors, keep in mind that the decibel scale used for attenuation is not linear, so the relative difference between attenuating 30 to 40 decibels (equivalent to 1/8th to 1/16th the perceived loudness) is far less than 0 to 10 dB (no reduction to 1/2 as loud). In that light, the Sennheiser Momentum 4 Wireless holds its own, though somewhat slightly behind the pack.
How does it sound?
Sennheiser's main strategy for the sound of the Momentum Wireless headphones has been to appeal to the mass market. The headphones don't typically go overboard with the bass or highs, though there is some added bass. That's an improvement over many competing headphones' options, but it may not always be something you want in your headphones. The measured response of the Sennheiser Momentum 4 Wireless is incredibly close to our target curve, which does not appear to be by chance: most people will enjoy the sound.
Verdict
The Sennheiser Momentum 4 Wireless is decent enough to make a lot of people happy at a competitive price in the ANC headphones category, but it has some tradeoffs that may make other headphones a better fit. Nonetheless, the fact that the headphones cost $350 USD means that consumers who are considering Apple, Bose, or Sony may want to save money by checking out Sennheiser's latest instead. The ANC lags slightly behind the rest of the high-end pack, however the battery life outperforms every other competitor.