The JBL PartyBox 310 is a large battery-powered speaker that features circular RGB lighting. It has a slightly boomy sound profile that is suitable for a wide range of music. It has a Bass Boost feature to add more thump and punch, and its sound can be customised using the graphic EQ in its companion app. It's ideal for musicians because it has a microphone and guitar input, as well as bass, treble, and echo controls for the microphone. Although there is some compression at maximum volume, it can get quite loud. However, it is quite large and bulky. Still, if you need a powerful speaker for your next event, this is a good option.
Design and Build Quality
JBL PartyBox 310 is a large speaker made primarily of plastic. It has two circular RGB lights which can be set to different colours using the companion app or the speaker's light button, as well as a black metal grille to protect its drivers. It also has a telescopic handle and wheels, like the ION Pathfinder 280 as well as the Monster Rockin' Roller 270X, to make transportation easier.
The JBL PartyBox 310 isn't particularly portable. It's quite tall and heavy, making it difficult to transport to different locations. Fortunately, it has a handle and wheels, so you don't have to pick it up. Since it is battery-powered, you do not need to keep it plugged in to use it. If you want a similar speaker that is smaller and easier to transport, look into the JBL PartyBox On-The-Go.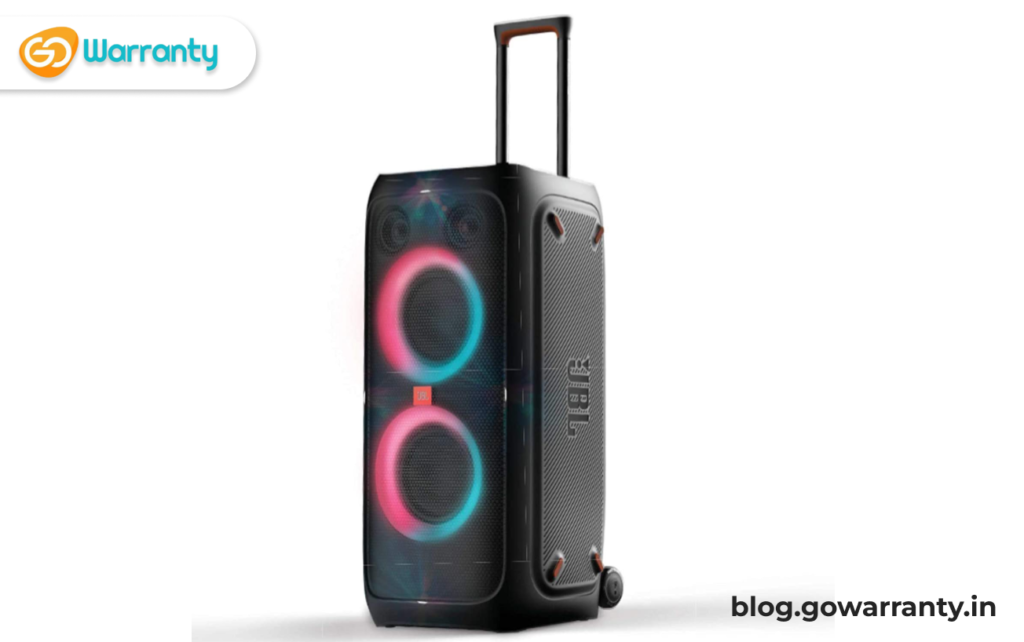 The JBL Party Box 310 is well-constructed. It's made of the same high-quality materials as the JBL PartyBox 300 as well as JBL PartyBox 100, alongside a metal grille to protect the drivers and a plastic body. It has a telescopic handle and a groove on the top side to hold a smartphone or tablet. There are also two built-in wheels and rubber feet on both sides and the bottom. When placed vertically, it has an IPX4 rating for water resistance, and the flaps protecting its inputs are tightly sealed, indicating that it is certified to be protected from small splashes of water.
Sound
The frequency response accuracy of the JBL PartyBox 310 is very good. It has a boomy sound profile that is suitable for a wide range of audio content when placed horizontally and with the Bass Boost set to '1'. The graphic EQ in its companion app allows you to tailor its sound to your preferences. It has a long low-bass range, and the Bass Boost button can help you add even more bass to your audio. This speaker also gets a slight performance boost when connected to a power outlet. This has no effect on the overall sound profile, but it does make audio playback slightly louder. This test's graph can be found here. For a larger PartyBox speaker that can produce an audible sound, consider the JBL PartyBox 710.
The soundstage on the JBL PartyBox 310 is satisfactory. Although it can play stereo content, the soundstage is narrow and directional, so your audio may not be clear from all angles.
Speaker
When connected to a power source, the JBL PartyBox 310 becomes slightly louder, reaching a maximum volume level of 106.6 dB. Having said that, our test results remained unchanged because we believe that the majority of users will use this speaker wirelessly. The speaker has a strong dynamic performance. It can get quite loud, making it ideal for parties. 
Battery and App
The JBL PartyBox 310 has an excellent battery life. It has a continuous playback time of over 17 hours and charges in just under three hours. It also goes into standby mode after 20 minutes of inactivity. However, battery performance varies depending on usage, so your actual experience may differ. Check out the Alpine Corporation Solar Bluetooth Rock Speaker if you want a speaker with an even longer battery life.
The JBL PartyBox 310 supports the JBL PartyBox app. This app lets you customise the RGB lighting, pair it with another unit to form a stereo pair, and connect multiple units to cover a large area. You can also use DJ effects to enhance your audio experience. The 3-band graphic EQ on the speaker allows you to customise the sound profile to your liking. When using the Karaoke setting, there are also bass, treble, and echo controls to adjust its voice and mic performance.
Connectivity
There are several wired input options for this speaker. There is a 12V DC In port for connecting to your car's lighter port, an AUX In, a Mic input with its own volume and gain adjustment, and a 'Mic or Guitar' input. Although there is a USB port, it only supports.mp3,.wma, and.wav files, which is quite limited. This speaker also has In and Out ports, allowing you to daisy chain speakers.
Bluetooth connectivity
Bluetooth connectivity is excellent on the JBL PartyBox 310. This speaker can connect to up to two devices at once, which is ideal if two people want to take turns playing audio from their own smartphones. While it has a high latency on Android devices, it is lower on iOS, making it suitable for video streaming. However, some apps appear to compensate for latency differently, so your results may vary.
Verdict
The JBL PartyBox 310 is a good music player. It has a slightly boomy sound profile that you can enhance with the Bass Boost feature. It can also play stereo content and get quite loud, though there are some compression artefacts at maximum volume. You can also customise its sound with the graphic EQ included in its companion app.