Sony's new INR 5,000 Sony SRS-XB100 portable Bluetooth speaker is an incremental upgrade to the SRS-XB13 with slightly richer bass and a significantly better speakerphone mic. We like the weatherproof design, but there is no companion app. If you're looking for a speaker under 9k, the INR 3,499 Anker Soundcore Mini 3 offers comparable audio and speakerphone performance as well as an adjustable EQ via a companion app for less money.
Existing XB13 owners have little reason to upgrade, but what about those looking for their first travel-friendly speaker? After a week of  using Sony's latest, here's what I think.
Sporty and small
The cylindrical SRS-XB100 is small enough to carry around, measuring 3.0 by 3.8 inches (HD) and weighing 9.7 ounces. The rigid exterior can be finished in matte black, grey, orange, or teal (the previous version had a smooth shell). There are radiator cutouts around the base, and a removable strap with a mottled design is attached to the unit.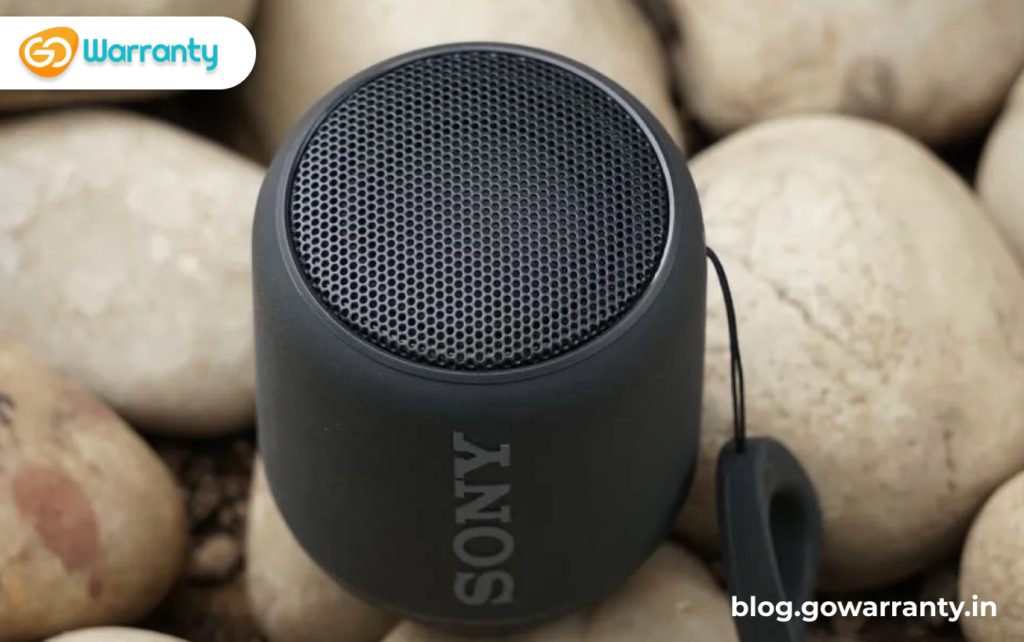 Internally, there's an upward-firing 2-Watt (W) driver visible through the grille perforations, as well as a passive bass radiator aimed downward. They provide a frequency range of 100 Hz to 15kHz for mono audio. You can combine two of these speakers to create a stereo pair for more realistic imaging.
Connectivity
The speaker is Bluetooth 5.3 compatible and works with the AAC and SBC codecs. Google Fast Pair support is also available on compatible Android devices. The control panel wraps around the speaker's base, directly opposite the Sony logo. Power, Bluetooth pairing, multifunction (all of which handles playback, track navigation, along with call management), and volume buttons are located on the left side of the device. A snap-shut panel to the right of these buttons covers up a USB-C port for the included USB-C-to-USB-A charging cable. There are no other accessories included in the box.
IP67 Rating
A speaker with an IP67 rating is completely dustproof and waterproof. You can submerge it for 30 minutes at depths of up to one metre, but don't expect a Bluetooth signal to travel underwater. Poolside splashes, heavy downpours and cleaning sessions should have no effect on performance or cause other operational issues.
Sony estimates that the speaker will last about 16 hours on a single charge at low volume levels and about five hours at maximum volume. According to the company, charging the battery from empty takes four hours and 30 minutes.
The Sony SRS-XB100 doesn't come with a companion app, but that's not something I'd expect at this price. Even the Anker model's nine-band EQ can only do so much to change the sound signature, though an app unlocks the possibility of improvements via firmware updates. Aside from that, I'm glad to see speakerphone functionality, which is becoming increasingly rare on portable models.
Sound Signature
On tracks with a lot of sub-bass, like The Knife's "Silent Shout," the speaker produces a surprising amount of thump for its size. At maximum volume, the driver comes dangerously close to distorting, but the digital signal processing (DSP) kicks into effect and thins out the bass just enough to prevent this. This version, like its predecessor, can vibrate certain surfaces at high enough volumes to cause distortion-like effects. To ensure clean playback on deep-bass tracks, simply hang the speaker from its strap. The good news is that, unlike the previous model, it does not propel itself across flat surfaces due to vibrations.
The SRS-XB100 is unable to reproduce the sub-bass elements at the 34-second mark of Kendrick Lamar's "Loyalty." I wouldn't expect its modest mono driver to go that low, but the radiator adds just enough emphasis to the drum loop. The vocals are also extremely clear.
The sound signature is better conveyed by Bill Callahan's "Drover," a track with much less deep bass. The radiator amplifies the drums admirably, but it's Callahan's baritone vocals that have the most low-frequency richness. The higher frequencies also have an ideal amount of detail; the vocals in this range sound crisp, whereas the acoustic strums and upper-register percussive hits have an airy presentation.
Good Balance between lows and highs
The lower-register instrumentation on orchestral tracks, such as the opening scene of John Adams' The Gospel According to the Other Mary, sounds surprisingly full, while the higher-register brass, strings, and vocals have a pleasant brightness. Regardless of volume, the balance between lows and highs is impressive and consistent. The echo-cancelling speakerphone mic performs admirably. The signal from a test recording on an iPhone was clear and strong, and I was able to understand every word. It's great for taking calls on the go and a significant improvement over the previous model in this regard.
A Compact Speaker with a great Sound
The Sony SRS-XB100 is a solid upgrade over its predecessor, thanks to some subtle changes to the low-frequency response and a better speakerphone mic. It's easy to recommend if you're looking for a small, waterproof speaker that produces powerful, detailed sound. Meanwhile, if you want to spend even less, the Anker Soundcore Mini 3 offers comparable audio performance and comes with a companion app.
Verdict
The Sony SRS-XB100 improves on our favourite travel speaker, pumping out excellent sound and a large battery for its small size  all while looking good. It's a no-brainer if you want to spend less than 5K on a tiny speaker that you can attach to your bag or bike. If you're on a tight budget, the INR 2,999 Anker Soundcore Mini is a compelling alternative that includes a microSD card slot, an aux port for wired audio, and even an FM tuner for listening to local radio. However, if you're willing to spend a little more money for better sound quality and durability, it is as good as it gets for INR 5,000.