The Insta360 X3 will make deciding which action camera to buy much more difficult. This new 360 camera is much easier to use than the earlier models, has a larger 1/2-inch image sensor that allows you to take 72MP 360-degree photos and HDR video, and includes a few new tricks that allow you to share video to almost any social media platform through the Insta360 app.
Price and Availability
The Insta360 X3 will be available for $449 on Insta360.com, Amazon, and other retailers starting September 8. Insta360 will also sell a few accessories, such as a microSD card quick reader with a USB-C and a Lightning adapter, allowing it to be used with both Android and iPhones. It's much faster than using Wi-Fi to transfer files from your camera to your phone.
Design
Aside from the obvious increase in screen size (which we'll discuss later), the X3 appears to be very similar to its predecessor. The X3, like the One X2, has a black/grey colour scheme that's more functional than stylish, but the texturised material around the sides provides good grip for handheld filming. If you own an X2, you may have noticed that the X3 is slightly thicker and, as a result, a little heavier in the hand than the X2. However, this does not take away from how portable this device is. After all, the X series was always marketed as a slimmer action camera than the One R line, and that remains true in this case.
However, the X3's physical inputs have been redesigned to allow for faster switching between modes and presets. Instead of just the power and record buttons found on the X2, the X3 includes a mode switch button that quickly cycles through single-lens outer/inner recordings and the 360-mode, as well as a Q button on the side that accesses a list of customisable presets. I'll always choose physical buttons on cameras, so the update here is much appreciated, and so it helped to keep the screen from getting covered in smudges like touch screens do.
Performance and Screen
If there is one area where Insta360's technology has fallen significantly behind its rival, it is the display. The One X2 was marred by a port-hole display that didn't really serve its purpose well, and the One RS's square display is just a tad too small to be viewed comfortably. The X3 has a completely different story to tell. This time, you get a large 2.29-inch vertical display, which is just shy of the 2.3-inch main display on the GoPro Hero 10, and it's a joy to use. The display is bright and easy to read outside, and its size ensured that I was never squinting to line up a shot correctly. This is exactly what Insta360's cameras have been lacking, and it's enough to recommend the X3 over the One RS if you're deciding between the two.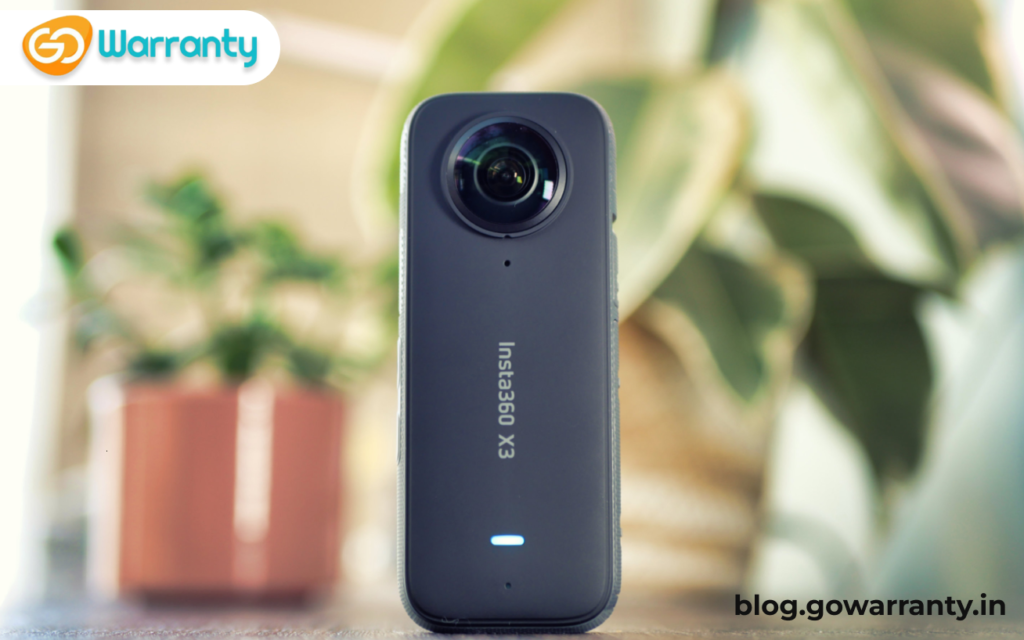 What's odd is that the X3 lacks an auto-rotate feature in the same way that a modern smartphone does. So, if you want to turn the gadget on its side and shoot a landscape shot horizontally, you must first change the aspect ratio to 9:16. This means that the UI remains vertical even when you hold the X3 like a traditional camera. It's a bit of a pain, but the Insta360 app recognises the video as being shot in landscape mode, so there's no problem there. I'm just hoping for a fix at some point in the future.
Image and Video Quality
The X2 has taken a few cues from the One RS in terms of upgrades. For starters, instead of a massive resolution bump (it's still 5.7K 360-filming and 4K single-lens capture), Insta360 has added a larger 1/2-inch sensor to the X3 – whose ability to let in more light should allow for more vibrant as well as eye-catching shots than before.
Fortunately, that promise holds true in real-world use, with the X3 performing admirably when I took it for a spin around London's South Bank. It did have some issues with cloudy skies, sometimes oversaturating them, but it was still able to capture impressive volumes of colour from nearby buildings and landmarks. The One X2 previously performed better as a 360 camera. However, Insta360 has made a greater effort this time to improve the insta360 X3's single-lens capabilities to the point where it seems like an essential tool for any vlogger.
You can switch between standard capture at up to 4K 30fps, still photography, and Loop Recording, allowing the X3 to function similarly to a dash cam. There's even a new feature called Me Mode, which allows the user to place the X3 in front of them at a distance, and also the device will merge the images from both cameras together to make it appear as if you're being followed around by your personal camera crew.
The 1/2-inch sensor has also boosted still photography, with the X3 now capable of shooting 72-megapixel 360-photos, outperforming the 21-megapixel limit on the more expensive One RS 1-inch 360 Edition. The photos I've taken in this mode are stunning, with plenty of detail as long as you don't zoom in too far. Fortunately, the X3 does not have the tearing issues that the 360 Edition does.
Battery Life and Stabilisation
In a matter of months, I've grown increasingly impressed with Insta360's FlowState Stabilisation software. The technology performed admirably on the One RS, but fell short of the high standards set by GoPro's HyperSmooth alternative. However, when I returned to it for the 360 Edition, I discovered that it performed better than ever – and the same is true for the Insta360 X3.
I'm convinced of one of two things: either Insta360 has been quietly tinkering with FlowState in the background, or the company's hardware has simply gotten better at using the technology with each new release. The X3 did an excellent job of keeping everything stable as well as dispelling any sense of motion blur in both 360 and single-lens filming.
To keep up with the updated internals, the X3's battery capacity has been slightly increased. The 1800mAh battery has replaced the 1630mAh battery that came with the One X2. Insta360 claims that you can film at 5.7K 360 for about 81 minutes on a full charge, which I found to be accurate in my own tests.