The Samsung M8 Smart Monitor is among those products that dazzles you with so many features that you overlook the fact that the majority of them are gimmicks. But, aside from the gimmicks, it's a stylish 32-inch 4K monitor/smart-TV for people who don't have the space, money, as well as desire for two large, expensive displays. Many people already use their monitors as TVs, and if you're going to buy one big 4K HDR screen, why not have it do double duty?
The $699.99 M8 has a USB-C port with DisplayPort as well as 65W charging, allowing you to connect a laptop with a single cable and work on that massive screen. On the built-in Tizen Smart TV interface, you can watch TV shows and movies on Apple TV Plus, HBO Max, Amazon Prime, Netflix, and several other services. It comes with a rechargeable remote and supports Bluetooth as well as AirPlay (though no Google Cast). It has speakers and a microphone, as well as a webcam and a SmartThings hub. You can use DeX to make a Google Duo video call, edit Microsoft Office documents without using a computer, or use your Samsung phone as a computer. You'll soon be able to play Xbox games on it without needing an Xbox.
Design
Let's take a step back for a moment. The Samsung M8 is available in four vibrant colours that appear on the monitor's stand and front bezel: green, pink, white, and blue (all models have a white rear casing). It's thin, attractive, and clearly inspired by Apple's latest iMac design.
Display
With its large 32-inch 4K display surrounded by thin bezels, the Samsung M8 makes a good first impression. It's large enough to take over a small desk. If, like me, you only stand (or sit) a few feet away from your monitor, it may take some time to adjust to having so much screen real estate.
The VA LCD panel is a decent compromise for something that is primarily a monitor and secondarily a TV. It's bright and colourful, with lots of contrast and detail. Google Docs' all-white background appeared white rather than grey. When I used MacOS Monterey in dark mode, the blacks weren't washed out, even though they weren't the perfect black of an OLED panel. The M8 is said to cover 99 percent of the sRGB colour gamut (I measured 100 percent with a SpyderX Pro colorimeter), which is useful for content creators, though the display isn't factory calibrated.
The M8 is more than bright enough as a monitor, with a peak brightness of 400 nits (I measured 406), though it picked up glare from windows as well as overhead lights. It also has a maximum brightness of 400 nits in HDR mode (it supports HDR10 Plus), no local dimming, and a refresh rate of 60Hz — more stats in the monitor-first column.
When viewed from an angle, the M8's display, like that of other VA-panelled TVs and monitors, washes out. That's about what I expected, but don't expect to entertain a room full of people unless they're all crowded together on the couch (or bed, or futon — this 32-inch screen appears to be aimed at people in relatively small spaces).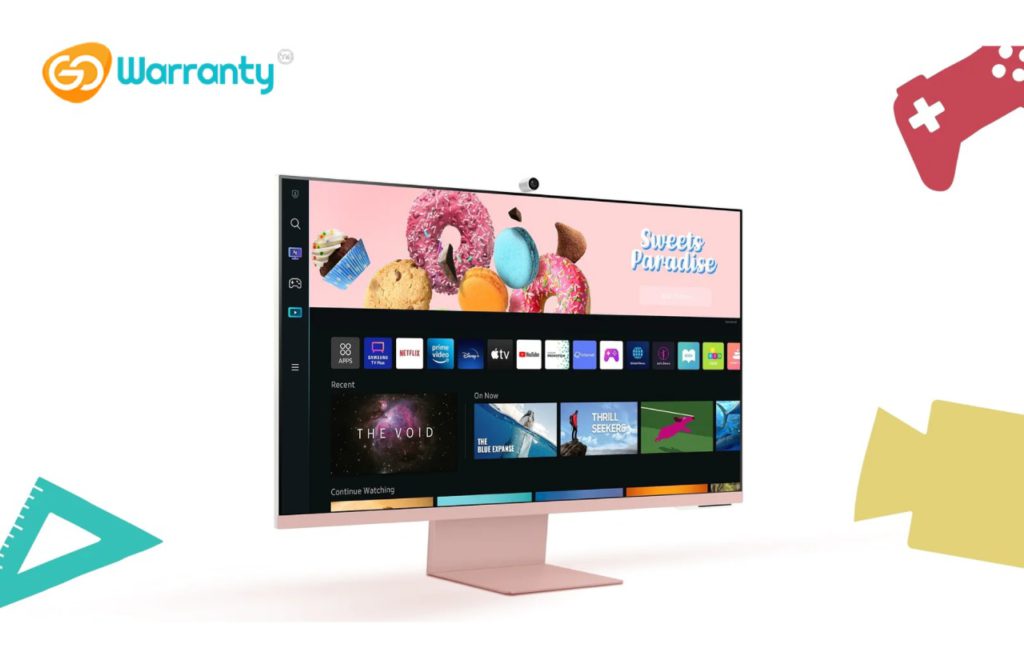 Ports
The ports on the Samsung M8 are located all around the back, beneath where the stand connects. There are two USB-C ports there. One is USB-C 3.1 Gen 2, which supports DP 1.4 video and data passthrough as well as 65W charging. The other is downstream, with USB 2.0 data speeds as well as up to 15W power delivery, making it ideal for charging its remote or phone, as well as connecting low-bandwidth peripherals such as input devices. I had no trouble connecting a keyboard or a webcam. Connecting a USB-C SSD also worked (albeit slowly — it took six minutes to transfer a 13GB file), but only when I removed the snap-on webcam. There's also a micro HDMI 2.0 port (with an included micro HDMI to HDMI cable) and a DC barrel input.
In a pinch, its two built-in speakers suffice. If you don't mind a little audio lag, you can also connect one of Samsung's Wi-Fi-enabled sound bars as well as pair a Bluetooth speaker or headphones. You could send audio out via HDMI to a soundbar or receiver. The M8 supports HDMI-CEC, so you could control the external device with its remote — but audiophiles aren't the M8's target audience.
Webcam
One of the Samsung M8 main selling points is that its snap-on webcam can be used without a computer to make Google Duo calls (and only Duo calls, for some reason). Using Duo on the M8 feels like using a massive smart display, particularly since it has face tracking and therefore can automatically zoom in on your face (these webcam features, strangely, do not work when the M8 is connect to a computer).
Making a call was simple enough, but as previously stated, the webcam's quality leaves much to be desired. Not only are its tracking features delayed and jittery compared to similar techniques on the iPad as well as the Google Nest Hub Max, but the video quality is also poor. Even in our brightly lit office space, I always appeared a little dark and fuzzy in video calls, despite Samsung's claim of 1920 x 1080 capture at 30 frames per second.
Outside of video chats, the built-in webcam has other applications, but they are more gimmicky. You can use it as a sort of mirror to check your form as you watch fitness videos on YouTube. Samsung Health, like Peloton's Guide, can watch and track your workouts through the camera.
Verdict
The M8 doesn't work well enough as a stand-in computer to recommend trying, let alone relying on it if you're on a tight deadline. Microsoft 365 is available on the Samsung M8 as a web app via Samsung's Tizen browser, and it's the most inconvenient way I've found to type documents. It was always slow to load and use, and the typing indicator, which shows where the cursor is on the page, did not appear during testing. I believe a low-end Chromebook would provide more computing power (and better compatibility).