The Black Shark 5 series, the company's newest addition to gaming phones, has been formally introduced in the global market. The business has released the Black Shark 5 and Black Shark 5 Pro gaming phones as part of this series.
Black Shark has preserved all of the fantastic characteristics of its predecessors. While also adding some fresh and exciting enhancements and upgrades that will elevate your gaming experience. The newest Snapdragon 8 Gen 1 CPU, updated magnetic pop-up triggers, ultra-responsive 144Hz display, anti-gravity dual-VC cooling, as well as 120W hypercharge are among the features of the Black Shark 5 series. So, let's look at the specifications.
Price
The Black Shark 5 starts at $550 (about Rs 42,970) for the base 8GB + 128GB model. It goes up to $650 (around Rs 50,700) for the higher 12GB RAM edition with 256GB storage.
The Black Shark 5 Pro costs $800 (about Rs 62,500) for the 8GB RAM model, $900 (approximately Rs 70,300) for the 12GB + 256GB variation, and $1000 for the 16GB RAM model (Rs 78,100 approx). North America, the United Kingdom, and portions of Europe will now be able to purchase the phones.
Dual VC Liquid Cooling Technology with Advanced Anti-Gravity
Because Black Shark is well-known in the gaming and esports worlds, it's important to examine its gaming performance. The ability to cool a gaming smartphone is one of the most crucial features. It's natural for your phone to heat up when you play high-end, energy-intensive games for long periods of time, which not only slows down your performance but also destroys your battery. The newest Black Shark 5 Pro's cooling system has been modified to the new anti-gravity twin VC liquid cooling system to address the issue of overheating. Two VC liquid cooling plates with a combined area of 5320mm2 are used in this system. On the VC liquid cooling plate, the novel "anti-gravity" layer of the capillary structure boosts liquid circulation speed.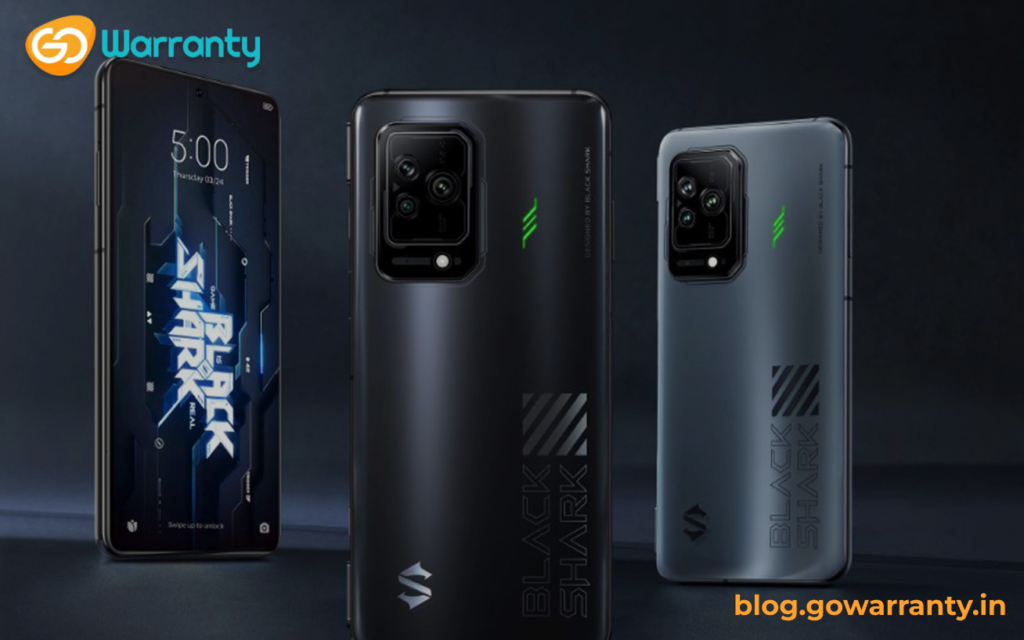 A direct-touch copper alloy design connects the key heat sources. Such as the SoC, 5G antenna, and battery, to this VC liquid cool plate, accelerating heat dissipation from core heat sources to the edges of the chassis and ensuring stable performance. Advanced cooling materials, such as graphite sheets, graphene, and phase change heat material, are also commonly utilised to improve heat dissipation efficiency and uniformity. Additionally, the GameEngine of the Black Shark 5 series has been tuned with new Thermal Control and AI process monitoring to provide a more consistent frame rate. This means that the Black Shark 5 features sophisticated cooling technologies for unrivalled gaming performance.
Performance
The Black Shark 5 Pro features the Qualcomm Snapdragon 8 Gen 1 CPU, as well as 8GB, 12GB, and 16GB LPDDR5 RAM as well as 128GB / 256GB storage. The Snapdragon 8 Gen 1 is the most powerful 5G platform. With a 4nm technology, a new Cortex-X2 CPU with a clock speed of up to 3.0 GHz. Also, a re-architected Qualcomm® AdrenoTM GPU that is 25% more efficient and offers 50% quicker graphics rendering. The phone also comes with Qualcomm Snapdragon Sound as well as Qualcomm aptX lossless audio technology. Which provides a high-quality, detailed, and crystal-clear audio experience.
Special Gaming Controls
From dual-zone pressure-sensitive screens to magnetic pop-up triggers, Black Shark has been pushing the frontiers of mobile gaming controls for years. The business has increased the effective pressure-sensitive area by 16% in the Black Shark 5 series, improving gaming control. Additionally, the unique second-generation magnetic pop-up triggers have a seven-level magnetic drive lift and gaming-grade microswitches. Providing a sharp as well as a comfortable console-level gaming experience.
Display and Battery
The Black Shark 5 Pro has an industry-leading 6.67-inch OLED E-Sport display with 10-bit colour depth, DCI-P3 colour gamut, HDR 10+, as well as SGS eyecare protection, as well as industry-leading brightness, contrast, colour accuracy, and colour performance. The smartphone has a 4650mAh battery as well as supports 120W hypercharge, which allows you to charge your phone to 100% in 15 minutes.
Operating System
The phone runs on the JOYUI 13 gaming system, which is based on MIUI 13 and incorporates many of its features, including the Mi-Light Cone animation framework, intuitive aesthetics, super wallpaper, and the system's natural notification sound, among others. During gaming, users may use Shark Space 4.0 on JOYUI 13 to easily access network settings, performance changes, notification muting, and other features. Hardcore gamers will appreciate the unique 'diving mode,' which allows them to avoid being disturbed by phone calls or texts while playing.
Software
Under the JoyUI 13 overlay, the Black Shark 5 Pro comes with Android 12 pre-installed. This is a version of Xiaomi's MIUI that is geared for gamers. There's not much of a difference here, so if you've used MIUI previously, you'll be good. However, because the Black Shark 5 Pro will be available in the United States. Many American consumers may be unfamiliar with the MUI. The Black Shark 5 Pro will receive software upgrades for at least two years, which is a significant letdown.
You'll most likely spend a lot of time in Shark Space, which serves as your one-stop-shop for game controls. This is a central location where you can rapidly access your games. It will tweak your performance and network settings, and map hardware features.
The Master Control section serves as your HUD for a variety of tasks. Including selecting a performance mode, adjusting your refresh rate, and monitoring your stats. Also, dealing with audio settings, macros, and a variety of other small details.
Black Shark Joy Buds Pro
The business has also released its latest Joy Buds Pro noise-cancelling headphones, in addition to the Black Shark 5 series. The earbuds have a 12mm dynamic driver and a Qualcomm QCC3056 processor. Which allows you to listen to high-quality music at a 24bit 96kHz sampling rate. Certificated by Qualcomm Snapdragon Sound, Black Shark Joybuds Pro supports adaptive and active noise cancellation up to 40dB.