Garmin hasn't released a new fitness tracker in a while. But with Garmin Vivosmart 5, the firm demonstrated it's not just focused on big-boy adventure watches. Four years after the release of the Vivosmart 4, the tracker is back with an updated, lightweight design. But how does it compare to some of the top fitness trackers on the market?
Most fitness tracker buyers are searching for a simple gadget that will allow them to keep track of their health and activity levels. If that's the case, the Vivosmart 5 is up to the task. However, the tiny screen and lack of inbuilt GPS feel a touch dated in 2022.
Price and Availability
In April 2022, the Garmin Vivosmart 5 was released for $149.99 / £129.99 / AU$229. Which is a very common pricing for a fitness tracker these days. The Garmin Vivosmart 5 is available in Black and Mint colour variants and costs Rs. 14,990. The fitness tracker is available for purchase on Garmin's official website, Amazon, Flipkart, and approved distributor Synergizer.
Specifications
The Garmin Vivosmart 5 fitness tracker has a 0.73-inch OLED display with a resolution of 88×154 pixels. According to the firm, the small model fits wrists with a diameter of 122-188mm. The large variant fits wrists with a circumference of 148-228mm. It has a Garmin Elevate heart rate sensor, a pulse oxygen saturation sensor. Alao, an accelerometer, and an ambient light sensor, among other sensors. The wearable has a 5ATM certification. Which indicates it can resist pressures comparable to a depth of 50 metres, according to Garmin. In layman's words, when going for a swim, wearers do not need to remove the band. Both Android and iOS are supported by the fitness tracker.
Design and Display
Instead of entirely revamping the tracker, Garmin has made a few minor but substantial changes to the Vivosmart 5's design to improve its use. The most important is the addition of a tactile button that allows you to browse the watch, pause, and stop an activity. While this may appear to be an odd option, it's a pleasant difference from the Vivosmart 4's touchscreen. Which we found to be a bit cumbersome to operate and occasionally unresponsive.
The monochrome OLED display on Garmin Vivosmart 5 is 66 percent bigger than that on its predecessor. This makes it simpler to read messages on the Vivosmart 4. Unlike the Vivosmart 4, text can now slide across the screen, preventing messages from being lost.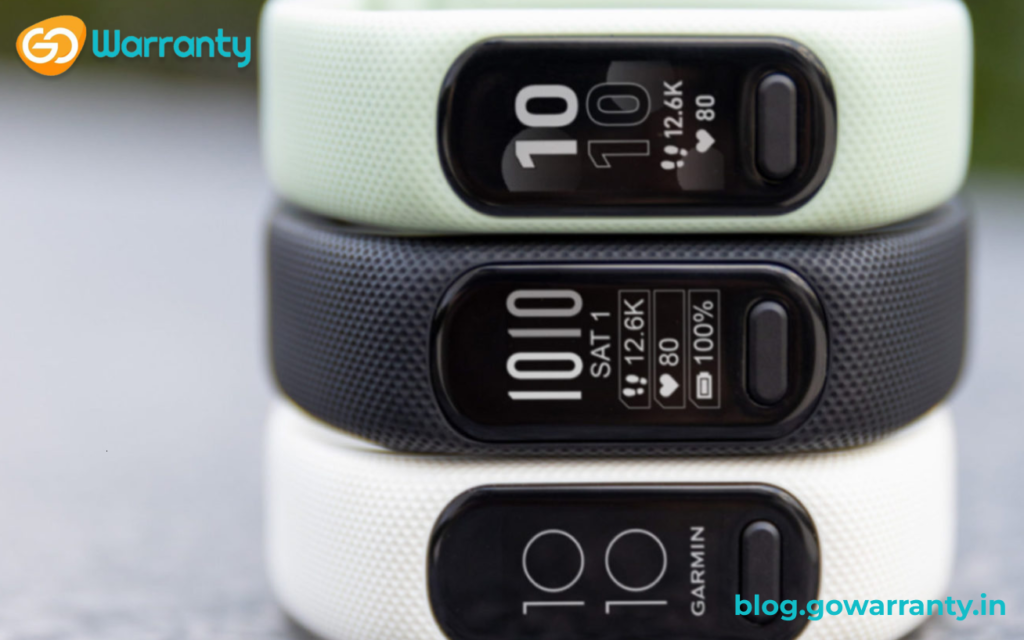 However, the Vivosmart 5's display isn't the most user-friendly, especially when you're on the go. If you want to check your Whatsapp messages from your wrist, you could find it difficult to do so here. When many fitness trackers, such as the Fitbit Charge 5 and the Amazon Halo View. They have moved on to brighter colour panels, the black-and-white screen feels dated.
Battery Life
Garmin claims the Vivosmart 5 has a battery life of seven days. During testing, this was very accurate as long as the all-day blood oxygen monitoring was switched off. The battery life was lowered to roughly three days with the all-day monitoring turned on.
This is still significantly longer than the Apple Watch Series 7, but it is not the best. However, I would say that blood oxygen monitoring is most important for sleep tracking, so it's probably not a metric you'd want to have on all day, and Garmin does allow you to turn it on just while you're sleeping. I was able to go five days between charges by using blood oxygen monitoring at night and logging at least one workout every day. It took around 2 hours to charge the battery from zero to 100 percent.
Health Tracking
One of the key selling advantages of a fitness tracker, as I indicated, is health tracking. The Vivosmart 5 provides GPS tracking, blood oxygen monitoring, and continuous heart rate monitoring via your phone.
The Vivosmart 5 performs admirably in terms of sleep monitoring, as do many of the top Garmin watches. It's light and comfy enough to wear while sleeping (it's a dream compared to the Garmin Fenix 7). Also, it offers you an excellent picture of your sleep patterns. When you wake up, the watch, like many of the more premium Garmin watches, will offer you a body battery score based on your previous day's activity levels and sleep quality.
Workout Tracking
The Vivosmart 5 is obviously geared for leisure activities when it comes to fitness monitoring – in other words, you wouldn't pick this watch up if you were training for your first marathon. (If you have, please return Garmin Vivosmart 5 or sell it on eBay and replace it with a Forerunner 55 as soon as possible.) Garmin Vivosmart 5 is wonderful for counting steps, keeping track of how many minutes of hardcore activity you've done, and seeing how many calories you've burnt, but it's not so great if you're very serious about your training (though I'd argue that no fitness tracker is).
When compared to Fitbit, the amount of data available in the Garmin Connect App comes out on top once again. If you choose, you can view a lot of incredibly useful statistics. Such as your moving paces compared to your normal pace or how much sweat you've shed. I'd argue that the ordinary Vivosmart 5 user doesn't need such detailed information. But kudos to Garmin for including it regardless.
Garmin Connect App
As I previously stated, the Garmin Connect app is one of the finest of its kind in my view. In comparison to rivals, it shows a large quantity of data in a straightforward and simple to grasp manner. It's also simple to personalise your tracker, see your current day's numbers at a glance, and go through previous exercises.
Everything is also free, which is amazing. Garmin provides you everything for free, unlike the Fitbit Premium. Which charges $10 a month for in-depth sleep, exercise, and recovery data. The Garmin Connect app, on the other hand, has significantly fewer exercises. Also, none of the meditation or mindfulness sessions that Fitbit Premium offers. There are, however, additional running and cycling programmes available. However, as I previously stated, if you're serious about training for an event. You'll want to invest in one of the better Garmin running watches.