The Canon EOS R7 might be the camera for you if you're a keen photographer who enjoys photographing animals and sports. It sits between Canon EOS 7D Mark II and 90D DSLRs, combining Canon's newest Dual Pixel CMOS AF II focusing technology with fast 15 fps burst shooting rates (or even 30fps with its electronic shutter).
On paper, the Canon EOS R7 is the mirrorless camera that amateur photographers have been anticipating. The EOS R7, like the EOS R10 it's introduced alongside, is a mid-range camera with some high-end specifications. It's designed around an APS-C sensor. While smaller sensors don't capture as much light as full-frame sensors seen in cameras like the Canon EOS R6. They do have certain advantages, including reduced prices.
The EOS R7 offers an excellent range of capabilities for its price. Demonstrating why it is Canon's new top APS-C camera. In-body image stabilisation (IBIS), which is useful for keeping image quality when shooting handheld, is included, unlike the EOS 90D. In low-light settings, Canon claims that this gives up to eight stops of adjustment. Letting you to utilise slower shutter speeds (and lower ISOs).
Price
The Canon EOS R7 body is priced at Rs. 1,27,995, with the RF-S18-150mm F3.5-6.3 IS STM lens priced at Rs. 1,64,995. In July 2022, this Canon item will be available for purchase.
Design
The Canon EOS R7 is a compact, light mirrorless camera with echoes of the EOS R6 and preceding EOS R models. We'd say the camera successfully blends mobility, easy controls. Also, a comfortable deep grip in a way that will appeal to hobbyist photographers based on our limited experience with it.
A top-plate LCD is maybe the only major design innovation that we haven't seen on prior Canon cameras. We've previously discovered that such LCDs are a useful method to rapidly verify settings in the absence of dedicated knobs for parameters like shutter speed. Nonetheless, the more expensive EOS R6 lacks this capability as well. Although, the choice undoubtedly helps keep the EOS R7's cost and complexity low.
In other aspects, the top-plate of the EOS R7 resembles that of the full-frame EOS R6. The mode dial is conveniently located to the right of the viewfinder, while the shutter button, front dial (for fine-tuning aperture or shutter speed), multi-function button, and video record button are all found on the grip.
Canon has integrated the camera's AF joystick and control wheel in a new design change. Some Canon shooters may need to retrain their muscle memory, but we soon became accustomed to the wheel's new location.
Features and Software
The promise of current focusing performance is one of the key draws of the Canon EOS R7, especially for those upgrading from an older DSLR. Thanks to the incorporation of a Digic X CPU, the EOS R7 is able to do this.
Because Canon's Digic X chips are a family of processors, you won't get the same focusing and burst-shooting capability as you would with a Canon EOS R5 or EOS R6. But, with the incorporation of Canon's newest autofocus technology, Dual Pixel CMOS AF II. It's not far away – and, given the camera's price, that's a huge plus for action photographers.
The EOS R7 can detect and track faces and eyes in humans and animals, and if those aren't visible, it will move to the head or entire body. Other elements, such as the amount of light available and the lens you're using. It can have an impact on how well this works in practice. During our brief time with the camera. Although, we were astonished by how effectively it followed a rapid ice skater's eyes and face in dim light. The EOS R7's autofocus, according to Canon, operates down to -5EV, which is virtually nighttime under moonlight.
Image and Video Quality
We just spent approximately an hour with the EOS R7 in difficult shooting settings at an indoor ice rink. So we can't draw any judgments about its image quality just yet. We also haven't been able to study its raw files because raw processing software doesn't currently support them. However, some broad observations concerning its 32.5MP sensor are conceivable.
This is an APS-C sensor with a high resolution. Because it has more photosites than its lower-resolution competitors. It's better suited to capturing high levels of photographic detail in bright light than attaining high ISO performance in dim light.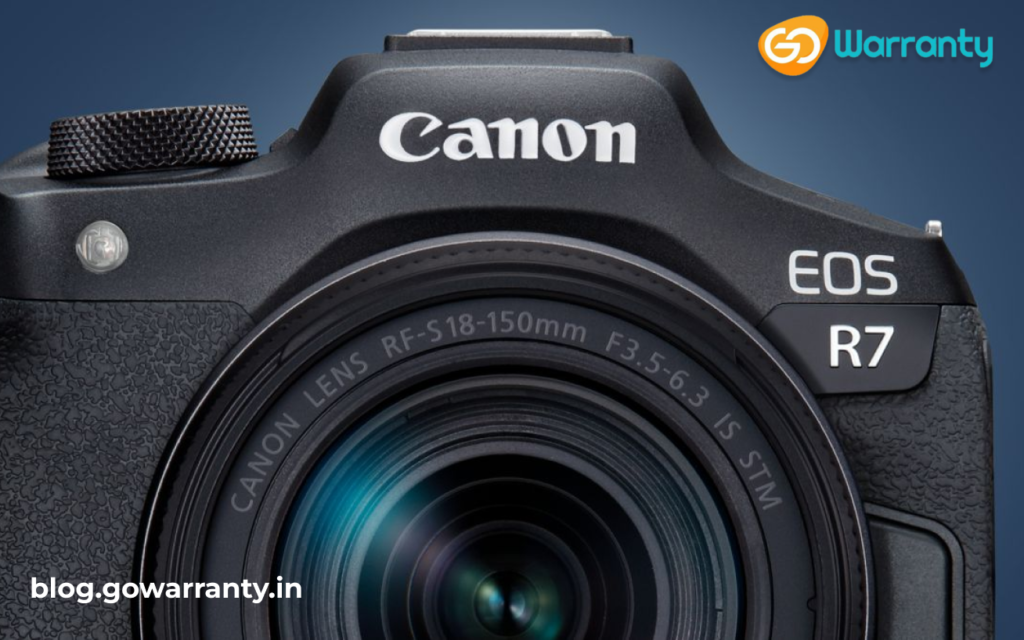 If the Canon EOS R7 performs as well as the EOS 90D, which has a comparable 32.5MP APS-C sensor, we should anticipate it to take wonderfully detailed raw photographs and be one of the best hobbyist cameras for overall image quality in bright light. To be sure, we'll need to spend a lot more time with it, in a variety of circumstances.
The same can be said about video quality, which might theoretically equal its photographic abilities. Unlike the EOS R10, the EOS R7 can capture oversampled 4K/60p video without cropping and with a 4:2:2 10-bit colour depth. After years of frustrating video limits on its mid-range cameras, such as the Canon EOS M50 Mark II, Canon has finally addressed the issue.
Battery
The LP-E6NH batteries used in the EOS R6 and R5 models are used in the EOS R7. This is a 15.3Wh unit, which is more than twice as large as the one used in the R10. This gives the EOS R7 660 shots per charge when using the viewfinder in the more power-hungry smoothness priority' mode, or 380 when using the viewfinder in the less power-hungry smoothness priority' mode. In power-saving mode, these figures can be increased to 770/500.
The number of photos you're likely to acquire during various sorts of photography is under-represented by CIPA statistics. We've found that 660 photos is plenty. So you won't have to worry about running out of power. Even if you're doing a lot of sports or event photography.
Early Verdict
For amateur photographers and hybrid shooters, the Canon EOS R7 is shaping up to be an excellent all-arounder. Its combination of sophisticated focusing capabilities, in-body stabilisation. Also, quick bursts (although with a small buffer) may put it at the top of wildlife as well as action photographers' want lists. But it'll need a few more native lenses before it can truly shine as the crown gem of an APS-C system.