Do you want a portable projector or one that won't take up much space in your living room? Projectors come in a variety of sizes thanks to the wonders of LED and DLP technology. Pico projectors are the smallest of these, and the Yaber Pico T1 is certainly one of the most exciting prospects in the category. It is one of the thinnest projectors we've seen to date, measuring only 0.52″ thick.
The performance limitations of a pico projector are an unavoidable tradeoff. The Yaber Pico T1 boasts a brightness of 110 ANSI lumens and a resolution of 540p. Despite its power bank-like form factor, it lacks an onboard battery, but it does include Android TV, making it a handy self-contained multimedia player that only requires external power to function.
Unboxing and Accessories
The Pico T1 comes in a simple non-descriptive box. A USB Type-C 20W QC wall charger is included, as are two USB cables, one Type-A to Type-C and the other Type-C to Type-C. There's also a handy compact tripod that magnetically attaches to the projector and a mini-HDMI to HDMI cable. The $28 IndieGoGo special pack also includes a 10,000 mAh power bank with integrated cables, including a Type-C cable for use with the Pico T1. The project's IndieGoGo crowdfunding page also shows a nice carrying case, but it's not included in any of the currently available product bundles.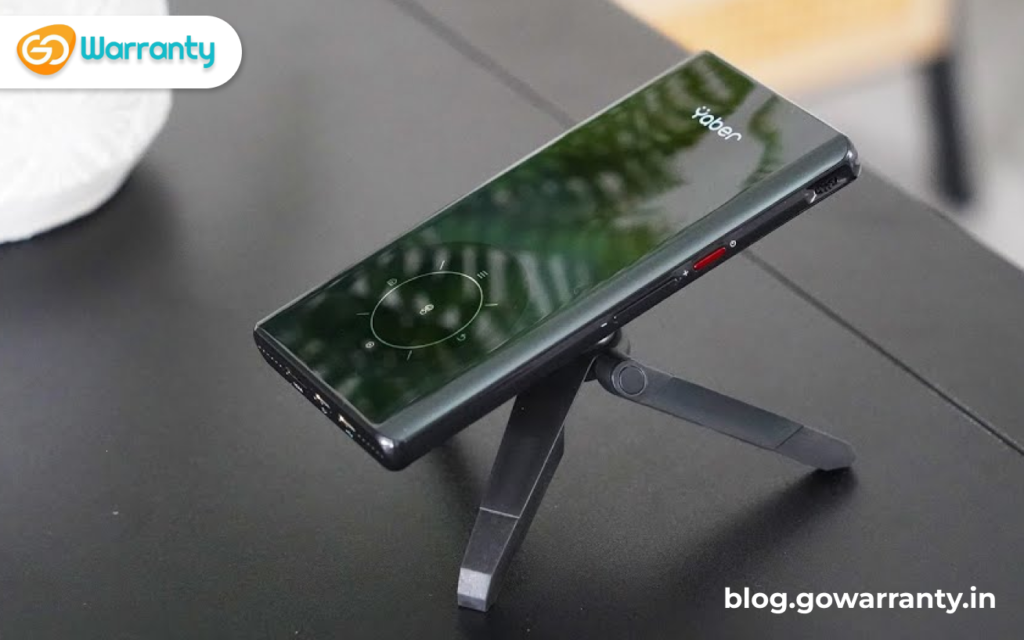 Connectivity
The right side of the Yaber Pico T1 has a power button and a volume rocker, just like a smartphone. A manual focus wheel is located above that. The Pico T1's left frame is uncontrollable. The projector optics and a vent are enclosed in the unit's front. The small fan here appears to have only one speed and is about as loud as a laptop fan at full speed. A mysterious sensor, most likely a laser or TOF, is also in charge of the automatic vertical keystone correction.
The Pico T1's back panel houses a 1.5W speaker as well as two Type-C ports and a mini-HDMI port. One of the two Type-C ports is only for powering the device. The Pico T1 has Quick Charge power inputs of [email protected], [email protected], and [email protected]. The projector has a total power rating of 9W. The second USB Type-C port is for data. It has USB Host functionality and can accept standard HID devices such as a mouse or keyboard and attach storage media. This port can also be used to mirror the display of an Android phone, but only when a proprietary eShareLine app is used. It is important to note that this USB does not support standard video over USB functionality, as found on modern external monitors.
The Pico T1 can be controlled via the touchpad and capacitive combo on the device's top or the included mini remote control.
Built in Features
The Yaber Pico T1 is an intriguing 110-lumen pico projector with an HDMI input as well as built-in wireless casting functionality. Beyond that, the built-in Android TV guts set it apart. Let's go over what's included, as well as the limitations and issues we encountered. Yaber has its own TV launcher, which looks and functions well. It is based on a vertical menu with self-explanatory options.
To browse local media, there is a basic file browser right on the main menu, as well as quick access to a wireless streaming app that supports Miracast, Apple AirPlay, and a proprietary Eshare communication scheme. There are also wired streaming options from both Android and iOS phones. Yaber also has its own app store, but it has a very limited selection of apps.
Performance
Let's take a look at how the Yaber Pico T1 performs after you've finished configuring it. The Yaber Pico T1 isn't very bright. The advertised 110 lumens are accurate. At a diagonal of no more than 60 inches and a brightness of this scale, you can only expect a vaguely pleasant experience in a light-controlled room or at night. The 960 x 540-pixel resolution is also a little low for most text in modern user interfaces to be legible. You can get away with using large fonts in your presentation, but forget about activities like web browsing.
The Yaber Pico T1 is powered by a HiSilicon Hi3751V350 chipset with four Cortex-A53 cores and a Mali-450 GPU. It has 1GB of RAM and 32GB of internal storage. That's a pretty meagre chipset, more suited to a set-top box than an Android TV device. If you really want to get into the weeds, you can visit the official chipset specs page.
The hardware video decoder is arguably the most important specification. The Hi3751V350 supports H.264, H.265 (HEVC), VP6/8/9, MVC, MPEG1/2/3/4, AVS, and VC-1 at resolutions of up to [email protected]. That's more than enough to fill the 540p resolution of the Yaber Pico T1 projector. We performed some performance testing and can confirm that the UI runs fairly smoothly. Furthermore, 1080p video from YouTube plays without hiccups or stutters.
We took the Yaber Pico T1 a step further by installing Plex on it. Its UI was also very smooth, and we were able to get some 4K streams running at around 20 Mbps with minimal stutter. Because this is only a 540p projector, there's no need to go above HD or FullHD.
Verdict
The Yaber Pico T1 is a cool gadget that mostly lives up to its claims of being a very thin portable projector with solid built-in smarts. It's just that you need to be aware of the limitations of this type of device. One hundred and ten lumens is quite low, and 540p resolution, while adequate for a pico projector, is insufficient for most fine UI elements and text.
The Yaber Pico T1 is a great gadget to have on hand when you need to entertain yourself or your children with a movie or an animated series. Even in its current, admittedly rough and early state, which we experienced. If you need more performance or flexibility than this simple use case, you should look elsewhere.