The Acer Chromebox CXI5 is one of the newest Chromebox models that will be available in 2023. It hasn't been released yet, but this is the first Chromebox model from any of the major Chromebook manufacturers in a long time. It has a 12th-generation Intel CPU and numerous ports, making it suitable for POS units or powering digital signage. Acer even sells an Add-in-One 24, a modular desktop solution that allows you to slide this Chromebox into the back of a special 24-inch FHD monitor, which is a great design choice.
So, maybe you're thinking about replacing an older Chromebox with this one, or maybe you're just curious how it compares to a regular Chromebook. Here's everything we know so far about the upcoming Chromebox. This model, on the other hand, comes with a new add-on, making it a very unique device in this comparatively niche computing space. In addition to the powerful Intel Alder Lake Chromebox CXI5, Acer has released the Add-In-One 24.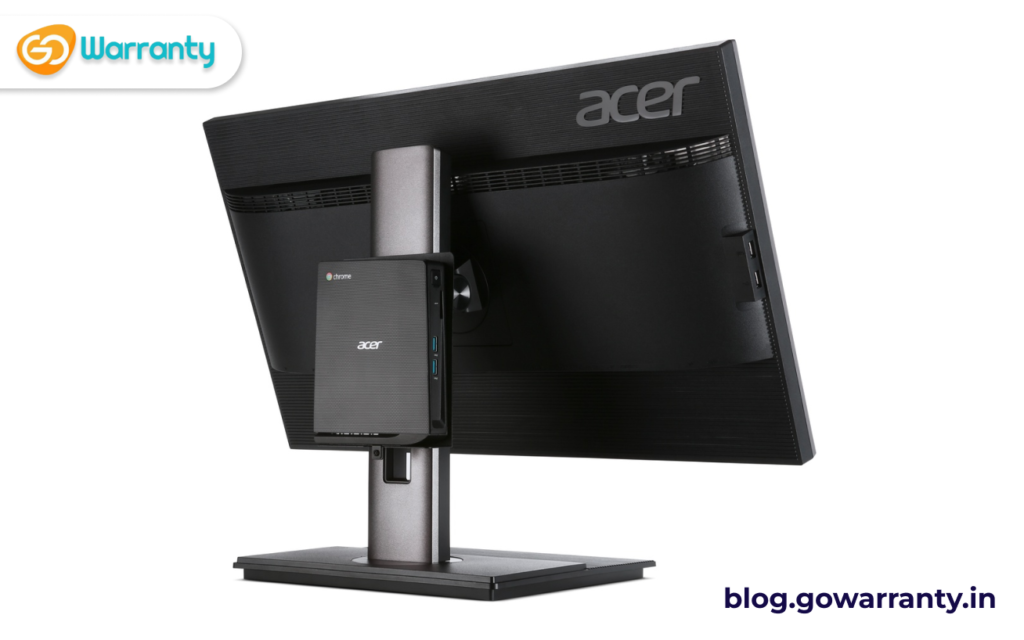 What is new about the Acer Chromebox CXI5?
As previously stated, the Acer Chromebox CXI5 is unique in that it is the first new Chromebox to be released in several years. It has more recent Intel CPUs, a great design, and a plethora of ports. The optional Add-in-One 24 monitor makes it especially useful for setups where space is limited, such as call centres.
Overview
Acer's latest Chromebox has a much more industrial design than previous models, but it's a good look for the Add-In-One app. Acer will, as expected, offer an entry-level model with an Intel Celeron 7305 processor, 4GB of RAM, and 32GB of storage. However, users can equip their new Chromebox with up to a Core i7 processor, 16GB of RAM, and 256GB of storage, but that is not the only limitation of this Chromebox. Like most ChromeOS mini PCs, you'll be able to open the Acer and upgrade the RAM and storage as desired.
The Chromebox CXI5 has four USB-A 3.2 ports, two USB-C (USB4) ports, two HDMI ports, and an ethernet port. The USB-C port, in conjunction with the two HDMI ports, can power three separate monitors at the same time. The CXI5 can be used as a standalone Chromebox, but it is also intended to be mounted to the back of the Add-In-One 24. The new Acer Chromebox will be available with or without a Chrome Enterprise licence, which gives me hope for a retail version of the Add-In-One w/Chromebox. Given the success of HP's tilting All-In-One Chromebase 24, I believe Acer would benefit from offering this new Chromebox package at Best Buy and other retailers.
Price and Availability
The Chromebox CXI5 will be available in North America in Q1 of 2023, as announced by Acer at CES 2023. That isn't a solid launch date, but it does narrow things down to the first half of this year. With basic specifications, you can expect to pay $289.99. Increasing the price by upgrading to faster CPUs and adding more RAM. The Add-in-One 24 display costs an additional $609.99. The Chromebox CXI5 already has an Acer product page, but it is not yet available for purchase.
Though it is not yet available for purchase, the Acer Chromebox CXI5 will be available through Acer.com when it becomes available in the first half of 2023. As with other Acer products, many other retailers, such as Amazon or Best Buy, may carry the Acer Chromebox CXI5.
Intel 12th-generation CPUs
The CPU that powers the Acer Chromebox CXI5 is its standout feature. Despite the fact that Intel has just released 13th-generation laptop processors, the Acer Chromebox CXI5 uses "last generation" CPUs. With vPro, you can get up to 12th-generation Intel Core i7 CPUs. Even so, given that other Chromeboxes have 10th-generation or even eighth-generation Intel CPUs, this is a significant improvement. Because of Intel's performance and efficiency cores, you'll notice a significant performance boost for everyday tasks like web browsing and even when using Android apps. Acer claims a 20% performance boost over previous processor generations.
The modular design
The Acer Chromebox CXI5 also has a modular design with numerous ports. Because of the VESA mount kit, it can be placed anywhere in an office or at the back of a monitor. Because it has more ports on the front, you'll have a plethora of options for connecting accessories without the use of a dongle. Onboard are four USB Type-A ports, two USB Type-C (USB4 Gen 3 x 2), dual HDMI 2.1, and a 2.5G Ethernet port.
Acer Add In one 24
At first glance, Acer's new Chromebox solution could be mistaken for just another monitor, but there's more to it than that. The 23.8′′ FHD docking monitor is designed to optimise workspace while remaining modular enough to accommodate a wide range of applications and use cases. The FullHD monitor has a 16:9 FullHD display and an optional touchscreen. The Add-In-One truly distinguishes itself from the average display in that it includes all of the I/O you'd ever need from a desktop PC.
Aside from an integrated 5MP webcam, the Add-In-One includes 2 x 4w speakers and Acer is touting AI noise reduction for video calls, making this a solid all-in-one for a busy office space or even a work from home setup. The screen is tiltable, allowing users to find the best viewing angle for them by tilting from -5 degrees to 25 degrees.
The Add-In-bottom One's features two USB-A ports and an audio jack, eliminating the need to fiddle with plugging in extra peripherals into the Chromebox, which is designed to mount directly to the back of the display. Speaking of Chromeboxes, let's take a look at Acer's new ChromeOS mini PC, which, along with Lenovo, will be one of the first 12th Gen Alder Lake Chromeboxes to hit the market.