Motorola's Edge Pro came a long way since the first Pro model, Motorola Edge 40 Pro, was released two years ago at a competitive price of INR 69,999. Last year, the Edge 30 Pro was 8k more expensive, and the Edge 40 Pro is also significantly more expensive this year, costing INR 80,999.
At the same time, the Edge 30 Pro outperformed its predecessor in many ways. If the Edge 40 Pro continues to improve in as many ways, it may be worth looking into despite the price increase.
Specifications Table
| | |
| --- | --- |
| Chipset | Qualcomm Snapdragon 8 Gen 2 |
| No of cores | 8 (octa core) |
| RAM | 12 GB |
| RAM Type | LPDDR5X |
| Height-Width | 6.34in-2.91in |
| Weight | 199 grams |
| Colours | Interstellar Black, Lunar Blue |
| Resolution | 1080 x 2400 pixels |
| Display Type | P-OLED, Curved Display, Dolby Vision, HDR 10+ |
| Colour Reproduction | 16M Colours |
| TouchScreen | Yes, Capacitive, Multi-Touch |
| Rear camera setup | Triple |
| Rear Camera | 50MP(Primary), 50MP(Secondary), 12MP(Tertiary) |
| Front camera | 60 MP Resolution |
| Flash | Dual LED Rear flash |
| Video Resolution | 7680×4320 @ 30 fps |
| Camera Features | Auto FlashAuto FocusFace detectionTouch to focus |
| Battery Type and capacity | Li-polymer, 4600 mAh |
| Fast Charging | Yes, Turbo Power, 125W |
| Internal memory type | 256 GB, UFS 4.0 |
| Operating System | Android v13 |
| Custom UI | No |
| SIM Configuration | Dual SIM |
| Wi-Fi | Yes |
| Bluetooth | Bluetooth v5.3 |
| GPS | Yes with A-GPS, Glonass |
| Fingerprint sensor | Yes, On-Screen |
| Face Unlock | Yes |
| Other Sensor | Light SensorProximity SensorAccelerometerCompassGyroscope |
Design
The rounded corners distinguish a smartphone from Motorola's Edge family, and the front and back merge on the sides to form a narrow aluminium frame. The Motorola Edge 40 Pro is no exception, and it also has a satin glass back. However, this time it is slightly roughened and shimmers in the light. Gorilla Glass Victus offers the necessary stability as well as the smartphone is also IP68 certified, which means it is water resistant. As a result, it can survive in shallow water for a few minutes without being damaged.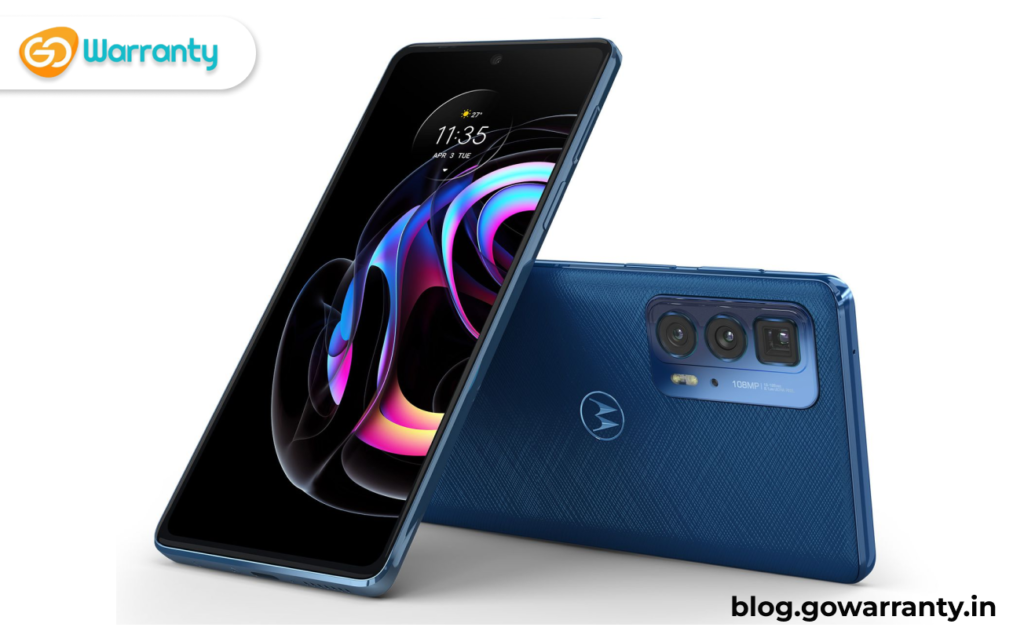 Overall, the smartphone appears sturdy, but it is slightly dented in the middle, which reduces the overall quality impression. Otherwise, it's well-made, with smooth material transitions and good ergonomics. Motorola provides dark grey and light blue colour options. The Motorola Edge 40 Pro is a very light phone for its size, weighing less than 200 grams. It's also a few millimetres smaller than its predecessor, though you won't notice the difference in daily use.
USB Port as a Display Port
For just under 82k, the Motorola phone includes 12 GB of RAM and 256 GB of UFS 4.0 flash storage, which is standard equipment for a high-end phone these days. The USB-C port appears to be appealing at first glance because Motorola states on the data sheet that it is a USB 3.2-speed port. However, due to the USB consortium's completely confusing naming, it is only as fast as a USB 3.0 port. As a relief, it can at least output a picture signal and exchange data via OTG in line with the DisplayPort 1.4 standard. Of course, NFC for wireless payment transactions is included, as is support for an eSIM.
Display
The OLED display in Motorola's Edge 40 Pro is significantly brighter than its predecessor: with over 1,000 cd/m2 of full-area illumination, the panel has no trouble displaying HDR content at the appropriate brightness. However, some competitors provide even greater brightness, and the Edge 40 Pro's resolution is only average.
We noticed screen flickering at very low screen brightness, but in the display settings, you can enable a "Flicker Prevention" mode, which adjusts the flickering to the refresh rate and thus makes it inconspicuous.
Colour representation is very accurate in the "Natural" image mode, according to our measurements with the spectrophotometer and CalMAN software. There was no evidence of a blue cast.
Software
Motorola has always used stock Android on its smartphones. The Motorola Edge 40 Pro runs Android 13.0. The number of operating system updates has not been disclosed, but Android 14 is undoubtedly on the horizon.
The security patches date from February 2023 and are thus already out of date at the time of review, which is especially embarrassing for such a high-end phone. Especially since Motorola promises monthly security updates. The smartphone is expected to receive security updates until April 2027, a little less than four years from now. There are only a few third-party applications on the phone, and they can all be removed quickly.
Communication
WiFi 6E, or the ability to use the rarely used 6 GHz WiFi band, is considered good in high-end phones, as well as the Motorola Edge 40 Pro is no exception. The manufacturer even claims that the smartphone will be compatible with the upcoming WiFi 7 standard.
Voice Quality
When making a call, the earpiece can be turned up to maximum volume, but other people in the vicinity are likely to hear everything said. The microphones clearly transmit our voice, but it is somewhat muffled. Our conversation partner's voice can also be heard clearly through the loudspeaker and hands-free microphone. Our voice is also a little muffled here, but it is understandable to the other party.
Camera
In its high-end smartphone, Motorola does not compromise on high-resolution lenses. The wide-angle camera, in addition to the 50-megapixel main camera with optical image stabilisation, has a resolution of 50 megapixels. The telephoto camera still has 12 megapixels for extreme close-ups, and the selfie camera, which is incorporated into the screen as a punch hole, has an impressive resolution of 60 megapixels. The Edge 40 Pro does not include a periscope, or optical zoom. Instead, the three lenses on the back are carefully combined and used as needed.
The main camera takes good, colourful pictures, but it doesn't quite match the richness of detail found in the iPhone 14 camera. Even when compared to other Android phones, the image of the surrounding environment appears muddy in detail. In low light, on the other hand, the optics shine through, even if the detail sharpness could be improved.
Slow motion footage can be recorded in Full HD at up to 960 fps, which makes it 32 times slower than 30 fps. 8K recordings at up to 30 frames per second are also possible. Even HDR 10+ videos are possible in 4K at 30 frames per second.
Battery
The Motorola Edge 40 Pro battery has shrunk in size compared to its predecessor, but due to its high efficiency, the device still achieves much longer runtimes in our Wi-Fi test. The runtime quickly diminishes due to the high consumption under load, but it remains sufficient at just under 5 hours. Under low load, the Motorola Edge 40 consumes very little energy, whereas under maximum load, the demand rapidly increases.
The smartphone can be charged at up to 125 watts, and a corresponding charger is included. The smartphone can be fully charged again in less than half an hour. Wireless charging with up to 15 watts is also possible, as is reverse charging with up to 5 watts.