Everyone desires a clean home, but no one likes doing it themselves. Well, it's 2021, so why not enlist the aid of technology? We've compiled a list of the top cordless vacuum cleaners and robot vacuum cleaners in India. This list of the top robot floor vacuum cleaners in India is suitable for people seeking total automation. Meanwhile, the cordless vacuum cleaner is ideal for folks who don't mind cleaning but despise having to deal with those annoying cables. Here is a list of the finest robot vacuum cleaners and cordless vacuum cleaners in India in 2021. Please keep in mind that these goods are on the basis of their features and specs, as well as their price.
Is it worthwhile to invest in a robot vacuum?
Friends and relatives frequently ask me if new devices are "worth it," and the answer is yes when it comes to robot vacuums. The most crucial advantage they have is autonomy: simply switch it on and walk away. If you want to spend as little time as possible cleaning your house — or simply despise vacuuming — a semi-autonomous robot is a smart purchase.
There are many other advantages to them, but before we go any further, examine the main drawbacks: less power, less capacity, and less flexibility. The first two are related; robot vacuums are substantially smaller than upright vacuums, resulting in less suction. They also store less dirt since their integrated bins are a tenth of the size of a traditional vacuum canister or bag. While Robo-vacs are cordless, this means they remain slaves to their batteries and will need to recharge on a regular basis.
Robot vacuums behave differently than normal vacuums when it comes to flexibility. You can operate some of them with your smartphone, establish cleaning schedules, and do other things, but Robo-vacs are mostly to clean floors. On the other hand, their upright counterparts can come with a variety of attachments that allow you to clean sofas, staircases, lamp fixtures, and other difficult-to-reach areas.
Things to check for in a low-cost robot vacuum cleaner
One of the first things to look for in an inexpensive robot vacuum is WiFi connectivity. While you may believe that this is standard on all smart home devices, it is not. Some of the most cost-effective options do not allow you to connect to your home WiFi network. You won't be able to manage it using a smartphone app or voice commands if you pick this option. Scheduling is another function that is normally for WiFi robots. Also, most of them utilize a mobile app to create cleaning schedules.
However, WiFi-incapable vacuums typically come with remote controllers that perform all of the fundamental operations of companion smartphone applications, such as start, stop, and return to dock. And, if you're concern about hacking, vacuums that don't have access to your WiFi network are your best bet.
These are the best low-cost Robot Vacuums
Mi Robot Vacuum-Mop P Floor Cleaner
Xiaomi goods are for being reasonably at a nice price, and the Mi Robot Vacuum-Mop P is no exception. The robotic vacuum cleaner sweeps and mops and has features such as a DS Laser Navigation System. It also has a 3,200mAh battery with a stated run duration of 120 minutes. It's also rather powerful, with a pressure of 2100 Pa. It not only maps and plans routes, but it also enables automatic recharging and resume. Not only can the specialise software be to manage the vacuum cleaner but it can also be used to create virtual barriers.
Eufy By Anker Robovac G10
The Eufy by Anker Robovac G10 also has a 2-in-1 sweep and mop feature. The design, on the other hand, has to be the star of the show. Because the vacuum cleaner is 2.85-inches high. It should be able to sneak under most furniture as well as clean those hard-to-reach spots. Despite its small size, it has a suction power of 2000 Pa. Another noteworthy feature is that it may operate by Alexa or Google Assistant.
Inalsa Myrobo Robotic Floor Cleaner
If you're on a limited budget, the Inalsa MyRobo Robotic Floor Cleaner featuring 2-in-1 Mopping and Vacuum could be precisely what you're looking for. Nonetheless, it manages to cram some fairly amazing features. This contains anti-shock and anti-fall sensors, which intends to safeguard the device in the event of a fall. It is also equips with Dirt Detect technology. This guarantees that regions with a lot of dirt are clean more thoroughly.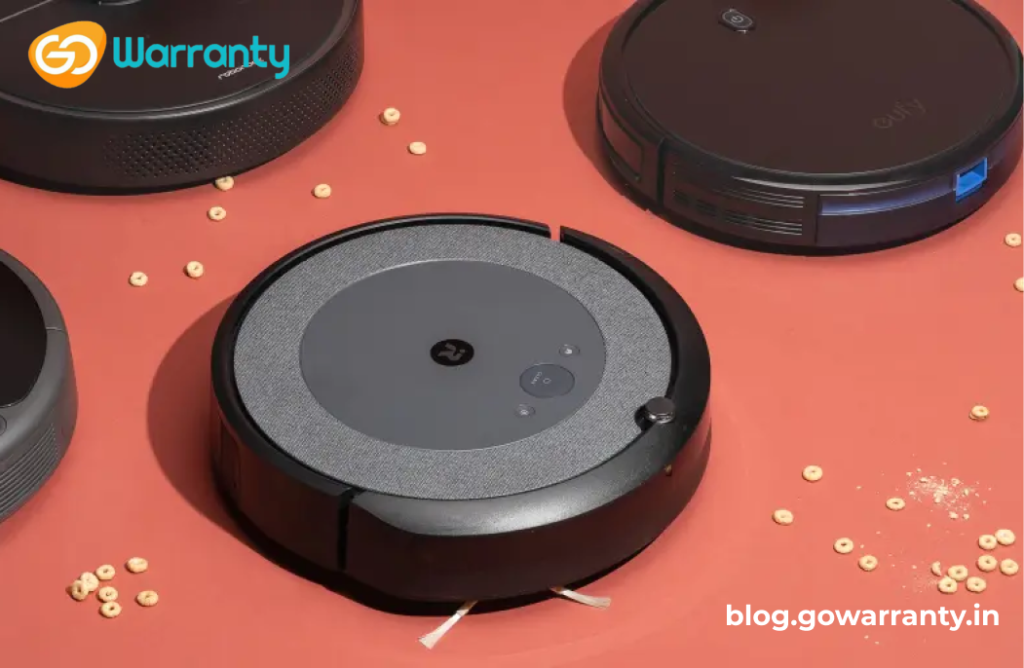 Irobot Roomba I7158 Cleaner
If you want it all, the iRobot Roomba i758 is the one to get. While it lacks a mopping option, it compensates by being jam-packed with functions. It has a 3-stage cleaning method as well as dual-rubber brushes. Its Imprint Smart Mapping technology is capable of mapping outhouses and communicating with other Roombas to guarantee proper cleaning. It is also capable of dealing with pet hair and cat litter.
Dyson Cyclone V10 Absolute Pro
The Dyson Cyclone V10 Absolute Pro is one of the greatest cordless vacuum cleaners available today. The vacuum cleaner is power by a Dyson Digital Motor V10 and has a battery life of 60 minutes. Users can also select one of three power modes. The vacuum cleaner comes with a variety of attachments, allowing consumers to choose the best one for the job.
Dyson V7 Animal Vacuum Cleaner
The Dyson V7 Animal Cordless Vacuum Cleaner comes with the Dyson Digital Motor V7 and has a 30-minute run time. It, like its twin, provides a variety of attachments from which consumers may choose the one that best meets their wants and requirements, but at a cheaper price range. Its small size also makes it an excellent choice for cleaning automobiles.
Deerma Vc20 Cordless Vacuum Cleaner
The Deerma VC20 Cordless Vacuum Cleaner has a lot of outstanding features and is an overall winner. To make cleaning simpler, the vacuum cleaner has a low center-of-gravity design. It includes three brush heads that may be utilised as needed. It also has a unique teeth comb structure that separates the hair on the roller brush whilst sucking in dirt.