The wait for the iPhone is officially over. At a virtual event held yesterday, Apple shared some powerful insights of the latest iPhone – the iPhone 12. As the launch was delayed due to the pandemic, apple fans waited eagerly to see the latest offerings from Apple. In this blog, we will tell you everything you need to know about the new iPhone 12.
iPhone 12 different Variants
This year, Apple has released 4 different iPhone models. These are the new iPhone 12 and iPhone 12 mini along with the pro models – iPhone 12 Pro and the iPhone 12 Pro Max. Apple for the first time launched four models in their event. Now we will get into features and what's new in these new iPhone models.
iPhone 12 and iPhone 12 Mini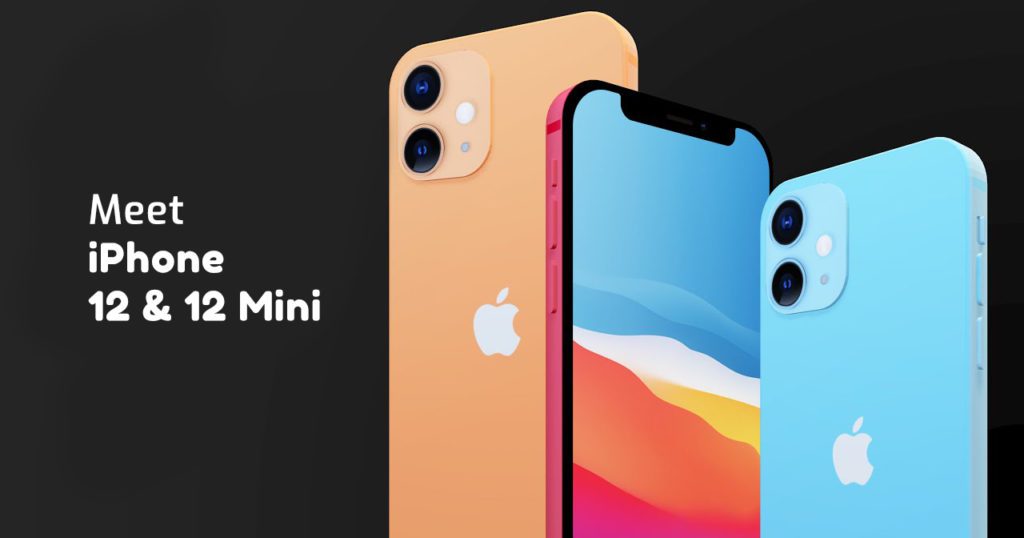 In the latest release, the iPhone 12 variants will be compatible with the latest 5G technologies. While rumours mentioned only pro models would be 5G compatible, every iPhone 12 will be able to latch onto a 5G network.
The new iPhone has the latest A14 bionic chip. This is the fastest processor ever made on any smartphone in the world. Moreover, the 4 cores in this GPU give tremendous performance output to your iPhone. Apart from this, there is the latest core for neural machines. The neural core will only process the latest machine learning algorithms to simplify complex tasks in nanoseconds. Additionally, this chip can process 15 trillion operations per second for iPhone users. Apple has given the iPhone 12 an enormous performance growth of 40% than in previous years.
Screen and display
The latest iPhone 12 has an amazing OLED display for bright and beautiful colour and detail to your screen. The iPhone screen now has a ceramic shield that is four times stronger than the previous iPhone screens. Apple has tested this shield with various drop tests for more agile performance. With the mini model, the iPhone has gone back to launching a pocket-sized smartphone with a powerful screen to body ratio. iPhone 12 has a 6.1 inch XDR super retina display. Whereas the mini model has a 5.4 inch XDR super retina display as well.
iPhone 12 pro and iPhone 12 pro max
These models are the most powerful smartphones ever made by Apple. iPhone 12 pro models have this new 5G Pro technology that can fetch 30% faster bandwidth than the existing 5G. These models also have a powerful A14 Bionic chip that makes performance on big screens even better.
Cameras
iPhone 12 pro model has created a new revolution in the smartphone camera system. The triple camera layout with the latest lidar sensor can sense depth and colours in each and every mode. Moreover, now you can shoot Cinema grade movies, advertisements as well as run live shows on your latest iPhone 12 pro. You can even edit your footage directly from the photos app on the latest iPhone 12 pro. Adding to this there is one Raw create feature through which you can edit your footage professionally on your iPhone 12 pro without relying on 3rd party apps. Apple has stated in their event, that they are collaborating with third-party apps to render these edits directly from the iPhone.
Screens and display
The iPhone 12 pro has a whooping 6.1 inches Super Retina Display. Whereas the iPhone 12 pro max has a 6.7 inch XDR display. This gigantic display added with the A14 Bionic chip and the power of 5G gives us a smooth and lag-free experience whiles using the iPhone 12.
Colours on the new iPhone models
iPhone 12 and mini models
There are 5 different colours on this iPhone 12 model. Moreover, there is this new colour added to the apple colour palette. These five colours are namely Black, White, Product Red, Green, Blue. All these colours look beautiful on the latest iPhone 12 flagship.
Pro models
There are 4 different colours on the pro Models too. The colours are namely Silver, Graphite, Gold, and Pacific Blue. Gold iPhone 12 pro looks like magic with its elegant colour finish and space grade aluminium edges. Apple took a huge leap to give us the best iPhone ever.
Pricing for the new iPhone
Extended Life
for Your Smartphone
The price for the latest iPhones is slightly more than the previous. However, it is packed with super performance and the latest tech so it seems worth it.
The iPhone 12 mini is starting from Rs 69,999 and the iPhone 12 is starting from Rs79,999 in India. Moreover, people can start preorders from 23 October and 6 November.
The Pro models, however, are starting from Rs 1,19,900  and the iPhone 12 Pro Max has a price tag of Rs 1,29,900. You can start pre-ordering your favourite iPhone 12 pro from 23 October and pro max from 6 November onwards.
The Latest News from the iPhone 12
The iPhone 12 uses 100% recycled rare metal extracts. Moreover, with the Magsafe accessories too there is the same approach for recycled elements. Apple wants to make an impact on its environmental conservation. They have decided to ship this year's iPhone with no charging dock. Apple will reduce the amount of packaging used and will encourage other sources for charging your Apple device. They also claim to go carbon neutral by 2030.
New Magsafe Technology
There is this powerful magnet technology that makes wireless charging even better. You can even attach a case to add your cards and important docs to your iPhone with Magsafe.
Powerful Cinema Grade Camera
Shoot Cinema and films with your latest iPhone with the help of Pro Raw modes on the iPhone pro models on your device. The lidar sensors can now sense depth with the help of AI to track each and every angle of your photo. Additionally, this will give the best camera performance and help other tracking tools.
This is all for the latest iPhone 12. Let us know about your favourite feature from the latest iPhone 12 in the comment section below.