Have you heard of a 2-in-1 convertible laptop? Lenovo has bought a fantastic notebook named Yoga Slim 9i. It's time to enjoy the powerful immersive and productive laptop, while we share details with you. While the festive season is around the corner, this laptop could be a premium gift to your loved ones. Along with this, Lenovo comes with a stylish leather cover, and the versatile nature of the product is stealing the spot.
Let's drive right in and let you know about the Lenovo Yoga Slim 9i.
Features
Following the success of the Slim 7i, Lenovo is back with yet another stunning masterpiece – the Lenovo Yoga Slim 9i. The laptop comes with Windows 10 and has a 14-inch display. It has a resolution of 1920×1080 pixels. It is powered by a Core processor. The Lenovo Yoga Slim 9i also comes with a 512GB of SSD storage. Apart from this, it also has various connectivity options such as Bluetooth and has 3 USB ports, headphone, and mic combo jack ports as well.
Design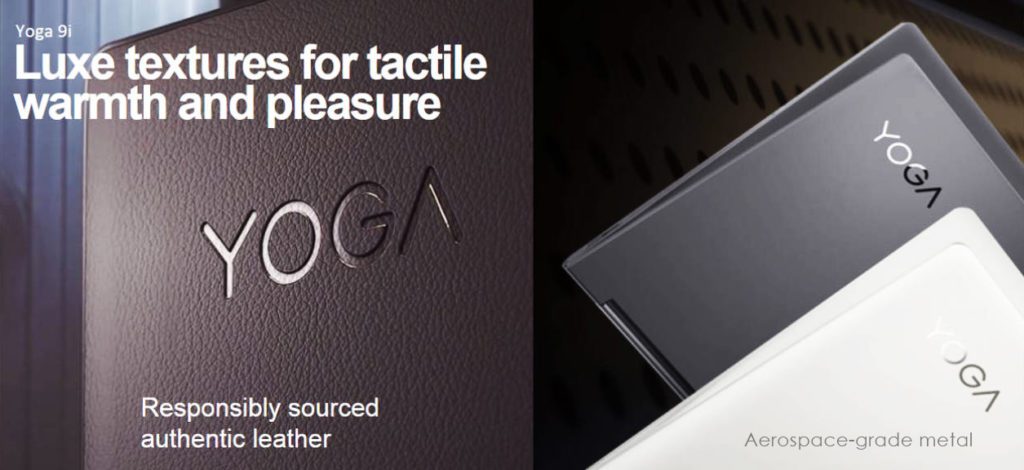 Yoga slim 9i comes in the dimension of 200.90 x 318.00 x 13.90, making the laptop slim and stylish. The body is made of aluminum, which makes it exceptionally light-weighted and weighs 1.26 kg. Moreover, the computer has a black shadow color. In short, organize your busy schedule with this light-weight laptop. In addition, it has an enhanced powerful NVIDIA GTX 1650 Ti with Max-Q design, which will empower your creativity.
Display
This time around, the Lenovo Yoga Slim 9i has a unique 4k touch screen. With this, the laptop gives you the experience of watching HD TV while working on it. It also offers you the IPS VERSA Display with a 90 percent DCI-P3 spectrum and 50 nits of brightness. Additionally, it is optimized by two 2W Dolby Atmos speakers, front-facing.
You can toggle between different work windows without zoom in or out, and the machine doesn't lag while multiple tabs and programs are running simultaneously. The display colors are quite sharp, and it does not create a glare while viewing the screen. In short, it gives you premium entertainment at your home without having to step out of your comfort zone.
Processor and battery life

In addition to the design and display, the processor and battery life has improved with the Lenovo Yoga Slim 9i. This machine comes with an Intel Core processor, enhancing your experience while working or surfing the internet. The battery life is impressive and ensures you can work for hours without worrying about power backup. You can also enjoy faster charging and better performance as it doesn't overheat during charge.
The battery performance and battery capacity have also improved. The power of the battery is 63.5Whr. With this performance, the fan noise has also reduced. In short, you can work or play a video without disturbance for about 4 to 5 hours.
Experience excellent gameplay
While some of us are still quarantined, it's time for gamers to win titles in different games. The laptop offers you NVIDIA graphics with Windows 10, perfect for gaming, and everything a laptop can do. It's light-weight and can be carried anywhere. And, if multiple tabs are open, it won't lag ensuring a smooth gaming experience. With the 512 GB, game storage won't be a problem.
Input has enhanced
Apart from enhancing the look, Lenovo has worked on its input too. The Lenovo Yoga Slim 9i comes with a touchpad, which you can use multiple fingers on the touchscreen. Secondly, you can work at night as it comes with a backlit keypad. It also has an internal mic and two speakers, which gives clarity while talking to loved ones or watching videos.
Ports and Slot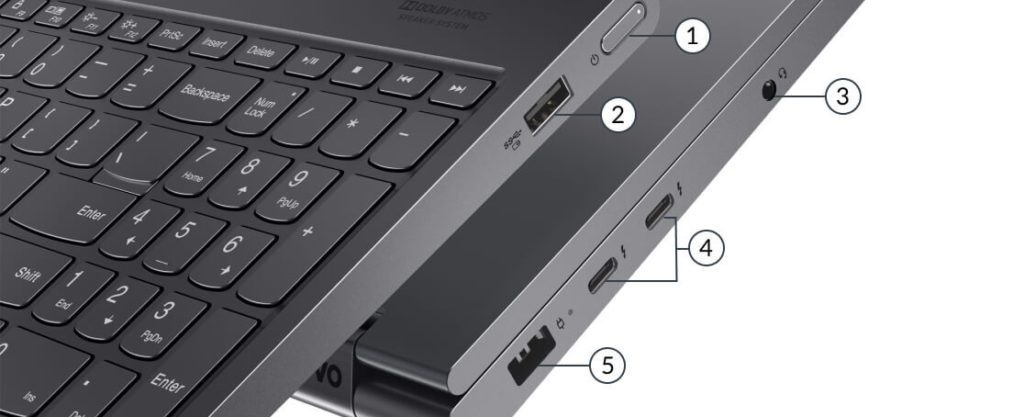 You do not have to worry about the switchboard side anymore as it comes with three USB ports, and you can work hassle free without fighting with wires. It also has a headphone and mic combo jack, so you do not have to use multiple cables. Don't you think so this is amazing?
Warranty
If you are facing any problem regarding computers' software, you can choose to interact with 24×7 customer care. The customer care is quick in their service. In addition, if your product is out of warranty, you can use GoWarranty's extended warranty services laptop.
Specifications
| | |
| --- | --- |
| Brand | Lenovo |
| Model | Yoga Slim 9i |
| Release date | 31st August 2020 |
| Model Name | Yoga Slim 9i |
| Series | Yoga |
| Dimensions (mm) | 200.90 x 318.00 x 13.90 |
| Weight (kg) | 1.26 |
| Colours | Shadow Black |
| Material | Aluminium |
| Operating system | Windows 10 |
| Battery Capacity (WHR) | 63.5 |
Display
Size and Resolution
15.6" FHD (1920 x 1080) IPS, 400 nits, 72% NTSC
15.6″ UHD 4K (3840 x 2160) IPS, VESA400 HDR w/ Dolby Vision™, 500 nits, 72% NTSC
Processor
| | |
| --- | --- |
| Processor | Up to 10th Gen Intel® Core™ i9 |
Graphics
| | |
| --- | --- |
| Dedicated Graphics | NVIDIA® GeForce™ GTX 1650 Ti |
Storage
Connectivity
Communication
WiFi 6 802.1AX (2 x 2)
Bluetooth® 5.0
Inputs
| | |
| --- | --- |
| Pointer Device | Touchpad |
| Backlit Keyboard | Yes |
| Touchpad | Yes |
| Internal Mic | Yes |
| Speakers | 2 Speakers |
Ports and slots
Number of USB Ports
USB-A 3.2** Gen 1
2 x USB-C 3.2 Gen 2 (Thunderbolt 3, DisplayPort™ & power delivery)
Power input
Headphone / mic combo
Headphone and Mic Combo Jack
Yes
** The actual transfer speed of the USB 3.2 [Gen 1] will vary and, depending on many factors, such as the processing capability of host and peripheral devices, file attributes, and other factors related to system configuration and your operating environments, will be slower than a speed of [5 Gbit/s].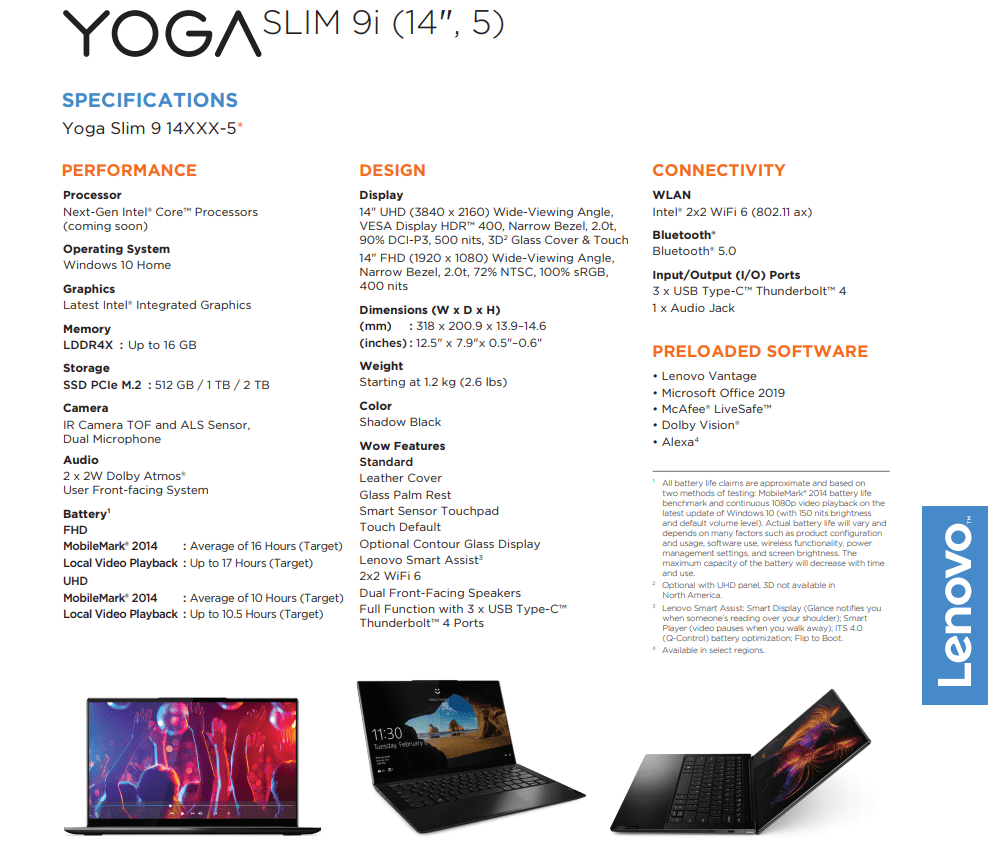 Conclusion
We hope by now you started liking the offering from Lenovo with the Yoga Slim 9i laptop. It's slim, light-weight with a 14 inch screen, which is convertible. It offers you the super-fast responsiveness of next-gen Intel Core processors with combined graphics based on the Intel Xe architecture.
Do let us know if you end up buying the Lenovo Yoga Slim 9i laptop in the comments below