The Alienware never made a light gaming notebook, because the company preferred to deliver laptops with good value and performance without compromising on thermals. However, and after years of waiting Alienware has introduced its new X-series laptops. They boast the sleekest design dimensions of any Alienware laptop release till date.
Making the Gamer Aesthetic Good
Love them or hate them, Alienware systems just don't look like anything else on the market. The Alienware X15 Sports even thinner dimensions than its huskier traditional sibling. With those dimensions and weights, the X15 manages to look even more advanced and futuristic than before without sacrificing RGB lighting, which is actually even brighter than ever.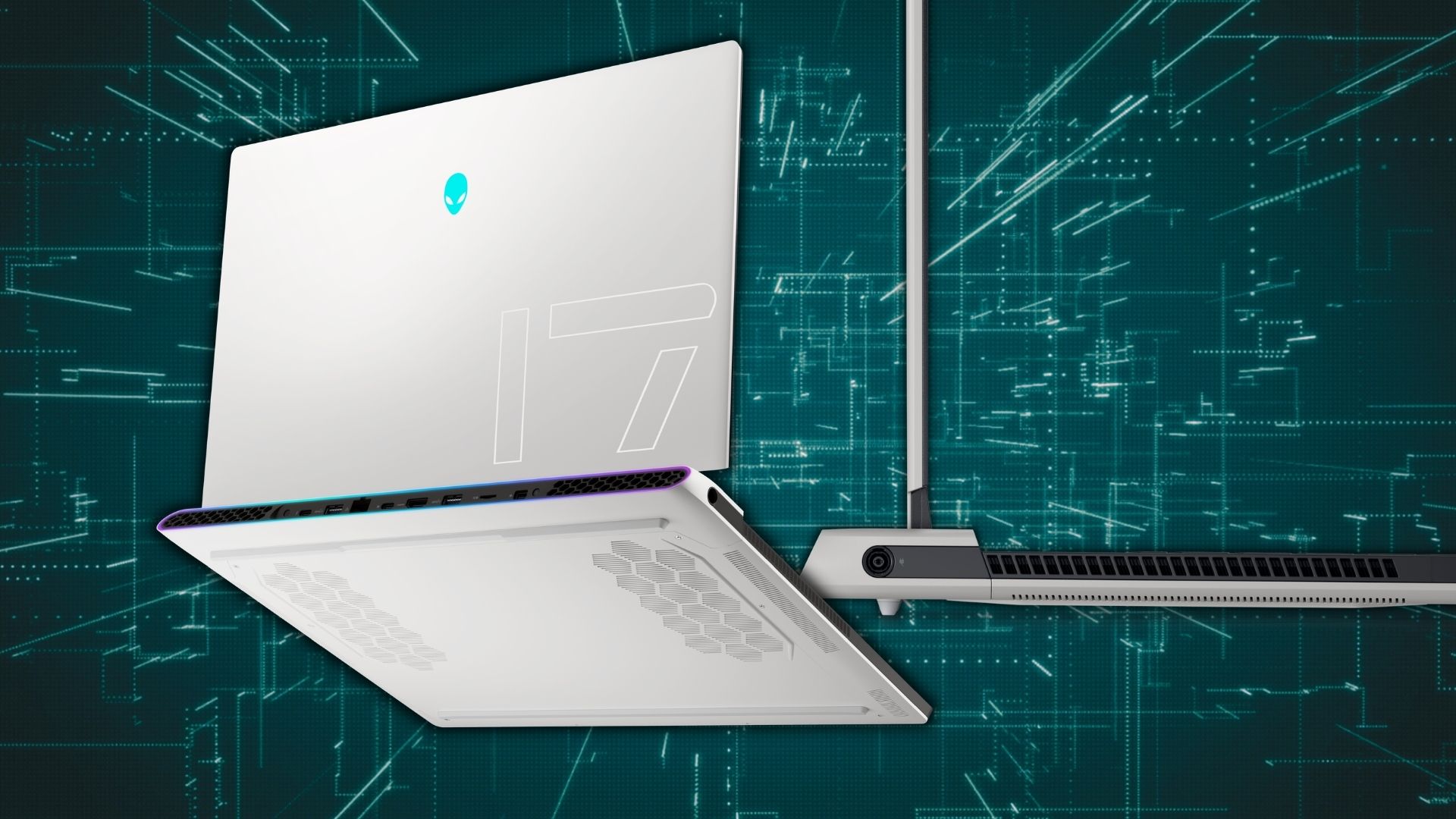 Alienware did more than just take the M15 R5's blueprints, and simply reduce the size by 10%. The company moved practically all of the laptop's ports (one USB-A 3.2, one USB-C 3.2, one USB-C with Thunderbolt 4, HDMI 2.1, microSD) to the back, leaving only a lone barrel port for power on the left and a headphone jack on the right. Alienware removed the X15's physical Ethernet jack from the laptop completely, but I appreciate that a USB-C to Ethernet dongle does come included in the box.
The idea behind moving all the ports to the back is that when the system is set up on a desk or table and hooked up to peripherals like an external monitor and a mouse and keyboard, all those wires don't become cluttered. But I think Alienware may have gone slightly overboard with this approach—a USB port that was slightly easier to reach without spinning the entire laptop around would be helpful, a sentiment that goes double for the X15's microSD card slot. If I'm trying to quickly offload some photos from a camera, reaching around back to blindly insert a tiny memory card is just going to be an exercise in frustration. Next time, Alienware, please put that microSD card slot on the side.
The Alienware X15 – Full HD with a better QHD Display
By default, the X15 comes with a 15.6-inch non-touch display with a non-glossy finish and a 165Hz refresh rate. However, Alienware's upgraded 240Hz QHD display, and after using this screen for a while, We can safely say it's worth the INR 5000 (approximately) premium over the FHD screen. The denser QHD resolution adds an extra level of sharpness compared to a standard FHD panel and feels like a better fit on a premium laptop like this, while the 240Hz refresh rate gives you the option to adjust in-game graphics settings to get that small advantage in shooters and other twitchy competitive game. And with a tested brightness of just under 400 nits, the X15's screen should look good even when you're not playing games in the dark.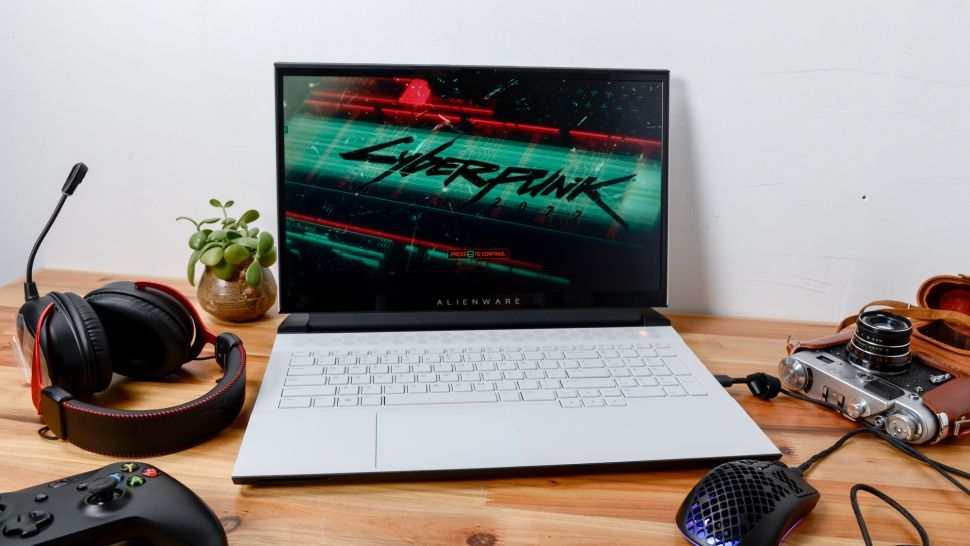 The Alienware X15's speakers, on the other hand, aren't quite as enjoyable. They are certainly very loud, and the sound quality is just okay. Subtle mid-tones often get drowned out by overbearing highs, while the bass response is relatively flat. Both the speakers and the 720p webcam are fine, but nothing to get excited about.
Sleek and Slim, Yet a Powerful Laptop
Here's the real test: If Alienware had to make big compromises on performance, that would put a real damper on the idea of a slim but powerful gaming notebook. But thanks to its Intel Core i7-11800H CPU, 16GB of base RAM, and RTX 3060 GPU (or the 3070 we have in our review unit), the X15 is competitive with other gaming laptops.
In Far Cry 5 at 1920 x 1080 on Ultra settings, the X15 averaged 106 fps, which is pretty much equal to the 109 fps we got from the Razer Blade 15 (which also features an RTX 3070), while easily beating out systems using RTX 3060 GPUs like the base Alienware m15 R5 (95 fps) and the MSI Stealth 15m (77 fps). And it's a similar situation in Metro Exodus at 1080p and Ultra settings, where the X15 hit an average of 75 fps compared to just 50 fps for the m15 R5.
Despite the X15's slim dimensions, it still offers up strong performance that's comparable to other thin, light gaming laptops. There is a cost, though: loud fans. When Alienware moved most of the X15's ports to its back, the company reclaimed the space on the side of the X15's chassis for fans and venting. And when you start gaming, those fans make sure you know they're there. Sure, you can use Alienware's Command Center app to adjust your power profile and turn down the fans a bit, but if you want to capitalize on the X15's full potential, you're gonna have to put up with some noise.
And even with the fans on full blast, I still noticed small dips in fps while gaming during extended sessions caused by thermal throttling. On the bright side, Alienware does a good job of keeping hot components away from places you're likely to touch, so even at full blast, you shouldn't get burned.
The Little and Impressive Things
The X15's touchpad is a bit on the small side, though given that most PC gamers prefer to use an external mouse for gaming, I'm not going to harp on that too much. More importantly, Dell still makes some of the nicest non-mechanical keyboards on the market. Regardless of whether you're gaming or simply typing away, the X15's keyboard is a joy to use. The only minor changes Alienware made to the X15 's keyboard layout is a row of extra keys on the right for volume and muting your mic, which is actually super handy.
I did run into some issues with Alienware's Command Center app, which controls the X15's RGB lighting, power profiles, and more. Out of the box, Command Center worked just fine, but after a mandatory update, I was locked out of adjusting the X15's system lighting and setting up game profiles. It was only after a few hours of troubleshooting that ended in me needing to completely uninstall and reinstall the Command Center did I get things working again. And even before the update, I found that that Command Center felt more sluggish than I'd like, often taking a full second to switch between the FX tab for lighting and the Fusion tab for adjusting performance.
Underwhelming Battery Life
We never expect gaming laptops to impress when it comes to battery life, but the X15 lasted just four hours and 39 minutes on our battery rundown test, which is definitely disappointing. To compare, the Razer 15 Blade we tested back in the spring lasted 2.5 hours longer (7:10), while MSI's Stealth 15M fared even better (7:59). So if you want to game while traveling, you better make sure you pack the X15's power adapter.
Specification of Alienware X15
The following table lists the height, width, depth, and weight of your Alienware x15
Dimension
Values
Height
Front height: 12.50 mm (0.50 in.)
Rear height
● 15.90 mm (0.62 in.) – For computers with 240 Hz QHD or
360 Hz FHD displays
● 16.30 mm (0.64 in.) – For computers with 165 Hz FHD
displays
Width
359.70 mm (14.16 in.)
Depth
277.25 mm (10.91 in.)
Weight
The weight of your computer depends on the configuration ordered and manufacturing variability.
2.36 kg – maximum
| Processor | Option One | Option Two |
| --- | --- | --- |
| Processor type | 11th Generation Intel Core i7-11800H | 11th Generation Intel Core i9-11900H |
| Processor wattage | 45 W | 45 W |
| Processor core count | 8 | 8 |
| Processor thread count | 16 | 16 |
| Processor speed | Up to 4.6 GHz | Up to 4.9 GHz |
| Processor cache | 24 MiB | 24 MiB |
| Integrated graphics | Intel UHD Graphics | Intel UHD Graphics |
| Chipset | Values |
| --- | --- |
| Chipset | HM570 |
| Processor | 11th Generation Intel Core i7/i9 |
| DRAM bus width | 64-bit |
| Flash EPROM | 32 MiB |
| PCIe bus | Up to Gen4 |
Operating system of The X15
Your Alienware x15 R1 supports the following operating systems:

Windows 11 Home, 64-bit
Windows 11 Pro, 64-bit
Windows 10 Home, 64-bit
Windows 10 Pro, 64-bit
Memory
Values
Memory slots
Onboard memory
Memory type
DDR4
Memory speed
3200 MHz
Maximum memory configuration
32 GB
Minimum memory configuration
16 GB
Memory configurations supported
● 16 GB, 2 x 8 GB, DDR4, 3200 MHz, dual-channel,
integrated
● 32 GB, 2 x 16 GB, DDR4, 3200 MHz, dual-channel,
integrated
External ports
Values
Network port
Not supported
USB ports
● One USB 3.2 Gen 1 port with PowerShare
● One USB Type-C 3.2 Gen 2 port with Power Delivery and
DisplayPort
● One Thunderbolt 4 port with Power Delivery and
DisplayPort
Audio port
One headset (headphone and microphone combo) port
Video port
One HDMI 2.1 port
Media-card reader
One microSD-card slot
Power-adapter port
One 7.40 mm x 5.10 mm DC-in
Security-cable slot
Not supported
Wireless module
Values
Encryption
● 64-bit/128-bit WEP
● AES-CCMP
● TKIP
Bluetooth
Bluetooth 5.2
Audio specifications
Values
Audio controller
Realtek ALC3281
Stereo conversion
Supported
Internal audio interface
High definition audio interface
External audio interface
Universal audio jack
Number of speakers
2
Internal-speaker amplifier
Not supported
External volume controls
Keyboard shortcut controls
Speaker output
Average speaker output is 2 W
Peak speaker output is 2.5 W
Subwoofer output
Not supported
Microphone
Digital-array microphones in camera assembly
Storage
Interface type
Capacity
M.2 2230 solid-state drive
PCIe Gen3 x4 NVMe, up to 32 Gbps
Up to 256 GB
M.2 2280 solid-state drive
PCIe Gen3 x4 NVMe, up to 32 Gbps
Up to 1 TB
M.2 2280 solid-state drive
PCIe Gen4 x4 NVMe, up to 64 Gbps
Up to 2 TB
Media-card type
–
One microSD-card slot
Media-cards supported
–
● Micro Secure Digital (microSD)
● Micro Secure Digital High Capacity (microSDHC)
● Micro Secure Digital Extended Capacity (microSDXC)
Camera
Values
Number of cameras
One
Camera type
HD RGB IR camera
Camera location
Front
Camera sensor type
CMOS sensor technology
Camera resolution
Still image: 0.92 megapixel
Video: 1280 x 720 (HD) at 30 fps
Infrared camera resolution
Still image: 0.23 megapixel
Video: 640 x 360 at 30 fps
Diagonal viewing angle
Camera: 75.80 degrees
Infrared camera: 75.80 degrees
Power adapter
Values
Type
240 W
Connector dimensions
External diameter: 7.40 mm (0.30 in.)
Internal diameter: External diameter
Input voltage
100 VAC–240 VAC
Input frequency
50 Hz–60 Hz
Input current (maximum)
3.50 A
Output current (continuous)
12.31 A
Rated output voltage
19.50 VDC
Temperature range
Operating and storage temperature ranges may differ among components, so operating or storing the device outside these ranges may impact the performance of specific components.
Operating: 0°C to 40°C (32°F to 104°F)
Storage: -40°C to 70°C (-40°F to 158°F)
Battery
Values
Battery type
6-cell "smart" lithium ion (87 Wh)
Battery voltage
11.40 VDC
Battery weight (maximum)
0.33 kg (0.73 lb)
Battery dimensions
Height: 6.35 mm (0.25 in.)
Width: 309.80 mm (12.20 in.)
Depth: 82 mm (3.23 in.)
Temperature range
Operating: 0°C to 50°C (32°F to 122°F)
Storage: -20°C to 60°C (-4°F to 140°F)
Battery operating time
Varies depending on operating conditions and can significantly reduce under certain power-intensive conditions.
Battery charging time (approximate)
From 0% up to 35% in as little as 20 minutes (ExpressCharge Boost) 2hr ( Express charge ),
3hr (Standard charge) hours (when the computer is off)
Coin-cell battery
Not supported
Display specifications
Option one
Option two
Option three
Display type
Full High Definition (FHD)
Full High Definition (FHD)
Quad High Definition (QHD)
Display-panel technology
Wide Viewing Angle (WVA)
Wide Viewing Angle (WVA)
Wide Viewing Angle (WVA)
Display-panel dimensions
(active area)
Height: 193.59 mm (7.62 in.)
Width: 344.16 mm (13.55 in.)
Diagonal: 394.87 mm (15.55 in.)
Height: 193.59 mm (7.62 in.)
Width: 344.16 mm (13.55 in.)
Diagonal: 394.87 mm (15.55 in.)
Height: 193.62 mm (7.62 in.)
Width: 344.21 mm (13.55 in.)
Diagonal: 394.93 mm (15.55 in.)
Display-panel native resolution
1920 x 1080
1920 x 1080
2560 x 1440
Luminance (typical)
300 nits
300 nits
400 nits
Megapixels
2.07
2.07
3.69
Color gamut
sRGB 100%
sRGB 100%
DCI P3 99%
Pixels Per Inch (PPI)
141.00
141.00
188.30
Contrast ratio (typ)
1000:1
1000:1
1000:1
Response time (max)
19 ms
10 ms
19 ms
Refresh rate
165 Hz
360 Hz
240 Hz
Horizontal view angle
+/- 85 degrees
+/- 85 degrees
+/- 85 degrees
Vertical view angle
+/- 85 degrees
+/- 85 degrees
+/- 85 degrees
Pixel pitch
0.18 mm
0.18 mm
0.13 mm
Power consumption
(maximum)
6.00 W
7.60 W
8.55 W
Anti-glare vs glossy finish
Anti-glare
Anti-glare
Anti-glare
Touch options
No
No
No
Adaptive sync support
None
G-SYNC, Advanced Optimus
G-SYNC, Advanced Optimus
| GPU – Integrated | Memory size | Processor |
| --- | --- | --- |
| Controller: Intel UHD Graphics | Shared system memory | 11th Generation Intel Core i7/i9 |
| GPU – Discrete | Memory size | Memory type |
| --- | --- | --- |
| NVIDIA GeForce RTX 3060 | 6 GB | GDDR6 |
| NVIDIA GeForce RTX 3070 | 8 GB | GDDR6 |
| NVIDIA GeForce RTX 3080 | 8 GB | GDDR6 |
Is Alienware X15 Worth Buying?
As someone who values having a powerful gaming desktop at home, I tend to prefer laptops (gaming or otherwise) that are on the sleeker side of things. After a certain point, if a laptop is too big to lug around, it loses a lot of its utility. Some folks may think the inability to configure the X15 with a top-of-the-line RTX 3080 GPU or bigger cooling fans might seem like a compromise, but to me it feels like a design decision to create a sleek gaming laptop that delivers both power and portability, not to mention a distinctive look
The downside is that the X15 starts at INR 187000, while a similarly priced Razer Blade 15 comes with the same Intel Core i7-11800H CPU, a faster Nvidia RTX 3070 GPU (the X15's base config features an RTX 3060), a 512GB SSD (the X15 starts with a 256GB SSD) and a 15-inch full HD display with a 140Hz refresh rate that's barely slower than the X15's 165Hz standard display. And if you want upgrade the X15 with a similar config as a base Razer Blade 15, you're looking at closer to INR 200000 (approximately). Sure, a base Blade 15 only has single-zone keyboard lighting, but that's still a huge cost difference – and that's before we remember that the Razer Blade 15 has way better battery life.
There's still a lot to like about the X15, including its design, its keyboard, and slimmer dimensions. But in the end, it seems there really was something to that old Alienware exec's hesitation about making a slimmer gaming laptop. At the same time, the Alienware m15 R5 stills exists, so it's not as if creating a thinner gaming laptop prevented Alienware from making a more affordable alternative. If you really want something a sleek, powerful gaming laptop, it's nice to at least have the option if you want it—even if it'll cost you.