The Asus ROG Strix Scar 17 2023 generation is one of the most powerful laptops money can buy today, and it's especially competitive as a gaming machine in this Ryzen 9 7945HX and RTX 4090 configuration, which costs less than the Intel-based 2023 Scar models with comparable specs. At the same time, as this review will show, a number of factors may convince some of you to pay more for the more advanced Scar 16/Scar 18 designs.
This is a thorough examination of the Asus ROG Strix Scar 17 series, a most powerful AMD-based Republic of Gamers laptop available in 2023. This year, the majority of the 2023 ROG models are Intel-based, with Nvidia RTX graphics, and only two Strix models are built on the most recent AMD Dragon Range HX hardware platform (also paired with Nvidia RTX graphics). There are reasons for this, but we won't go into them in this article; instead, we'll just accept the fact.
Design and Construction
The 2023 ROG Strix Scar 17 is, as previously stated, a refresh and hardware upgrade of the 2023 ROG Scar 17 Special Edition chassis. That means it's a 17-inch full-size laptop, roughly the size and weight of the current Scar 16 and Scar 18 2023 models. However, at 2.95 kilos + 1.12 kilos for the charger, this is far from a portable design.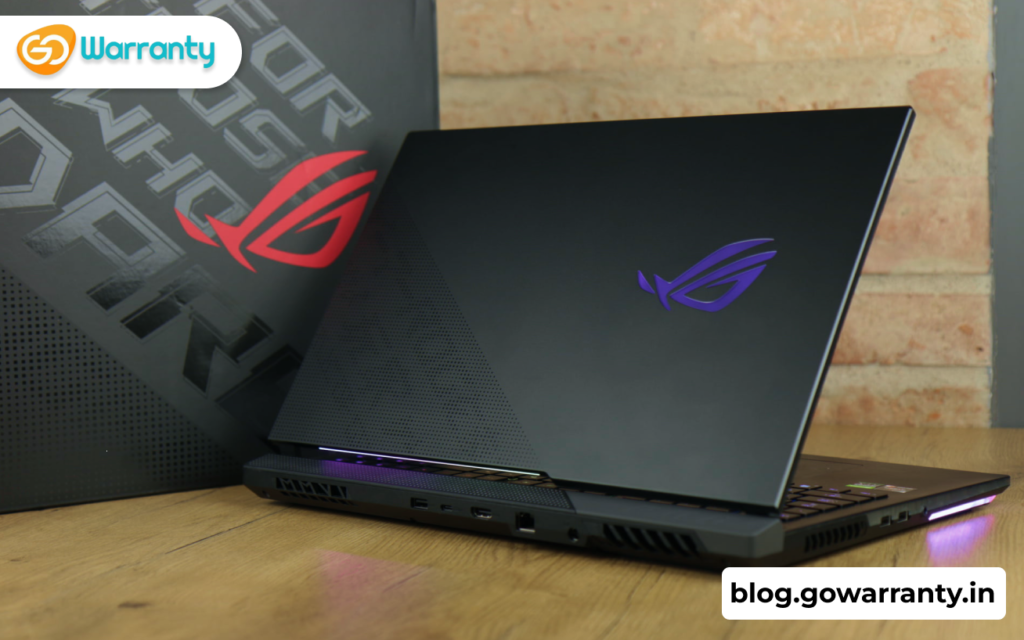 In fact, to better understand what we're talking about, compare this Scar 17 to the Scar 16 16-inch model and the Strix G17 to the Strix G18 18-inch chassis (the Strix G as well as the Scar models are identical designs, just different colours).
Speaking of which, this laptop has a 17.3-inch 16:9 display, which means there's a chunky bezel beneath the panel, as well as the cut in the bezel that allows you to see the cables behind it, which I know some of you don't like. Aside from these, there are a few other points worth mentioning. The screen only leans back about 130 degrees, and always-on status LEDs are placed directly beneath the display, in direct view. There's also an always-on light in the power button, which is annoying when using the laptop late at night in a dim room.
Keyboard and Touchpad
The keyboard and touchpad are identical to those found on the 2022 ROG Scar 17 model, with a rubber-dome ROG implementation and per-key RGB lighting.
The layout is fairly standard, with appropriately sized and spaced main keys, a slightly smaller NumPad section, and extra media keys in the upper-left corner. The arrows on this design are short, but I find them perfectly usable, and I like how they're slightly offset from everything else. In comparison, the full-size arrow keys on the 2023 Scar 16/18 models are squeezed in between the other keys.
The mouse is a mid-sized glass clickpad that works well for daily tasks. It's smooth and accurate to the touch, but I still find the physical clicks clunky, and the surface rattles with firmer taps. So gently tap it. There are still no biometrics on this 2023 ROG Strix Scar 17 series.
Display
The 2023 ROG Scar 17 features a 17.3-inch 16:9 2560 x 1440 px display with a matte non-touch finish, as previously stated. It only comes with one panel option, which is adequate for general use by today's standards as long as you keep the laptop indoors and don't expect a good HDR experience.
That's because it only gets up to 350 nits, which isn't as bright as the Nebula IPS panels found on most other 2023 ROG Strix models, and it's certainly no match for the Scar 16's mini LED Nebula HDR option.
Hardware and Performance
Our test model is the highest-specced 2023 Asus ROG Strix Scar 17, codename G733PY, with an AMD Ryzen 9 7945 HX processor, 32 GB of DDR5-4800 memory in the dual channel, 2 TB of fast SSD storage, and dual graphics: an Nvidia RTX 4090 16GB dGPU and an AMD Radeon 610M chip integrated within the Ryzen processor. This 2023 Asus ROG Strix Scar 17 is equipped with the most recent AMD and Nvidia hardware.
The Ryzen 9 7945 HX is the best mobile processor in the 2023 Ryzen 7000 Dragon Range platform, with 16 Cores and 32 Threads and built on the Zen4 architecture. The 2023 Scar 17 is available with top-tier RTX 4000 GPUs. This design also includes an advanced MUX for uncompromised gaming performance, as well as support for Nvidia's Advanced Optimus technology and GSync on the main display.
The laptop comes with two DIMMs for RAM and supports up to 64 GB of DDR5 memory. Our unit has 32 GB of DDR5-4800 memory.
Gaming Performance
Let's see how the most powerful AMD + Nvidia RTX platform in the 2023 ROG lineup, the ROG Strix Scar 17, handles modern games. We ran a few different games through the various available profiles at QHD and FHD resolutions, all with the MUX set to the Ultimate GPU mode. Keep in mind that this laptop has a 16:9 display rather than the 16:10 models found on most Intel-based 2023 options. This means that the Scar 17 must push 10% fewer pixels than many of the Intel + RTX 4000 configurations we've tested.
Battery
All 2023 ROG models, including the Strix Scar 17, include a 90Wh battery. I'll also mention that all models of the 2023 ROG Strix Scar 17 come with a 330W power brick, which is slightly larger and heavier than the 280W variant on the 2022 Scars. The battery charges from 10% to 100% in about 2 hours, with fast charging for the first half hour, and USB-C charging up to 100W is supported.
Verdict
After spending the last week with this laptop, I can say that it is one of the most competitive high-performance RTX 4090 models on the market. On the one hand, this is because it is one of the more affordable 4090 notebooks b ut also because it's a powerful implementation with solid performance but mostly solid thermals, even if the intakes are a little choked out with the laptop sitting on the desk and you'll want to place this on a raiser stand or cooling pad for heavier loads or gaming sessions.