The original HomePod, which was discontinued two years ago without a replacement, was one of Apple's only recent product failures (in a relative sense, it still sold millions of units). Since then, Apple's smart home hopes have been slowly rekindled by the HomePod Mini, and now we have a new mainline smart speaker. The Apple HomePod (2nd Generation) is nearly identical to its predecessors, with a few internal improvements but few distinguishing features.
Is the mere fact that it is available enough to justify a purchase this time?
The Apple HomePod (2nd Generation) Overview
The Apple HomePod (2nd Generation) is Apple's newest smart speaker, and based on its outward appearance, it's a pretty bare-bones hardware offering. The 2nd generation HomePod, like other HomePod products, has a nice heft to it, weighing in at around 2.3kg (a little more than 5lbs). It has the same cylindrical shape as the first generation model and is covered in the same spongy mesh fabric. Essentially, it resembles the other HomePods.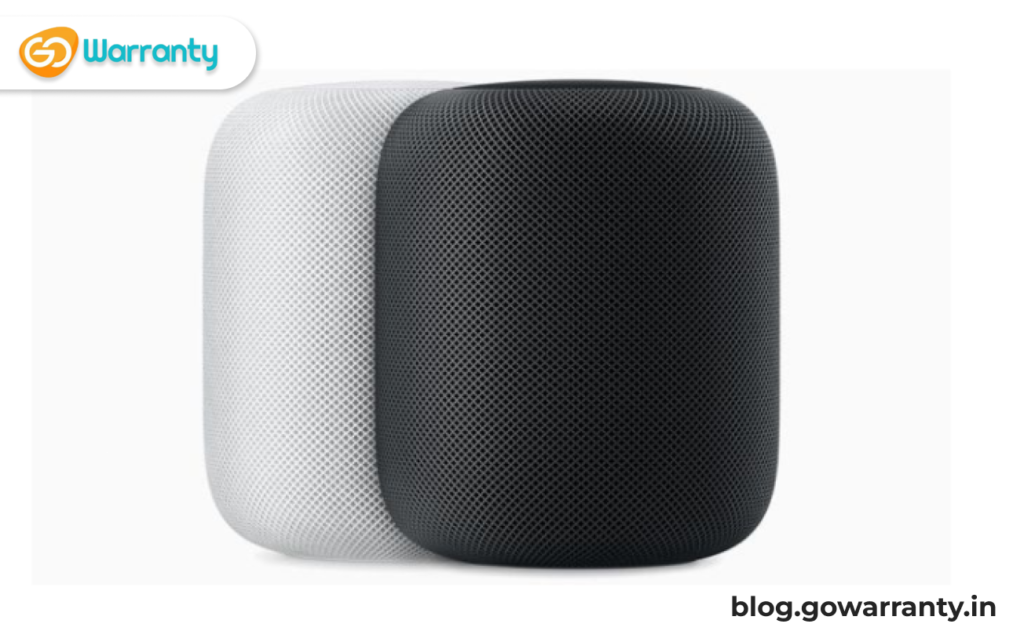 The speaker contains a high-excursion woofer and five tweeters, as well as microphones that will always pick up your voice, no matter what is playing. You can sync your HomePod (2nd Generation) with a different HomePod for stereo audio in addition to using it as a single speaker. There's also a sophisticated computational audio system that adjusts the sound based on where the HomePod is placed in your room.
However, unlike an Amazon Echo or Google Nest Audio, most people buy a smart speaker for access to smart home integration and virtual assistant access, not for its hardware features. The second generation Apple HomePod is fully compatible with the Apple software ecosystem. You can use any compatible device to sync it for AirPlay. You are free to ask Siri whatever you want. You can control Apple's Home app-connected devices. Everything you could want in a smart speaker is available, as long as you stay within Apple's ecosystem.
What's good about it?
First and foremost, the Apple HomePod (2nd Generation) sounds fantastic. The woofer adds a noticeable bassy rumble, and both instrumental and vocal parts of songs are clearly heard. Some subtler instrumentals and vocals can get lost in busier tracks at high volumes. If you don't mind being disturbed, this will be plenty loud for most rooms or even small parties. It stands to reason that you can connect a pair of HomePods to function as stereo speakers for your television (via Apple TV and AirPlay), as this will definitely achieve the volume levels you'd want in a home theatre setting.
App Interface
As one would expect, the HomePod is also very simple to use with Apple devices. Holding a recent iPhone over the HomePod is all that's required to get started. The Home app interface is responsive, and music from Apple Music or Apple Podcasts is played automatically. Anything that is connected to the same Wi-Fi network and supports AirPlay can also easily access the HomePod, if I set the audio output settings on my MacBook Air to AirPlay, I can use the speaker for wireless computer audio throughout my apartment.
Speaker
The speaker is small enough to fit just about anywhere in your home. The footprint is small, desktop and countertop space is easily accessible, and it is narrow enough to fit on a bookshelf without difficulty. The computational audio feature also means that it will adapt to the various environments in order to sound its best. The included cord, however, is a little on the short side at 1.5 metres, so you'll have to be a little picky about where you put it.
Speaking to Siri works consistently well. Regardless of the music or podcast I'm listening to, I've never had a problem with the speaker not picking up my voice. There's not much to say about Siri's performance as a virtual assistant; if you've used an iPhone, iPad, or MacBook, you know what to expect.
What we don't like?
By no means is the Apple HomePod a perfect product. You shouldn't buy it if you aren't already invested in Apple's device ecosystem. You can't even set up the dang thing if you don't have an iPhone, even if you have the latest M2 MacBook. Even if you have all of those devices but prefer a music streaming service like Spotify, it's probably worth reconsidering purchasing this.
If you use a streaming service that hasn't yet added HomePod or AirPlay support, the only way to play music through the HomePod is to use your device's built-in AirPlay support, not the service itself, but the device. This solution is not always ideal. When I use the HomePod as the audio output for my MacBook via AirPlay, the audio frequently skips and pauses. It sounds like a scratched CD. Audio-visual lag is also a common problem.
I don't want to exaggerate what is a minor issue, but rather to demonstrate that if you don't use the device with the most common methods, you'll run into issues. Don't try to rig it on the fly as you'll be disappointed.
No new significant features
If you're hoping for significant new features or differences between the Apple HomePod (2nd Generation) and the Apple HomePod mini from 2020, you'll be disappointed. The only significant difference between them is the size and shape of the speakers. The internal drivers differ as well, but you won't find anything like a wired output option on either. Essentially, this is an additional $200 USD for a louder version of the same thing.
Verdict
If you're all in on Apple and already have a smart home setup, you might want the Apple HomePod (2nd Generation). It's as well-made as everything else Apple produces, and its understated design should complement the aesthetics of your space. Everyone else, on the other hand, should probably think twice.
People who own non-Apple products should opt for one of the more open smart home speaker options, such as the Google Nest Audio or the Amazon Echo Dot.  If you're concerned about the amount of data collected by smart home or virtual assistant devices, you're probably better off with a standard Bluetooth speaker.