The PlayStation 5 is an amazing gaming console and is 5th instalment in the line of Sony. Incredible games and non-stop entertainment are now on your way. There is a delay in the international launch and the Indian launch. However, Sony is announcing officially that they will launch it on 2nd February. After a lot of waiting and exploring, Indian gamers will finally be able to put their hand on the official Indian variant of the Sony PlayStation 5. Let's see whats in the latest PlayStation 5 that will put its feet in India next week.
Design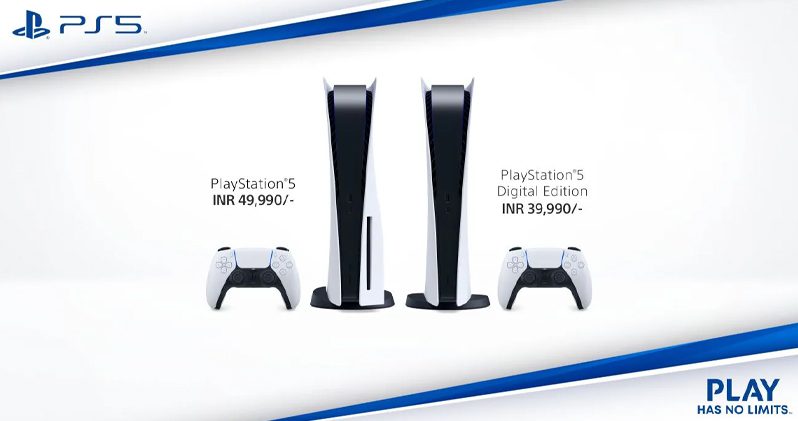 The new PlayStation 5 is enormous. It has the biggest console ever made in the history of PlayStation series. It also implies that it will not easily fit in a lot of entertainment centers. Ps5 console comes with a detachable stand, which is used to change the orientation of PlayStation from vertical to horizontal. Ps5 console comprises ultra-high SSD which can make you experience lightning-fast experience. Its adaptive triggers provide you with ultimate flexibility and also has haptic feedback for deeper immersion. When the power of a custom CPU, GPU and SSD comes together then speed has no limit. Integrated I/O adds on to the features of the ps5 console.
Furthermore, the PlayStation 5 comes in two different versions. One so with an optical disc and another one without it. The digital version of ps5 is a bit slimmer than the other. Moving on to the design of PlayStation set up box, it is very stylish and sleek. Moreover, it has a beautiful white and black colour theme and blue lightning element. This year Sony is providing a bunch of new products which match with the colour theme of ps5.
Here is the List of accessories by Sony in view of the latest Playstation 5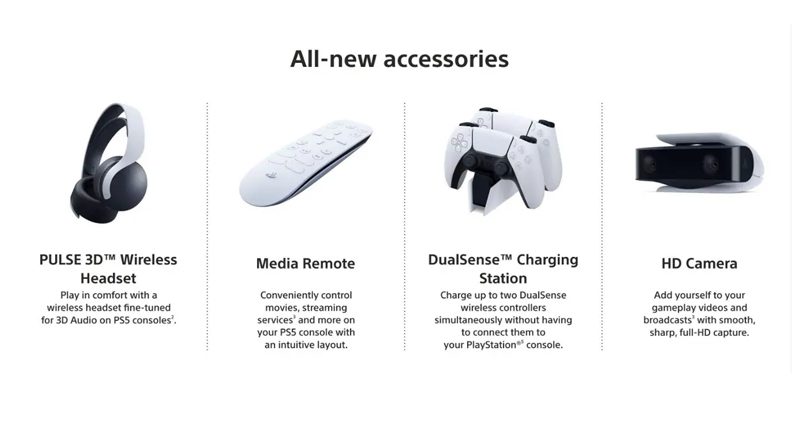 Wireless Headset
Here come new generation headphones in gaming audio. Now users can enjoy seamless without any disturbance. The pulse 3d wireless headset is redefined with amazing features such as noise cancellation microphones, easy control, fast charging and much more.
Media remote
Users can now effortlessly enjoy the entertainment. Song has introduced new intuitive media and TV controls. It has dedicated app buttons for Netflix, YouTube, Spotify, Disney. It's easy to navigate with such direct controls. One can also navigate directly in menus with ultimate confidence.
HD camera
It is easy to personalize your gameplay by sharing with an HD camera. It features dual lenses of 1080p capture. This camera works very efficiently to remove all the background tools and put you in the spotlight. With the 1080p capture, users can store every moment. It comprises a wide-angle feature which provides a perfect view. It also has a built-in stand adjustable stand to get a perfect shot.
Performance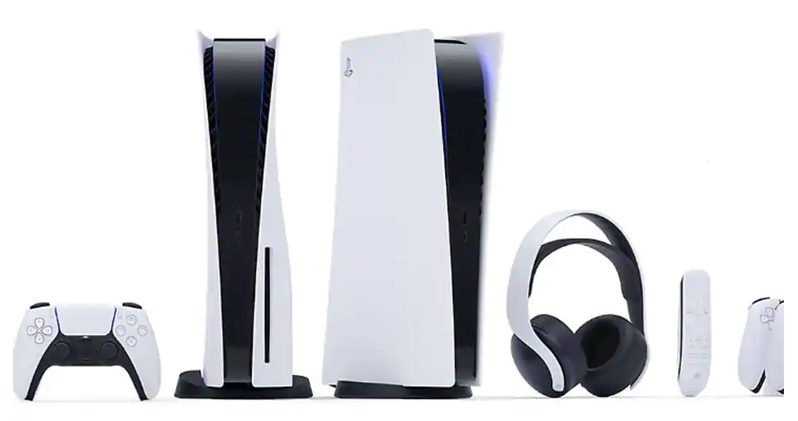 Users can enjoy 4k tv gaming. Now play your favourite ps5 games with stunning 4k tv. It gives up to 120fps to 120hc output. Frames are now smooth and have fast frame rate gameplay. It also comprises HDR technology, which provides a wide range of beautiful colours and catches every single detail on the screen. With the help of 8k support, the ps5 console is compatible with 8k display through HDMI 2,1 support. Like the PS4, the PS5's users spin around the PlayStation button on the DualSense. You tap it on boot to get to the user's screen. However, that is the place where the likenesses generally end.
Features and the UI
Tapping the PS button in-game currently opens the Control Center. It's a side-looking over however definite base menu framework that gives clients quick admittance to sound controls, companions records, and that's just the beginning. Exercises are the champion expansion to the new menu. It's a bunch of cards that can alternate route clients to specific levels or experiences inside a game. These cards additionally show progress, while some likewise give gamers tips, stunts, and instructional exercises to help discover collectables or beat intense difficulties.
Sony exhibited how these cards can be seen in an image by-picture mode. The Control Center additionally records ongoing screen captures, news from PlayStation, and companions' exercises. Discussing the last mentioned, gamers can likewise join voice visits, see other clients' streams, or straightforwardly join their game.
The new home screen is the place where clients will land when initially booting the screen. It presently includes committed Media and Games pages, which should serve to isolate your gorging and playing propensities. The PlayStation Store is currently additionally coordinated into the last mentioned, and it's not, at this point a moderate stacking application. Each game additionally gets its own centre point as well.
Conclusion
We would love to see what this new gadget will hold. Although we have already seen the proper unboxing via international units. But, there is a separate hype for the Indian origin packages. What are your views on the Indian release of Sony PlayStation 5? Let us know in the comment section below.