Sony's Bravia XR A95L OLED TV improves the company's efforts in the QD-OLED category. These next-generation panels combine quantum dots and OLED for a premium viewing experience.
While last year's Sony Bravia XR A95K OLED TV was practically flawless, the 2023 A95L model introduces some improvements in an attempt to compete with Samsung and LG's OLED TV offerings. It promises improved brightness, a larger 77-inch screen, and the long-awaited inclusion of a dedicated gaming menu. The A95K also includes the Bravia Cam, a mountable webcam that can automatically adjust picture and sound based on watcher position, among other useful features.
Price and Availability
Sony has not yet announced the price or availability of the XR A95L OLED TV, but we should know more in late spring. The company revealed its 2023 lineup roughly two months later than other major TV makers, so it stands to reason that we'll see them on shelves after the Samsung and LG 2023 TVs.
The A95K 55-inch costs INR 2,05,000, while the A95K 65-inch costs INR 2,46,999. We'd be surprised if Sony deviated significantly from these prices, though the new 77-inch configuration will undoubtedly cost more. In comparison, the new 77-inch Samsung S95C OLED TV costs INR 3,64,999.
Design
The design of last year's A95K divided opinion. Not the TV, which was as sleek and bezel-free as you'd expect from a flagship OLED display, but the stand. For starters, it was large, bulky, and heavy – not ideal for shipping from an environmental standpoint, but also quite difficult to accommodate. It ran the length of the TV, so if you had a 65-inch set, you needed a 65-inch stand. It also caused problems for people who needed to put a soundbar on their stand because it blocked the bottom section of the screen.
To some extent, that has changed this year. Slim aluminium feet sit at the very edge of the set, making them almost invisible. The default position is flush with your stand, but this year it includes the ability to raise it up so you can fit a soundbar underneath. There is also the option to narrow the stand by bringing it closer to the centre, but this is only available in the 77-inch model. Given the response to last year's TV, this is a bit disappointing.
Hardware and Features
Sony's A95L appears to use the most recent QD-OLED panel manufactured by Samsung Display. This is due to Sony claiming that the A95L will be twice as bright as last year's A95K, which is similar to what Samsung is promising in its S95C. Considering the brightness improvements that were made in the first generation of QD-OLEDs, this is a significant improvement. We've seen it with our own eyes and can assure you that the difference is significant but more on that later.
Gamers will be pleased with how well the A95L caters to their needs. For starters, it bears Sony's Perfect for PlayStation 5 badge, which guarantees better HDR performance via Auto HDR Tone Mapping and includes the Auto Genre Picture Mode, which is essentially the same as an automatic low latency mode (ALLM).
It's also the only TV in Sony's 2023 lineup that supports Dolby Vision for gaming, and it's capable of 4K/120Hz with VRR support – though it only has two HDMI 2.1 ports. This is due to the HDMI chipset used by the TV, which limits the number of 2.1 ports Sony can include. However, manufacturers such as LG have found ways to provide all four, which would have been ideal.
Picture Performance
We were invited to Sony's headquarters to get a first look at the A95L, and despite the fact that it was an early prototype, we were able to get a good idea of its performance, with some short picture demos showcasing some of this year's improvements. As it was a prototype, we could only see the TV in Vivid mode. Normally, this would not be our preferred picture mode, but it does the job of demonstrating the brightness of the TV.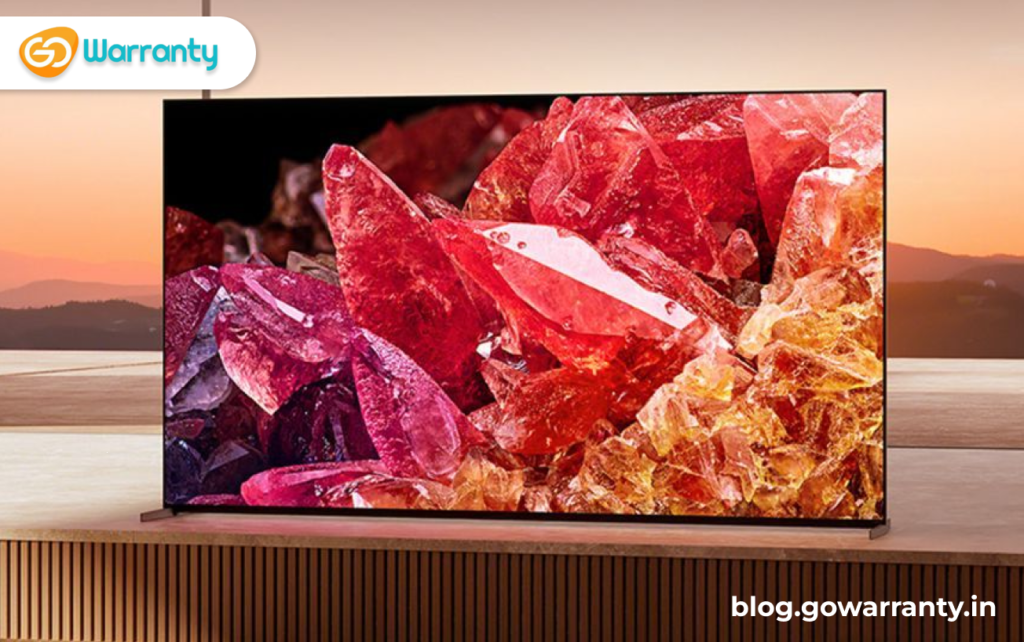 Sony did what other manufacturers do in these demos by putting the A95L against the A95K from last year as well as the S95B – Samsung's QD-OLED TV from 2022.
We immediately noticed brightness improvements when compared to both of last year's TVs, with the A95K showing the most noticeable improvement. We were watching test footage rather than a real movie, but the overall brightness was clear, with enough remaining in the tank for extra punch in highlights when needed. A video of a bride in a white gown showed that the panel can retain details even in the brightest areas. The scalloped edges of her veil appeared sharper, and the subtleties in her dress were more defined and easier to spot than in last year's shows.
Colours are also handled better, with more punch and saturation than on last year's A95K. Of course, this was in Vivid mode, so the colours weren't exactly accurate, but they weren't completely unbelievable either. A bouquet of brightly coloured flowers had both punch and realism, as well as an added sense of depth that gave it an edge over last year's TV.
Sound
We didn't get to hear the A95L during the demo, but as previously stated, we know it will have Sony's Acoustic Surface Audio+ and that – on paper, at least – it doesn't sound all that different from what we heard in the A95K. That means there's a 2.2-channel setup (Dolby Atmos compatibility is merely the ability to process it, not necessarily produce it), that uses actuators to vibrate the screen panel from behind and create sound, with a couple of woofers for bass handling.
Outlook
The A95K was always going to be a difficult act to follow, but the A95L is showing all the signs of doing so without difficulty. When combined with improved colour volume as well as enhanced detail and subtlety, the new brightness of the panel should appear fantastic with HDR content. While some of Sony's premium Mini LED TVs are expected in the first half of this year, Sony has told us that the A95L will be available in the second half of the year.