G3 is one of the best televisions out there. I understand how important the G3 OLED is. It is the first OLED TV in the United States to feature LG's new Micro Lens Array technology, and it is without a doubt LG's response to the excitement generated by QD-OLED TVs last year. Many people are curious whether QD-OLED will maintain its throne as the King of TVs, or whether the LG G3 OLED will take the crown.
Picture Quality
The picture quality is described below. It's stunning. In so many ways, this television is near-perfect. Everything you can watch on this TV appears better when viewed on this TV. And I'll just say it: this is the best gaming TV money can buy.
Brightness
Anyone who has followed OLED TVs over the years will notice the brightness improvements that the Micro Lens Array (MLA) in this TV's panel brings. Even if you haven't, the brightness punch of this TV, combined with its perfect black levels and pixel-level control, provides a dazzling viewing experience that OLED technology won't achieve until 2022. This brings up a question that I'm sure a lot of people have: Is the LG G3 as good as the fancy new QD-OLEDs from Samsung and Sony?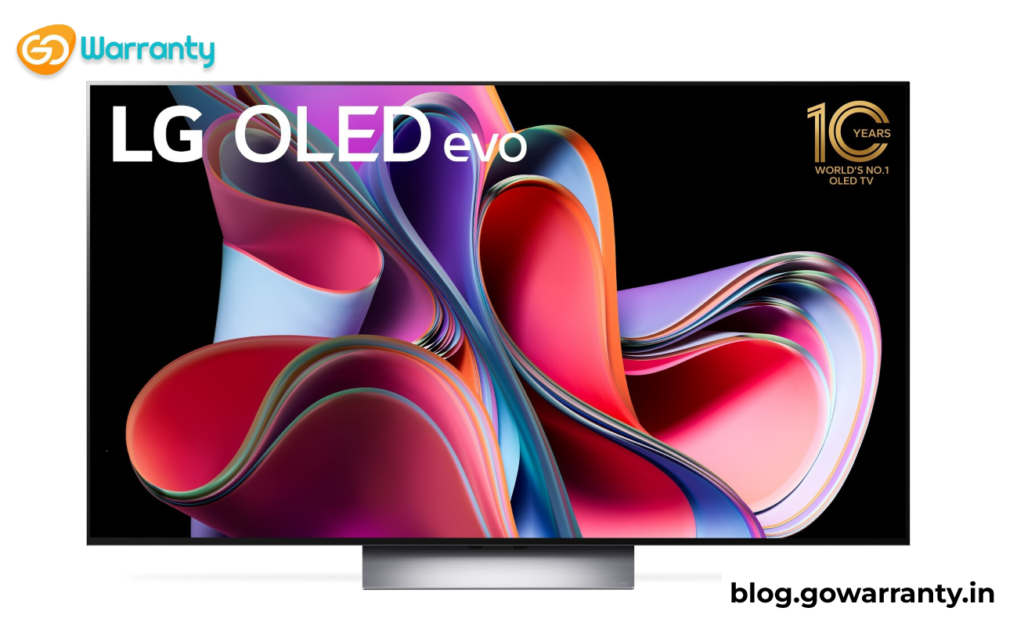 My quick answer is yes. The LG G3 is on par with those televisions. It puts them on the defensive. True, QD-OLEDs can achieve colour purity and high colour brightness levels that the G3 cannot. So, if we conduct a thorough comparison, we will find some advantages in the QD-OLED column and some in the LG OLED column. However, the G3 is every bit the premium OLED TV that LG required to compete with QD-OLED.
Motion and Processing
Let's start with general processing and upscaling. How does the TV handle low-resolution, low-bit-rate, and low-bit-depth content? You know, cable, live-streaming TV, and  average YouTube videos?
It performs impressively. It's not a miracle worker, but I was able to watch The Masters golf tournament live on Sling TV and Paramount Plus. Overall, it looked great, which is saying a lot given how filthy the streams are. When there's a real lack of information in the video stream, the G3 can't do much with high-detail shots on highly textured images like the greens at Augusta National. However, from a macro perspective, the G3's sharpness was excellent.
About motion,  it's a bit of a blessing and a curse here. Because, while cinematic, 24 frames per second (fps) content is perfectly paced, and 30 fps content is also displayed exactly as intended without any additional motion smoothing assistance from the TV. During slow panning sequences, bright objects produce a flashing or strobing effect.
User Experience
On the plus side, this TV provides the best off-axis viewing experience I've ever seen. There is no strange tinting, contrast loss, or colour desaturation. It's the best TV for the most people in any room and seating arrangement. Everyone gets a fantastic shot. This year's anti-glare on LG's OLED TVs is more effective than in previous years, with no discernible drawbacks. When I turn this off in a bright room, the screen remains black, and blacks remain black when there is content on it.
The television does have a few minor flaws. One is the stand, which you should buy if you don't want to use the wall mount that comes with the model. The stand swivels, which is convenient, but it also tilts the screen back, which you may dislike (though I should note that in my testing, the reclined position did not degrade the viewing experience). However, the stand causes the TV to wobble, which I dislike. A more generic TV stand will provide a more stable installation, but it will not be as appealing.
Sound
This TV's sound isn't as good as the TV it replaces, the 2022 LG G2, and it's certainly not as good as the Sony A95K or most of Sony's other OLED TVs. The dialogue is audible, but not as notable as I'd like. The overall fidelity is simply not as good as it should be on a TV of this price. There's bass, which gives the sound a sense of fullness thankfully, the TV doesn't sound anaemic  but it lacks presence, richness, and, most importantly, clarity. A TV with this much picture clarity deserves to have good sound clarity as well. So, with this TV, I highly recommend at least a soundbar.
Operating System
WebOS, the TV's operating system, is simply too busy for me. I don't need all of the advertisements and suggestions that it throws at me. I plugged a Chromecast with Google TV dongle into one of the HDMI ports for the majority of my testing and never looked back. The Chromecast's remote controls the TV perfectly, and the TV's remote controls the Chromecast as well. Plus, Google TV is far more user-friendly and customizable for me. WebOS is powerful and capable, but it's simply too much for me. Sorry, LG, but it's a not good.
Gaming
So, gamers, why do I believe this will be the best gaming TV in 2023? The majority of what made the LG G2 the best gaming TV in 2022 remains, but the G3 is brighter and more exciting. It's great for gamers, and unlike Sony's TVs, which will support Dolby Vision gaming at some point this year, this TV has four HDMI 2.1 ports (the Sony only has two). So, even if it's on a technicality, the G3 will win. It simply is. Having said that, Dolby Vision gaming mode measured slightly overly bright in my tests. LG must address this issue. However, the company will most likely release an update that corrects the problem within a few weeks, so I'm not worried about it.
Verdict
I can't wait to get into those in-depth dissections of the TV, but I can tell you right now that the LG G3 is an absolute standout. It's a joy to watch. It's exciting. It is everything a high-end television should be. It's perfect for me. And, for the first time since LG introduced the C and G series, I believe the G series is so compelling that it truly deserves the extra money it demands. It's simply outstanding. You'll pay for what it provides, but you'll never be sorry.