Sonos Ray is the company's newest budget-friendly soundbar. The soundbar comes with touch controls and Apple AirPlay 2 compatibility from the American audio company. The Sonos Ray uses an optical cable to connect to a TV or laptop and supports Dolby Digital audio. It works with the Sonos app, which allows customers to control the bass of the Sonos Ray from their phone.
The Sonos Ray, an affordable soundbar meant to produce better sound than your typical television, returns the firm to its roots.
"There are over 1 billion televisions in the world, yet only 10% of them offer sound enhancement." "The vast majority of TVs have terrible sound quality and require assistance," said Paul Peace, an audio systems engineer at Sonos. "Ray will make it possible for many more TVs to have decent sound."
Price and Availability
In the United States, the new Sonos Ray costs $279 (approximately Rs. 21,600). The soundbar is available in Black and White colour variants. Also, is presently available for pre-order on the business website in the United States, with delivery beginning on June 7. The introduction of the Sonos Ray in India and other international markets has yet to be confirmed.
Specifications and Features
To provide bass and generate a high-frequency response. The Sonos new soundbar has two mid-woofers, four Class-D digital amplifiers, and two tweeters. Play, stop, change volume, skip, and replay are all controlled via capacitive touch controls on the Sonos Ray's body. A quad-core CPU with a maximum clock speed of 2.4GHz powers it. The soundbar also has LED indications for connection and mute status.
It may also be linked to the Sonos app, which is available on Google Play and Apple's App Store. To change the bass, treble, and volume, as well as to utilise other services. It has Wi-Fi 802.11/b/g/n connectivity and allows users to listen to music from Spotify Connect and Amazon Music. It can be linked to a PC or TV with an optical cable included in the box. Apple users may connect their iPhone, iPad, or Mac to the Sonos Ray through Wi-Fi via AirPlay 2. It also has an IR receiver that allows it to function with a TV remote.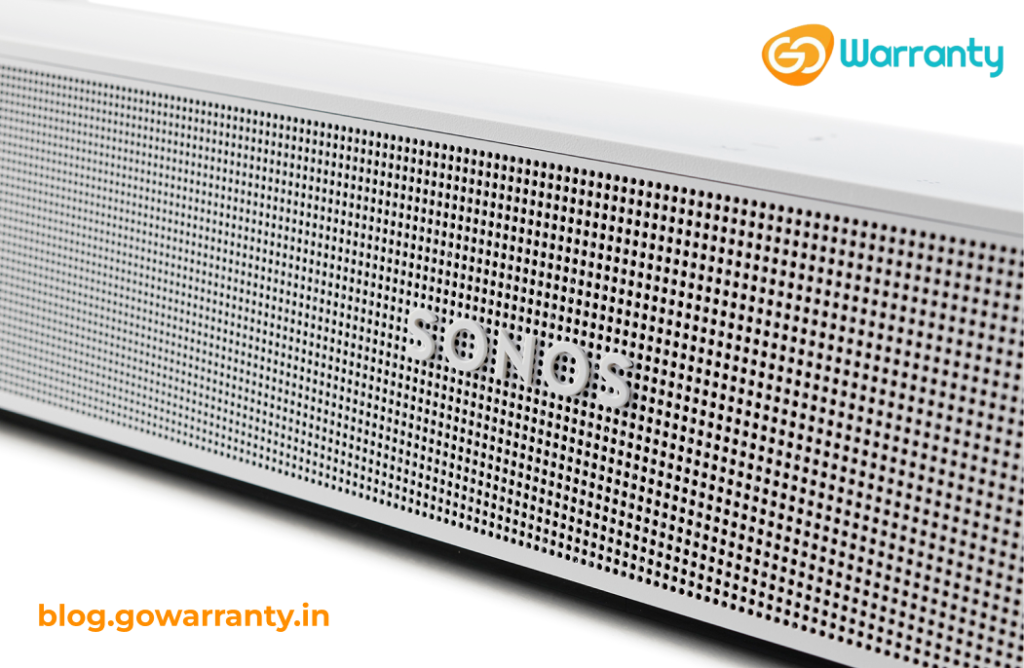 In addition, the newly released soundbar can decode stereo PCM, Dolby Digital v5.1, and DTS Digital Surround. With the aid of the iOS smartphone's microphone, the gadget supports the company's TruePlay tuning technology. Which improves the sound based on the surroundings. It also supports the Night Sound function. Which lowers the volume of strong noises while raising the volume of softer sounds. For multi-room listening, users may connect the gadget to additional Sonos speakers. The soundbar is 1.95kg and is 71x559x95mm.
Lighter and Smaller
The Ray is the company's "smallest, most compact, and least costly" soundbar, according to Peace. It weighs 1.95kg and dimensions 95 x 559 x 71mm. Also, can be coupled with a TV up to 55 inches in size and either sit on a flat surface or be wall-mounted with an optional adapter, according to Sonos. It comes in black and white, much like the rest of the Sonos speakers.
On top, there are the typical touch controls for play/pause and two extra buttons for volume, skip, and replay. Because this soundbar lacks microphones, it cannot be controlled via Alexa, Google Assistant, or the new Sonos Voice Control system.
Optical Only
Because the Ray is designed to work with a wider variety of TVs. It only includes an optical input rather than the HDMI eARC connections seen on its more costly variants. Because optical is by far the most popular form of audio output on TVs. It should make connecting the Ray much easier.
Of course, opting for optical has disadvantages. The Ray lacks HDMI-CEC, which allows you to send remote control orders from your TV to the soundbar; however, it does feature an IR receiver, so you may set it to respond to your TV's remote control.
Second, the bandwidth of optical communications is restricted. The Ray is limited to ordinary Dolby Digital 5.1. Whereas, the Arc and Beam (Gen 2) offer lossless Dolby TrueHD through eARC (or Dolby Digital Plus over normal HDMI ARC). The standard version of DTS is now supported on all Sonos devices, thanks to a recent upgrade.
Dolby Digital and DTS are also fantastic sound codecs that have been the foundation of home cinema for years. But the option emphasises that the Ray is about offering better, clearer sound for normal TVs. Rather than being the pinnacle of home cinema quality.
Surround Sound and Smart Audio
Not that the Ray couldn't serve as the foundation for a comprehensive surround-sound setup. You may use a pair of any other Sonos players as the back speakers, just like the other soundbars. Given the soundbar's size and intended audience, pairing Sonos One SL speakers makes sense (or use a single Sonos One in the mix for voice control).
The Sonos SUB is also compatible with the system for further bass, however it may be overkill given the speaker's pricing. The Sonos Ray has been developed to give a superb audio experience that goes beyond what a simple TV can deliver, while not using the newest sound codecs. Two tweeters, two full-range midwoofers, and a low-velocity port design for bass are controlled by four Class-D digital amplifiers on the inside.
The soundbar was designed to offer high-quality audio and has a few tricks up its sleeve. "Two modest woofers anchor the centre channel, and their placement and choice are critical for presenting discourse," explains Peace. "Waveguides are on the left and right flanks."
Those waveguides supply the sound's breadth, which "creates imaginary loudspeaker placements in space," according to Peace. The soundbar's low-frequency impact is provided by the two coiled ports shown in the image below.
Music
While a soundbar is primarily intended for watching movies, the Ray also functions as a full-fledged Sonos multiroom player. It connects to an existing Sonos S2 system and functions similarly to other Sonos music players. Sonos has gone to great lengths to ensure that music sounds great.
"Music needs to be a priority," Peace adds. "I spent more time making sure the music was as good as the movie." The Ray is Apple AirPlay 2 compatible and can play music via the Sonos app.