It's difficult to put into words how superior QD OLED – Samsung's new and improved OLED technology – is to other 4K TV options. I adore the LG C2, and I've had positive experiences with mini LED technologies, but nothing currently available delivers the same combination of brightness, colour depth, colour accuracy, and pixel response time as a QD OLED.
While Sony's use of the panel remains my favourite, Samsung makes a strong case for itself by meeting the same high standard for picture quality while charging roughly half the price of Sony.
Design and Build
When it comes to design, OLED panels have spoiled me, and the S95B is a perfect example of why: it looks fantastic from any angle. From the front, its stunningly thin panel and slim bezels elevate whatever you're watching to centre stage. The "brains" of the television are well contained from the sides in a small rectangular panel that also houses the ports. On that note, the S95B has four HDMI ports, all of which support 4K at 120Hz (two of which support eARC), two USB ports, an optical port, cable coaxial, and Ethernet.
Samsung also did an excellent job with cable management in this model, which I believe is the first time I can say that about a Samsung display. Cables are neatly routed into a box that directs them behind the stand and out the bottom, where a nice plastic panel fits over the top and blends in with the back of the display. When everything is in place and your cables are in place, all you see is the display and the rather nice stand.
Remote
The remote is identical to the one included with the QN90B, it's small but not too small, thin but not too thin, and features a solar charger on the back which eliminates the need for AA or AAA batteries, which I really like. As I previously stated, this remote may be overly simplistic, as many of the buttons perform dual functions and are difficult to distinguish.
Software and UI
I'm not a fan of Samsung's Tizen operating system, and that holds true here. Tizen is slow, constantly tries to autoplay content, and in many cases does not react as expected. For example, the S95B did not have a gaming menu as an option right out of the box, which struck me as odd given how valuable direct access to gaming cloud options is. But as soon as I plugged in my PC, the gaming menu appeared. Also, after plugging in either a PC or a PlayStation 5, Tizen would say it was going to display that source, only to return me to the home screen, obligating me to re-select that source from the menu.
Another complaint I have about Tizen is the lack of picture options. For standard content, the S95B only offers Dynamic, Standard, Movie, and Filmmaker modes, as well as "Entertain" and "Graphic" for a connected PC. Dolby Vision HDR is not supported by the Samsung S95B, but it does support HDR10+.
Cloud Gaming Feature
The Game Menu gives TV owners access to multiple cloud gaming options such as Stadia, Xbox Game Cloud, and Nvidia GeForce Now, allowing them to access massive libraries of video games without owning a console. I tested this with Xbox Game Pass and also was able to connect to my account and pick up Halo from where I left off on my PC with no connected hardware other than an Xbox controller, which connects directly and seamlessly with the TV.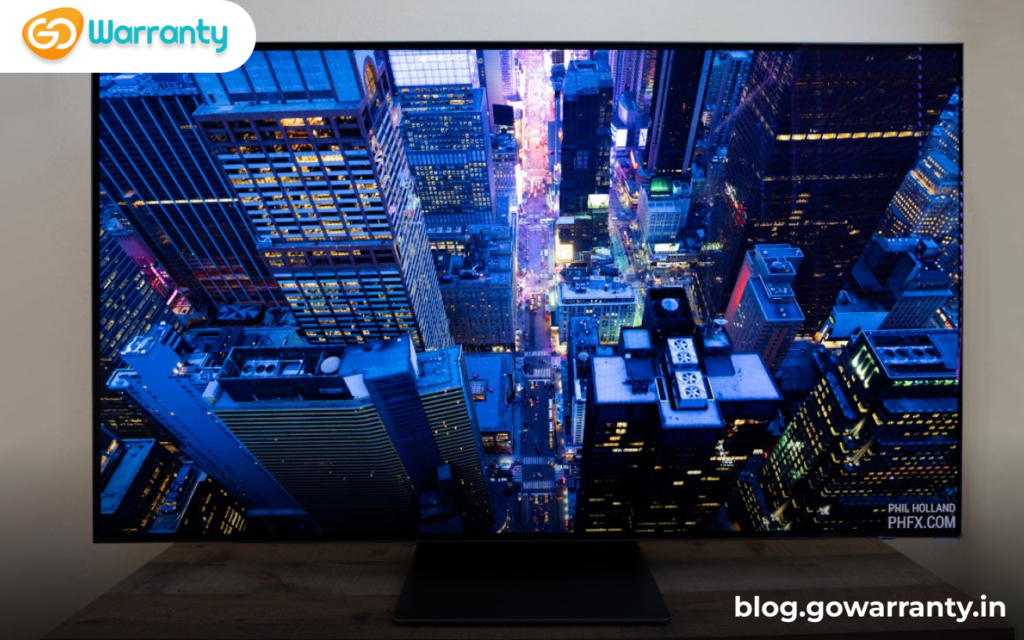 Picture Quality
When all attention is focused on this outstanding panel, the S95B shines brightest. QD OLED is a new technology that combines the benefits of traditional OLED, such as high contrast, colour, and pixel response time, with a brighter and more energy-efficient panel. In a guide, I go over all of the benefits of QD OLED, but in a nutshell, it's the most impressive panel technology I've ever seen. This panel can display more colours than any other display you've ever seen, and seeing it in person is difficult to put into words. It also gets very bright – more than 1,000 nits of peak brightness – so it can overcome glare even in well-lit rooms.
Audio Quality
As with any television with this little physical space for speakers, I don't have high expectations for quality sound. However, companies, including Samsung, are becoming more adept at utilising this limited space, and I must admit that the audio output of the S95B isn't half bad. It's quite loud, and while it lacks in the low end, it's perfectly adequate.
I believe you'll still need a soundbar or even a sound system to generate the kind of theatre-quality audio which should accompany the excellent picture quality that this display can produce, but I've certainly heard worse televisions.
Gaming Performance
OLED is my favourite type of panel for gaming because of its low pixel response time, vibrant colours, and fast refresh rates, and the S95B is no exception. This panel supports 4K at up to 120Hz via HDMI 2.1, and because all four ports support this feature, users can connect a PlayStation, PC, and Xbox to it all at once while still having one more port for an eARC soundbar.
Verdict
There is only one television that can compete with the S95B, and that is the Sony A95K. Both use the same Samsung panel, but Sony's processing and image quality options allow the panel to do more than on the S95B. Another point worth mentioning is that I believe the S95B is a far superior television to the Samsung QN90B, which is surprising given that it has a better panel and is frequently available for less money. If you're going to purchase a Samsung, make it the S95B.