If I asked you a few years ago what the best budget premium TV brand was. Most people would have undoubtedly said "Vizio," and I would have done the same. That is a much more difficult question to answer nowadays. While Vizio retains a sizable market share in all budget TV segments, there is new competition from TCL and Hisense, not to mention the numerous entry-level offerings from top brands such as Samsung, Sony, and LG.
But, in my search for the best budget premium TV available today, I believe I have finally found the golden goose egg of lower-cost picture and performance, and its name is the Hisense U8H.
While not perfect, the U8H excels in a number of key areas, particularly its full array, mini-LED lighting, and local dimming capabilities, which achieve the kind of black levels found on higher-end sets. When you consider Game Mode Pro, the 120Hz refresh rate, and the powerful Google TV interface, the Hisense U8H becomes a no-brainer purchase especially given the low price.
Design
In terms of overall design, the U8H resembles a number of mid to high-end TVs these days, which isn't a bad thing. The racetrack around the perimeter of the screen is a polished metallic strip, with a sleek silver bezel running along the bottom of the panel. In place of a traditional pedestal, the U8H includes two screw-on feet which can be connected for either a wide or narrow configuration, depending on the size of your TV stand or the type of accessories you want to place in front of the screen (such as a soundbar).
All of the inputs are located on the left side of the TV's back panel. These include two 4K/120Hz HDMI inputs and one eARC port, a digital optical connection, two USB-A connections, 3.5mm composite video input, 3.5mm audio port, an Ethernet port, as well as a coaxial input. The AC power outlet is on the other side.
Picture Quality
Did we expect a budget brand like Hisense to deliver a top-tier screen capable of competing with the MVPs of the 2022 TV world? Not quite. However, when it comes to image quality, the U8H is nothing less than exceptional. To begin, we're using a mini-LED backlight array similar to last year's flagship Hisense U8G, but with increased brilliance and dimming accuracy. Hisense claims that the 65-inch model (our test unit) has a peak brightness of around 1,500 nits and 336 local dimming zones.
That, combined with support for HDR10, HDR10+, Dolby Vision, and HLG picture standards, puts the U8H in a strong second place behind competitors like the Samsung QN90B, and the picture is truly amazing in action.
In fact, I measured peak brightness at around 1,760 nits during a Dolby Vision test run, with sustained HDR output at around 950 nits. On the SDR front, I was able to achieve peak SDR brightness of around 1,390 nits and sustained output of around 705 nits.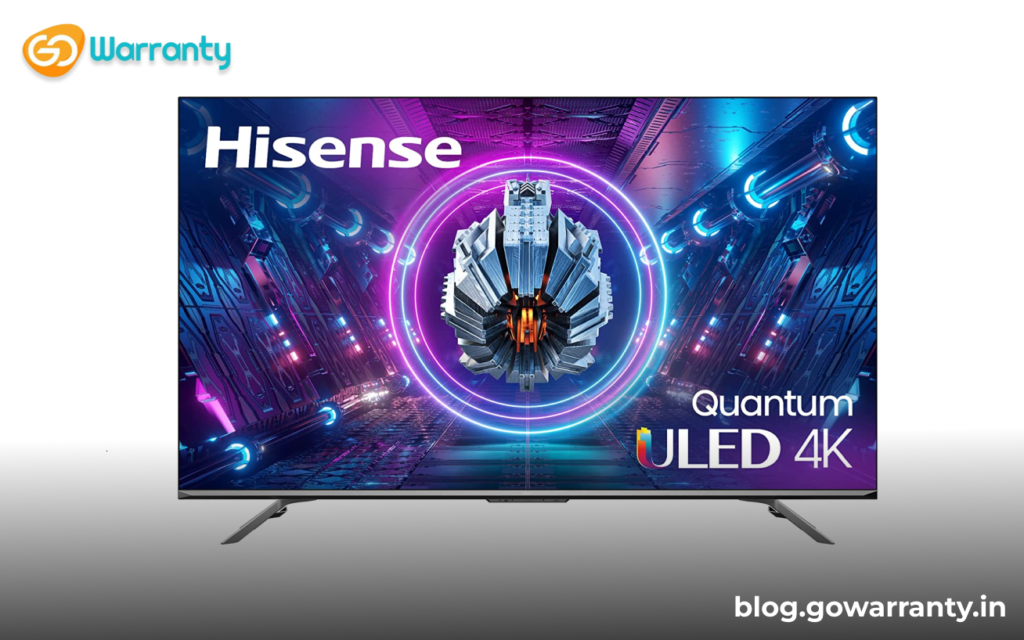 Sound Quality
Given the Hisense U8H's thin profile, I was surprised to see that Hisense was able to include a dedicated subwoofer on the back of the TV, something I've yet to see on a more modern set, which gave me high hopes for the quality of sound the U8H would deliver. But, alas, my hopes were shattered.
The two 10-watt speakers and woofer provided little in the way of respectable sound staging, leaving me with a pretty flat listening experience regardless of the source. And, despite the fact that the Hisense U8H is a Dolby Atmos-ready set, the few Atmos titles I watched on Netflix sounded no different than non-Atmos content.
The Budget Premium TV That Every Gamer Wants
The Hisense U8H is a gamer's dream, with all of the next-gen must-haves and Hisense's uncanny knack for optimizing whatever console experience you're connected to. Two of the TV's four HDMI 2.1 inputs support 4K/120Hz refresh rates, and the integrated Game Mode Pro reduces input lag with features such as ALLM (automatic low-latency mode), VRR (variable refresh rate), as well as AMD FreeSync Premium for anyone connecting their Alienware computer to play "World of Warcraft."
I despise any kind of artificial motion enhancement, and I usually kill these background engines even when gaming, but the Hisense U8H's Game Made Pro was so good that I left everything alone. Following a few in-game prompts to fine-tune the system's HDR settings for the great experience, I was left with a 2017 game that looked as well as performed like it was released this year.
Google TV is quickly becoming a must-have smart TV 
The Google TV backbone of the U8H supports all of today's popular apps, including Netflix, Hulu, Amazon Prime Video, Disney+, Apple TV+, Tubi, Peacock, and a few others. It also supports Google Cast, which allows you to "cast" audio or video from a compatible Android device to the U8H, and a software update is on the way that will add support for AirPlay 2.
Google TV is also simple to use, and if you have a Google account, the home screen will be crowded with several recommended television shows and movies based on your viewing history. In addition to Google TV, the U8H supports Google Assistant, with microphones built into both the TV and the remote control. You can navigate through the apps you know and love, adjust the TV volume, and even control your home's smart home equipment with a simple "Hey, Google."
As a user interface, Google TV provides a solid streamlined experience that isn't overburdened with ads and other add-ons you might not use (as with Tizen and WebOS), though some of the pages do have some dedicated space for ad drops, which is something that is pretty much unavoidable for any smart TV these days.