The fact that a TV is small doesn't mean it's cheap or poor in performance. The 43-inch Samsung QN90B Neo QLED TV (QN43QN90BAF), for example, is not a cheap buy, and you may wonder if a set this small can justify its comparatively high INR 73,999 price.
As it turns out, it can. Within its small frame, the QN90B conceals some truly potent images and gaming capabilities. No, this size isn't ideal for a living room; it's better suited for a bedroom, and the picture quality isn't perfect, but there aren't many applications where it doesn't excel.
Price and Availability
Among TV manufacturers, Samsung is unusually good at providing a wide range of sizes for all of its set families. That is still true for the QN90B line, which comes in seven different sizes (our review unit, the 43-inch model, being the smallest):
The Samsung QN90B Neo QLED TV 43-inch (QN43QN90BAF) costs INR 73,999, while the Samsung QN90B Neo QLED TV 50-inch (QN50QN90BAF) costs INR 98,999. INR 1,05,999 for the 55-inch Samsung QN90B Neo QLED TV (QN55QN90BAF).
65-inch Samsung QN90B Neo QLED TV (QN65QN90BAF): INR 1,39,999. INR1,89,999 for the 75-inch Samsung QN90B Neo QLED TV (QN75QN90BAF).
INR 2,21,999 for the 85-inch Samsung QN90B Neo QLED TV (QN85QN90BAF) and 98-inch Samsung QN90B Neo QLED TV (QN98QN90BAF): INR 12,32,999.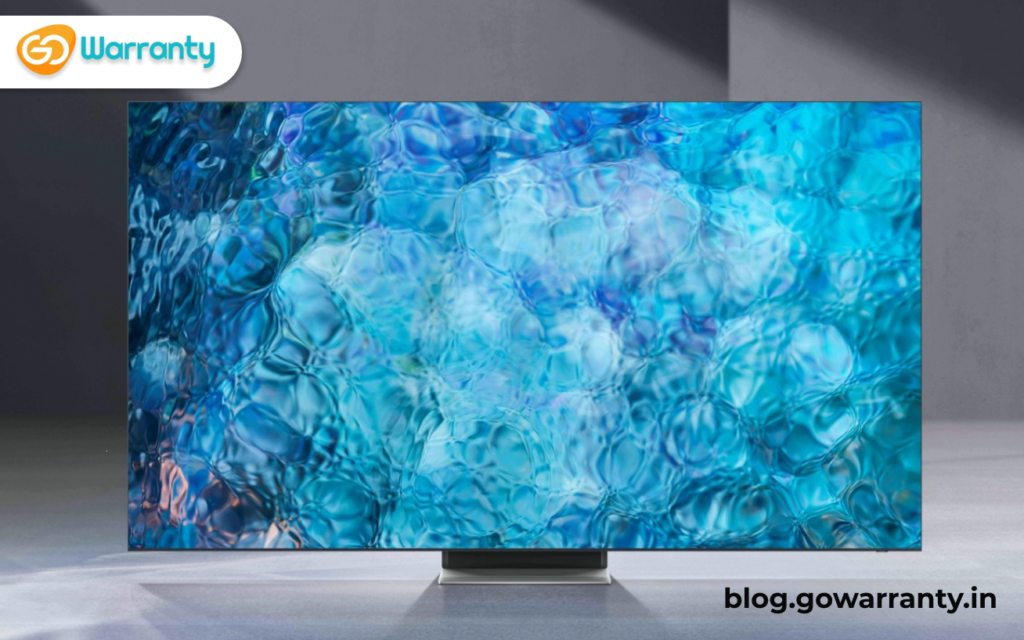 Design
The QN43QN90BAF's overall appearance suggests that it comes from the more precise end of the Samsung TV gene pool. The 37.8×22-inch display isn't particularly thin (1.1 inches at its thickest point), but the narrow (one-eighth-inch) metal bezels surrounding the screen on the left, right, and top, as well as the one-third-inch bezel on the bottom, look particularly good, never drawing undue attention to themselves.
Would that the same could be said for the stand. It's a bulky, two-piece unit that requires eight screws to assemble; it appears to be designed to support a much larger or heavier TV. This is one case where you should seriously consider wall-mounting the TV using the 200x200mm VESA holes on the stylish (black plastic that appears like brushed metal) rear panel.
The power cable connects to a port on the centre-left, just above the stand. All of the ports are on the right, and there's a good selection: two USBs (0.5A and 1A); S/PDIF audio output; Ethernet; Ex-Link; coaxial cable; and four HDMI, one of which is configured for eARC and all of which support the HDMI 2.1 standard, allowing 4K at 144Hz.
Performance
The QN90B, dubbed a Neo QLED TV by Samsung, combines quantum dots and Mini LEDs into a display technology ("Quantum LEDs") that the company claims results in richer colours and higher contrast. We used an X-Rite i1 Pro spectrophotometer, a SpectraCal VideoForge Pro pattern generator, and Portrait Displays' Calman calibration software to put this to the test.
It turns out that the QLED TV's shining glory is its brightness. With SDR content, we saw 700 nits in Standard mode, an incredible result unmatched on any other small set, though its 277 nits in Filmmaker Mode put it closer to the middle of the pack. Its HDR brightness was even more impressive, reaching 1,144 nits (with a 10% window) in Standard mode and up to 1,036 (at 25%) in Filmmaker mode. This competes extremely favourably with larger TVs, which frequently outperform their smaller cousins in this reference.
Audio
You want good audio to go with a good picture, and most TVs fall short in that department. The smaller QN90B does not, though it is also nothing to write home about. The audio on the set was clear and distortion-free in all applications and at all volume levels, whether watching action movies, animated musicals, or individual music tracks. You should be fine as long as you don't expect a lot of bass presence.
Gaming
If it's not the best gaming TV we've seen or even the best 43-inch gaming TV, it's certainly up there. Its input lag time of 9.8ms (as measured with a Leo Bodnar Lag Tester) is fantastic. Not only is it less than the 20ms threshold we've established for good gaming TVs, but it's also less than the 10ms threshold we use to classify great gaming TVs. It's worth noting that all of the recent sets that meet those criteria are from Samsung, including the best small gaming TV, the Q60B, which has a mind-bogglingly low input lag of 9.1ms.
Smart TV Interface
The Tizen smart interface from Samsung is conceptual, well, and innovative. It's visually appealing and intuitive, with the customizable app bar placed directly in front of your eyes, allowing you to easily access all of the major streaming services and Samsung TV Plus, the company's own free (and meagre) TV-channel-like app. Additional functions, such as Search, Ambient, Game, and Media, can be accessed by navigating to the left side of the screen and selecting an option that acts as if it's opening a completely new app.
Remote
I'm still a fan of the SolarCell Remote, which Samsung includes with all of its new TVs. The 6.3-inch remote control has an appealing black, brushed-metal design and a tiny solar panel on the back for charging. The SolarCell charges the fastest when placed in the sun, though indoor lighting will also work; if you're ever curious about its remaining battery life, you can check it in the "Power and Energy Saving" panel in Settings.
Verdict
Bigger TVs aren't always better, but they usually have the best performance and innovations on the market. Smaller sets may retain some of the good features, but TV enthusiasts gravitate towards larger models for more than just show. You usually get what you pay for most of the time.
To be sure, the Samsung QN90B Neo QLED TV (QN43QN90BAF) is one of the best examples we've seen of a set that blows those expectations out of the water. It's not just good for a small TV, though it unquestionably is; it's good for a TV in general. Consider it a supplementary purchase for a guest bedroom or other secondary application.