Hisense has become the value brand to beat in my opinion. TCL used to hold that title, but Hisense has packed so much into its televisions in the last two years that it has effectively reset my internal barometer of what I think a TV should cost. Hisense has created a 4K television that is packed with gaming features while also providing enough brightness to overcome even the most window-lit living room for $1,400 original MSRP and regularly available on sale for around $900. While some manufacturers produce the best TVs for home theatres, Hisense U8H produces the best TVs for the vast majority of average families.
Design and Build
The Hisense U8H won't wow you from every angle, but it's a good-looking television from the most important one: the front. While most television manufacturers are currently reducing the amount of branding they display and slimming down extraneous parts on bezels, a strategy I agree with Hisense's decision to do the opposite is not particularly egregious because there is only one small box at the bottom of the display.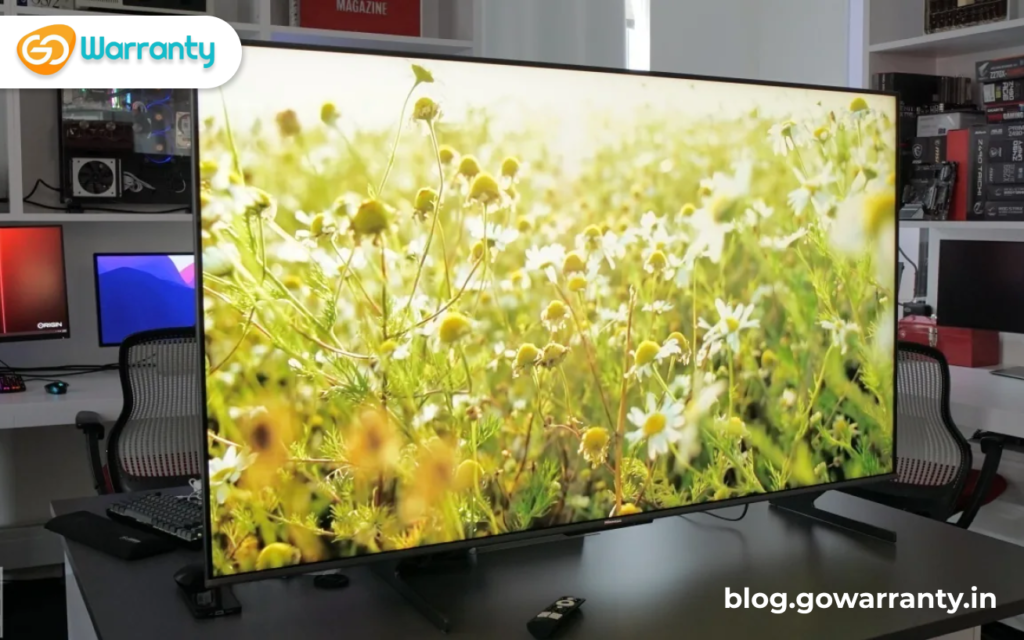 When the TV is turned off, this box displays a power icon (which feels backward, but I believe it is there to let you know it is receiving power), which can be turned off in the menu. It also has a physical switch for turning on or off the smart home-connected microphone. When you turn off the microphone, the television displays four very bright yellow LEDs that do not turn off. I couldn't find a way to disable them in the menu, which is very inconvenient. It's almost as if the television is punishing you for not wanting Google to constantly listen in.
Ports
When viewed from the front, the power cable enters on the right side, while all of the inputs are on the left. The U8H has four HDMI ports, two of which support HDMI 2.1 for 120Hz from PCs, PS5, or Xbox Series X. At this point, I believe that two HDMI ports are indeed the absolute bare minimum that a manufacturer can put on a TV, especially since one of them is also the eARC port in this case. That means that if you use a soundbar or a sound system connected via HDMI, which you should, you only have one port available for gaming.
The U8H has two USB 3.0 ports, optical audio, composite video, and Ethernet in addition to the HDMI ports. It also has triple-band Wi-Fi6E and Bluetooth support.
Remote
I don't think many people care about the appearance of a television remote, aside from it not being comically large like Sony's used to be, or so small that it's difficult to figure out what each button does like Samsung's. The Hisense remote, in my opinion, strikes a good balance between the two, and while it is not a "pretty" remote by any means, it is perfectly acceptable and comfortable to hold and use. If you're into that, it also has the unique ability to stand up due to a wide stable base.
UI and Software
Hisense chose Google TV as its operating system, and the experience here is similar to that of many other televisions. The smart TV interface here is identical to what you'll find on those TVs. While Google TV does slow down as a television gets older, the Hisense U8H was snappy, responsive, and error free right out of the box and throughout my review period. Furthermore, I will say that last year's Hisense U7G has held up exceptionally well in this regard and shows no signs of slowing down despite daily use over that time.
Hisense, on the other hand, gets a lot of picture bells and whistles right. The U8H supports a wide range of HDR formats, including Dolby Vision, HDR 10+, HDR 10, and hybrid log gamma (HLG), so if your streaming service supports HDR, the Hisense can display it. In terms of audio, the U8H supports Dolby Atmos as well as IMAX Enhanced sound.
Picture Quality
The Hisense U8H employs a full array local dimming mini-LED system enhanced by quantum dots, which is the best combination of technologies available before moving on to OLED. The end result is very accurate colours with a lot of brightness. The U8H can reach 1,500 nits of peak brightness, making it the brightest TV I've tested in the last year. That brightness means it can combat even the most intense glare from bright open windows, and I was able to watch TV and play video games comfortably even with the sun streaming in through two open windows to my right.
Gaming Performance
I enjoy gaming on the Hisense U8H because the brightness this TV is capable of produces allows me to see everything going on in any video game I'm playing regardless of the time of day. I usually game on a monitor or an OLED, and I find that I prefer to play later in the evening when there is less natural light competing with what my screens can produce. This television is excellent for HDR gaming, and I have no complaints regarding the way it handles changing lighting environments, colours, and brightness.
Audio Quality
The audio quality from the U8H is fine, but you should definitely get a soundbar or use a separate sound system. The U8H can get quite loud, but at the expense of nuance. It does a good job with the highs, but the mids and lows are non-existent. Sound quality feels very high-dependent when pushed to even a quarter of its peak loudness, which can be almost painful to your ears after a short while.
Verdict
The Hisense U8H competes directly with televisions such as the Samsung QN90B, which costs $2,600, and the TCL 6-Series, which costs less than $1,000. As a result, the television appears to be perfectly priced. It outperforms the TCL enough to justify the extra cost, while Samsung thinks it can charge that much for a TV that is only marginally better in terms of picture quality.