Samsung has been producing excellent soundbars since it established an audio lab in California as part of Samsung Research America under Allan Devantier. The lab includes testing and measuring facilities that adhere to the tenets of the legendary National Research Council of Canada as created by the equally legendary Dr Floyd Toole, which is no coincidence given that Devantier joined Samsung from Harman (before Samsung bought the company). When we spoke with him in 2017, just as the first fruits of the Californian lab arrived in Australia, he professed his devotion to Floyd Toole's methods. As the California lab celebrates its tenth anniversary, the Samsung HW-S800B S-Series represents a departure. It significantly slims down the bar, so much so that we could close our forefinger as well as thumb around it; the cross-section is roughly a 4cm square.
It's also worth noting that the Samsung lab in California didn't use its facilities to create some new esoteric high-end stereo speakers from the start, but instead focused on the more effective design of soundbars and their subwoofers. The results have been wildly successful in terms of both sound and sales; Samsung is now the world's leading soundbar manufacturer.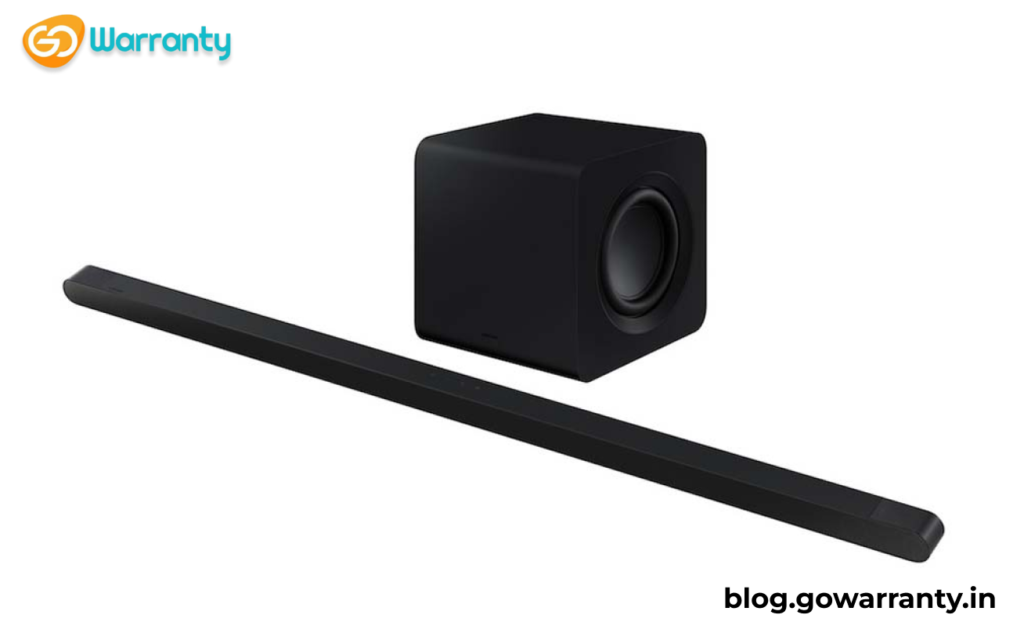 Build and Design
The bar is long – 116cm – but because it nicely matches a 55-inch TV, it's unlikely to outscale a modern TV bench, and it certainly looks far less ridiculous when wall mounted than larger soundbars. The S800B comes with a complete wall-mount kit and instructions. Visually appealing, but such a "Ultra Slim" design raises concerns, and not just the obvious sonic one of significantly reduced cabinet volume.
Unspecified, but we believe three sets of small tweeters and elongated 6525mm drivers facing forward, plus two oval 2540mm drivers firing up for height content. We couldn't see anything else in the end because of the grille.
Connectivity and Ports
Indeed, the bar is so thin that Samsung was unable to include a proper HDMI socket. Instead, it has a mini-HDMI connector, and a mini-HDMI-to-HDMI cable is included in the box. There are no other sockets aside from the power connection, so it's HDMI or the highway, with no optical or analogue fallback. You'd better hope that your TV's HDMI ARC is compatible with this one. If you have a 2022 Samsung TV (BU8000 and above) there is an alternative: Wi-Fi-based wireless Dolby Atmos transmission.
Sound and Performance
With no other inputs than the mini-HDMI ARC connection, we were pleased to discover that the bar worked immediately with both the Samsung S95B OLED TV within which we first plugged it and a visiting TCL Roku TV. However, no matter how we fiddled with the settings on a 2021 Samsung TV or an older Toshiba TV, we were unable to get it to play. So we'd recommend having your dealer check compatibility for your specific TV ahead of time, and allowing for a return if it doesn't work.
It's definitely worth it, because Samsung has presented another dynamite Samsung HW-S800B S-Series soundbar performance for the price, and it's a teamwork success, with both the bar and the subwoofer essential to the sound. The submarine is, indeed, a star. Its bass descends to real depths, producing output from signals as low as 30Hz, and it manages to sound not only resounding but also astonishingly tight for a subwoofer doing so much from such a small cabinet.
In terms of music, we enjoyed some pretty enjoyable tunes sent by AirPlay 2 from an iPad Pro after connecting the bar to Wi-Fi using Samsung's SmartThings app. The stereo spread is wide, with just a little peakiness on female vocals, and this was enhanced when we tried any sound mode other than Standard mode.
Modes
Even though the top drivers are disabled in this mode, it appeared to be the clearest rendition of 5.1 material. 'Standard' is also the only mode that does not upscale stereo content to the full driver complement; everything else in 3.1.2 plays two-channel content, including, surprisingly, the Game mode, which should turn off all non-essential processing.
The 'Adaptive Sound' setting is supposed to "analyse the audio signal to deliver optimised sound based on each scene," which sounds a little scary but actually produced good sound in nearly every scenario we gave it, with the exception of our preference for 5.1 as 3.1.
Features
Many features are included, such as Samsung's SpaceFit Sound+ and Q-Symphony, which will work with a recent Samsung TV, but the main takeaway for all users is the inclusion of Dolby Atmos as well as DTS Virtual:X processing. (Given the up firing drivers, why not actual DTS:X? Probably because very few TVs will pass DTS:X from a connected device to their HDMI ARC output, and no streaming services use DTS:X sound.)
Once connected to Wi-Fi, the bar can be controlled by Google or Alexa voice assistants, as well as the small physical remote control and, most likely, your TV remote.
Verdict
This slim bar and wireless subwoofer package performs very well for the price, though it appears to be unusually variable, with 'RRPs' that are pleasingly favourable to Sound+Image's Australian readers.
As a result, it is currently priced at £649 in the United Kingdom, $899 (plus taxes) in the United States, and AU$999 in Australia. However, as we write this, the real prices on Samsung's websites are £649 in the UK, US$599 in the US, and AU$599 for the black Samsung HW-S800B S-Series, and a remarkable AU$499 for the white S801B. Samsung changes such offers frequently and without notice, so plan your purchase accordingly.
Whatever you end up paying, you'll get a brilliantly engineered superslim bar that's not only useful for its size but also sophisticated enough to allow for plenty of streaming options. Its excellent little subwoofer enables the combo to deliver high-quality sound that justifies the full price, especially given the bar's slender dimensions and style advantages.