The Dell 34 Curved USB-C Monitor (S3423DWC) has one foot in the business world and one in the entertainment world, with plenty of screen space for arranging app windows, displaying wide spreadsheets, as well as running flight simulations or racing games. This ultrawide 34-inch display ($769.99 MSRP, $574.99 at press time) is equally at home in a home office, a den, or a family room, and it serves as both a work and gaming monitor. If you're looking for a monitor solely for productivity or gaming, there are better options, but the S3423DWC's bright, colourful image and superior contrast provide a satisfying experience in both.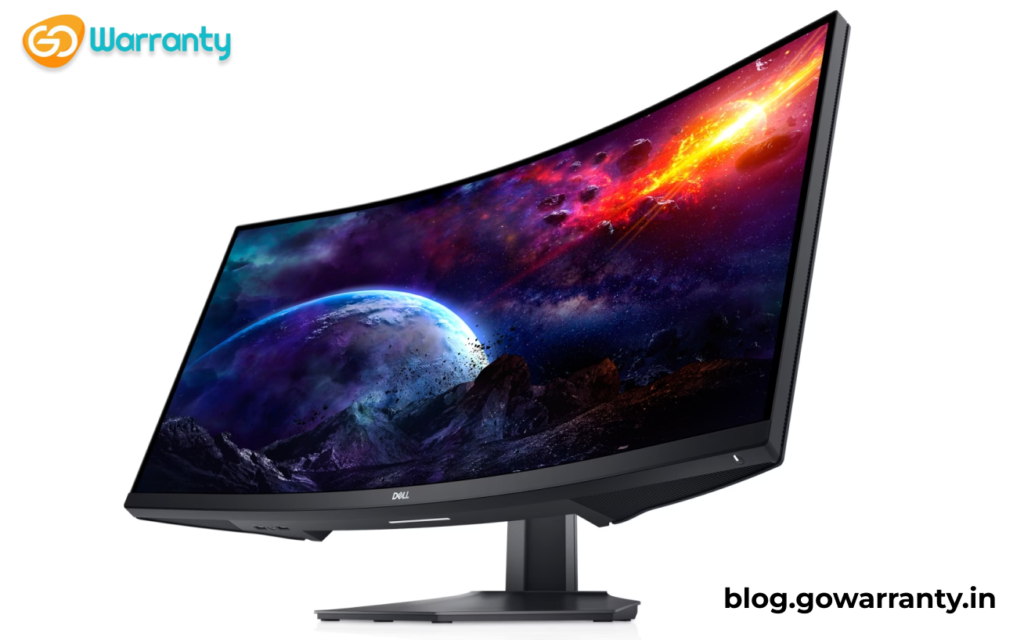 Design and Display
This Curved VA Panel is Extra Wide
The Dell S3423DWC's defining feature is its 34-inch (diagonal) panel with native UWQHD (3,440-by-1,440-pixel) resolution and 21:9 aspect ratio. The pixel density is 109 pixels per inch (ppi), which is standard for ultrawide monitors and is more than sharp enough for casual photo and video editing.
The monitor is using vertical alignment (VA) technology, which is known for producing deep blacks. VA panels are most commonly found in gaming monitors, where their high contrast ratio helps players distinguish enemies lurking in the shadows. Although Dell does not sell the S3423DWC as a gaming monitor in and of itself (such units either have Alienware branding or mention gaming in their product names), its superior contrast, ultrawide aspect ratio, AMD FreeSync support, as well as 100Hz refresh rate make it more than suitable for casual gaming.
The Dell, like most ultrawide monitors, has a curved screen that provides a more immersive viewing experience than a flat one. It has an 1800R curvature, which means that if you lined up enough S3423DWC monitors to form a circle, the radius would be 1,800mm (1.8 metres). That's a significant curve, though it pales in comparison to the ultra-tight 1000R curvature of the Samsung Odyssey G9 Gaming Monitor.
Connectivity and Ports
In terms of connectivity, the Dell contains a single upstream USB-C port that supports DisplayPort over USB Alternate Mode along with up to 65 watts of USB power delivery, implying that it can power or charge a laptop connected to it. There are also two downstream USB 3.2 Type-A ports and an upstream USB 3.2 Type-B port, one of which can supply up to 10 watts for charging a handheld device. A pair of HDMI ports, as well as the primary USB-C port, allow you to connect the monitor to up to three input sources and switch between them with a single keyboard and mouse, a configuration known as a virtual KVM (keyboard/video/mouse) switch by Dell.
Finally, there is a security lock slot as well as a headphone jack on the display. Except for one USB-A port on the bottom that is slightly easier to reach than the others, all of the ports face downward in a recessed area in the back. Otherwise, you'll have to crane over or move to the back of the cabinet to insert or remove cables if the display can't change.
The S3423DWC is covered by a one-year warranty from Dell. Most monitor manufacturers provide three years of warranty protection, as does Dell for many of its other displays. Philips goes above and beyond the norm by including a fourth year of support.
Brightness, Contrast and Colour Test
I measured the luminance (brightness per unit area), contrast ratio, and colour accuracy of the Dell S3423DWC with our standard test equipment: a Klein Instruments K-10A colorimeter, a Murideo SIX-G signal generator, as well as Portrait Displays' CalMAN 5 calibration software.
The luminance of the monitor is rated by Dell at 300 nits (candelas per square metre), but I measured it to be slightly higher, at 313 nits. That's plenty bright for most office tasks, as well as video and photo work. As a VA panel, the S3423DWC has a contrast ratio of 3,000:1, which it exceeded with a score of 4,185:1.
Dell claims that the display covers 99% of the sRGB colour space. As you can see above, it performed even better in our tests, covering 99.8% of the colour space. It also covered 88.3% of DCI-P3, a colour space commonly used in digital video, as well as 87.8% of the Adobe RGB gamut, which is commonly used by professional photographers when preparing images for print.
A Work-and-Play Ultrawide Hybrid
The Dell 34 Curved USB-C Monitor (S3423DWC) works well as a productivity and gaming monitor, but as previously stated, there are better options if either task is your primary focus.
On the home office side, the HP E27m G4 QHD USB-C Conferencing Monitor has a smaller screen but a larger set of ports, including Ethernet, DisplayPort-in as well as DisplayPort-out for daisy-chaining multiple monitors, and a USB-A hub with four ports for connecting peripherals. Its stand has more height adjustment and swivel and pivot options. The E27m G4's teleconferencing characteristics include a 5-megapixel webcam and dual microphones, in addition to stereo speakers.
Verdict
The Dell 34 Curved USB-C Monitor (S3423DWC) is an excellent dual-purpose monitor for home office multitasking and light gaming. There are better options for either alone, but this display does a good job of balancing both. If you want to concentrate on gaming, the Alienware 27 Gaming Monitor (AW2721D) or the ViewSonic Elite XG270QG, would be ideal. Well-heeled gamers may want to consider the Samsung Odyssey G9 with its incredible super-wide (32:9 aspect ratio) 49-inch screen.
However, with its high contrast, panoramic profile, excellent sRGB colour coverage, and sensible port selection, the Dell S3423DWC is an excellent choice for a display on which to work all day and play games in the evenings and on weekends.