The most awaited, moreover, its first-ever range of Samsung unpacked, was introduce live in Korea. Undoubtedly, the Galaxy Note series is a powerhouse and consistently connecting with the Galaxy ecological community. Altogether, Samsung has disclosed its five devices back to back, which is going to win consumers heart and it is perfect for today's generation.
Galaxy Note 20 and Note 20 ultra it is the most powerful and all in one note series to date. Secondly, Tab S7 and S7+ perfect for people who are into creativity and designing. Furthermore, Galaxy Watch3, a smartwatch with its original features, even exceptional health features. An additional to that Galaxy Buds Live with fantastic sound quality and has stylish features. Last but not least, Galaxy Z Fold 2, the next-generation foldable smartphone with the enhanced features.
Samsung Products Unpacked On This Event
Moreover, this is the fantastic range of Samsung, which is offering us "all in one" series of Galaxy, perfect for every technology lover.
Galaxy Note 20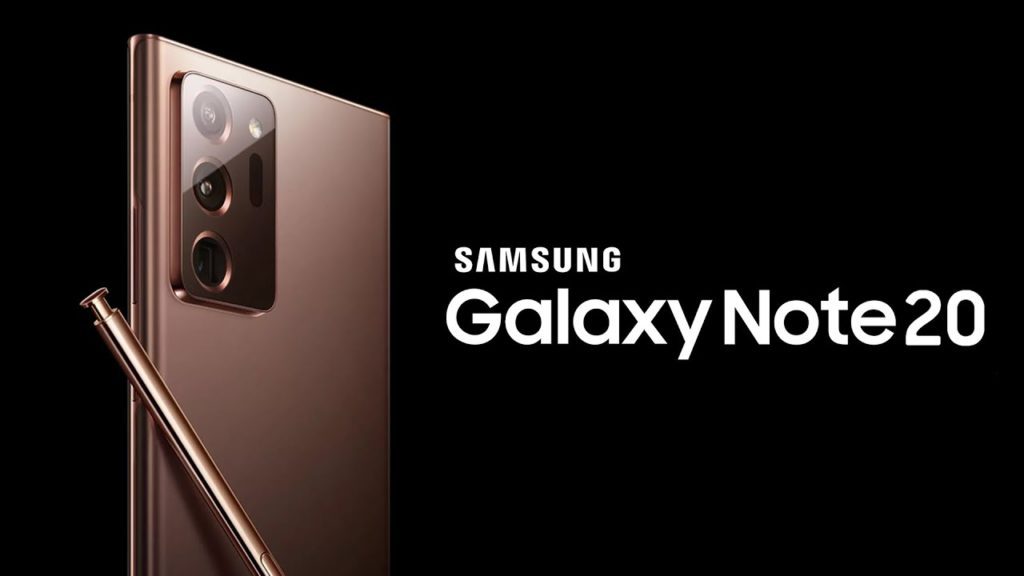 It's enhanced, and the fastest processor works like a computer. Galaxy Note 20 comes in two versions, Note 20 and Note 20 ultra. Note 20 comes with a 6.7inch screen, and Note 20 ultra has the most massive screen in Note series with 6.9 inches. The display is most vivid and brightest among all the phones to date, with excellent visibility and the smoothness of the 120-hertz display. Note 20 ultra has the most robust glass; both have the fastest processor in the galaxy series.
The phone has a fast-charging feature. It gets more than 50% charge in just 30 minutes. One camera on and three rear cameras [ Ultra-wide, Wide and Telephoto] Sharp and crisp shots even when the object is far or in the low light. It also receives and sync photos from windows 10. Samsung also has a partnership with Microsoft so it can take the mobile play to the next level. The design of the phone is a proud declaration itself. Moreover, it has fantastic colours in mystic bronze, mystic white, mysterious green, mystic grey, and Mystic black.
S pen can show the data, and it can read the frequency twice as note 10. Moreover, it is a multitasker as it can share, edit, capture among your Samsung phones and tablets. It has almost the same feeling that you are writing on the paper.
The Perfect Protection Plan
Galaxy Tab S7 and S7+
This series comes in two sizes, S7 with 11 inches and S7+ with 12.4inch. S7+ is the largest super AMOLED tablet in today's scenario, and it has an ultra-smooth 120-hertz display. Moreover, it has a super-bright crystal screen. Like a theatre, you can watch a movie non-stoppage up to 14 hours. It has the fastest processor ever in Galaxy Tab. It has smooth videoconferencing, fast download, and virtual lag-free streaming, and on adding to that, it has an S pen with the same features of Note 20. The series comes with new colour option Mystic Black, Mystic Bronze, and Mystic Silver.
It comes with the keyboard that will make your work more productive, and it brings the more PC experience, and three videos can be watched simultaneously. The touchpad is more substantial and supports multiple fingers. Windows 10 and Tab S7 can be used together, as a 2nd screen. You can even connect your Xbox to it and play a game with a completely new experience. One more benefit is that if you choose a gaming bundle, you will get Bluetooth controller and Xbox game pass free.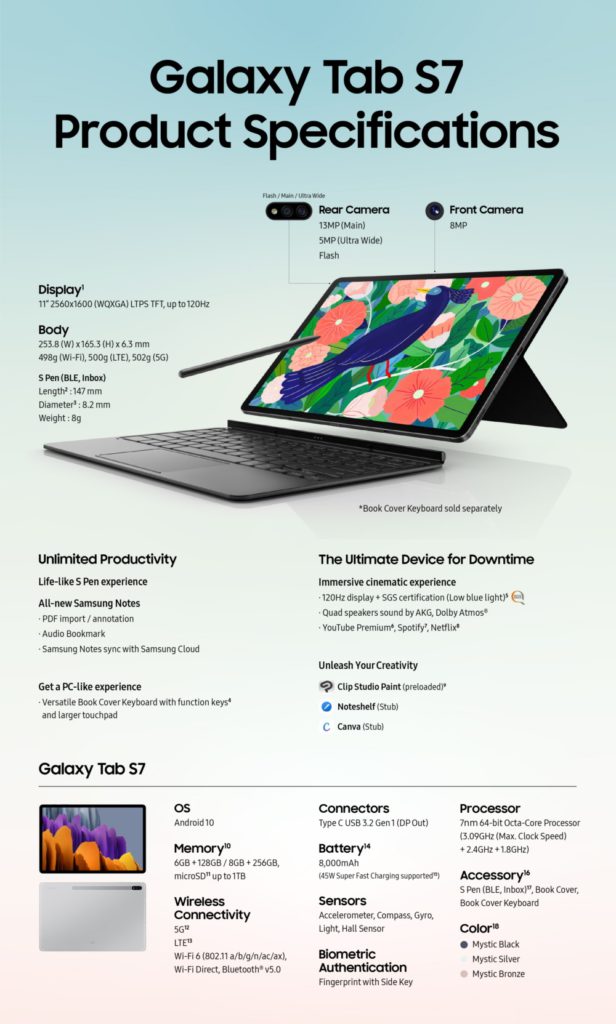 Galaxy Buds Live
Here comes the new way of listening, which is weightless. It comes with three colours mystic bronze, mystic white, and mystic black. These buds are designed for daily use, with the most comfort and smooth finish, with its classic design. It works for 6 hours non-stop listening and charging hours provide 21 hours. The speaker is 12mm. It has incredible sound quality with a powerful bass boost that can cut low-band background noise unto 97%. It has astonishing voice quality with three microphones and a voice pickup unit.
Galaxy Watch 3
It comes with a rotating bezel, which will offer its lightweight and luxurious look. It is comfortable to wear all day long and night. Moreover, it comes in two sizes and three colours. It has a finish of super premium titanium. The frame of the watch is slimmer, lighter, and smaller, while the display seems to be more significant. It has a monitoring device that will monitor the health and whether regularly. It can easily detect the blood pressure level and oxygen level in your body.
Moreover, it has a feature in which it can spot the nearby devices, which makes the share of files convenient and faster across the android devices. Besides this, it also helps in finding the precise location of smart things, like android phones, galaxy buds. Samsung health provides 120 different home training programs so you can work on your health.
Galaxy z Fold2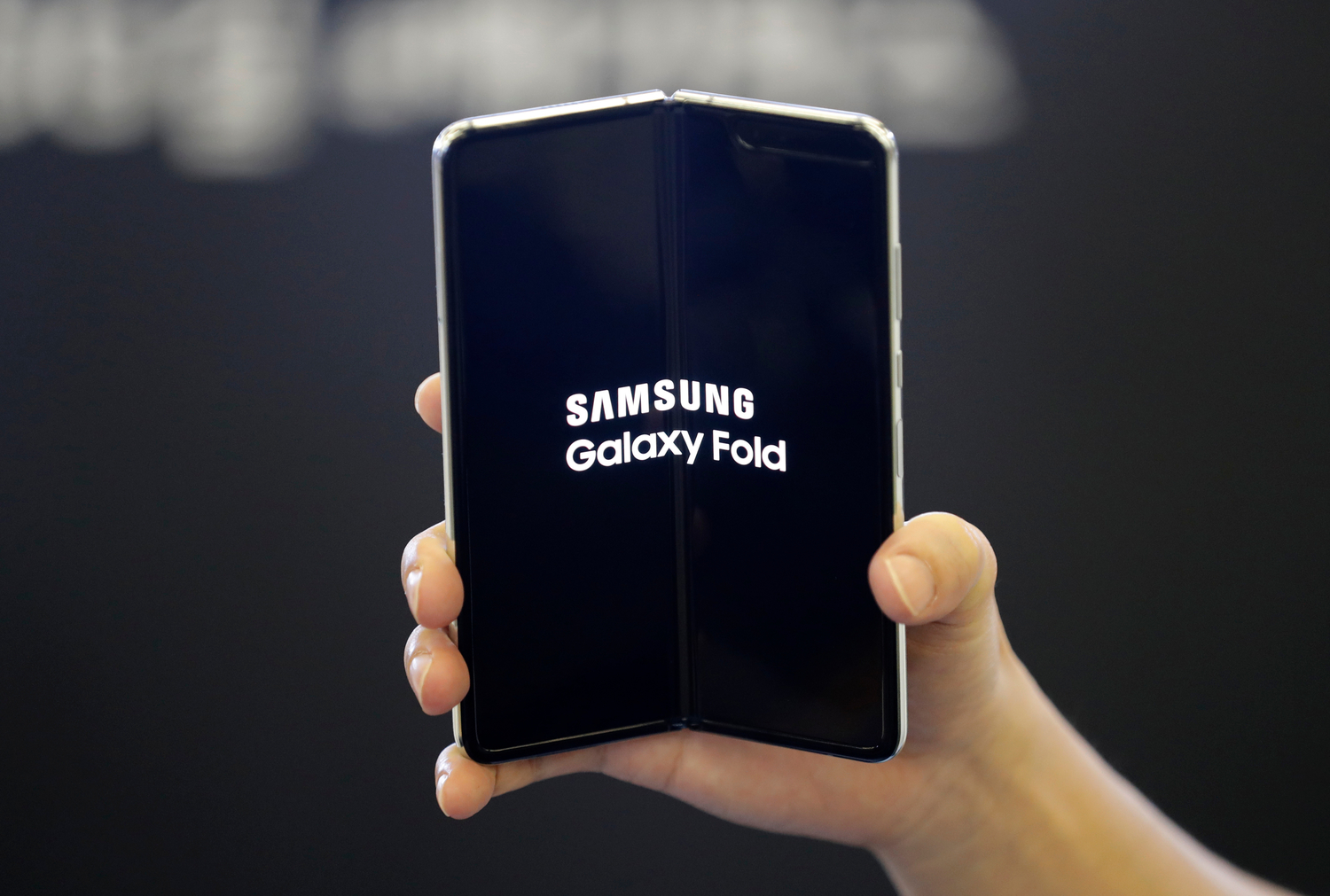 Samsung unveils the Galaxy z Fold2 with new technology and features. It is equipped with a 4500 mAh battery. With the second-generation foldable Samsung smartphone; it comes with the latest Qualcomm snapdragon 865+ chipset. It comes in two colours mystic black and mystic bronze. The haze effect and metal finish give a fantastic look to the device, its perfect to set the tone. New Z Fold2 sports, the body is thinner, and it comes with a full cover display of 6.23inches with HD-resolution. This panel is 25:9. The panel also uses punch-hole instead of a notch. It has thin bezel around it. The display has increased by 7.3 inches to 7.6 inches, and the display resolution is 2208*1708. Now the phone comes with the dual front camera of 10MP, it has a triple rearview camera of 12MP, with different lenses.
Conclusion
Samsung has come up with a fantastic range of Galaxy, which has brought a new age of technology and high-end specifications. Now we are going to witness a new era a Samsung phone with the Galaxy unpacked range. We hope you will choose the best galaxy series for yourself and I hope this article is helpful to you.