There are few weatherproof tablets on the market, as well as few tablets with replaceable batteries. Both features are combined in the Samsung Galaxy Tab Active4 Pro, which also includes Digitizer support and 5G. The Tab Active4 Pro can also be used with gloves and can operate without a battery if desired.  
Furthermore, there is the Enterprise Edition, which comes with 5G and is officially available for around INR 82.000, but is already available at much lower prices online. The WiFi version with 64 GB of storage was used for this review. So, is the Samsung Galaxy Tab Active4 Pro an ideal business tablet for harsh conditions? Let's look into it.
Design and Case
Samsung's tablet comes in a sturdy plastic case with a removable back. The battery, as well as the microSD slot or SIM slot in the 5G model, are located behind it. At 28 points, the back cover is attached to the case. You can open it without tools, but when closing, make sure all contact points audibly click into place to ensure proper sealing. The Samsung Galaxy Tab Active4 Pro is IP68 certified, which means it is dust and water resistant. It is also MIL-STD-810H compliant. To be safe, let the exposed USB-C port dry out after coming into contact with water before using it.
Gorilla Glass 5 and slightly protruding edges protect the screen. Since the Tab Active4 Pro has physical buttons for menu control, the edges are quite bulky for a conventional tablet. The current model has grown slightly and become slightly heavier than its predecessor, the Galaxy Tab Active Pro: 674 grams is significantly more than conventional tablets in this price range.
Software
Since December 2022, the tablet's operating system has been Android 13 and Samsung's OneUI 5. In addition, Samsung pre-installed third-party apps like Spotify or Netflix, which are unlikely to be useful to business customers. Many of Samsung's own apps come pre-installed as well, some of which mimic the functions of Google apps. So, if you want a clean system, you must first clean it.
The security patches were from November 2022, so they were just up to date at the time of review. Samsung guarantees five years of security updates and three OS upgrades; the tablet came with Android 12, so new versions should be available all the way up to Android 15.
Camera
Tablets aren't known for their camera quality, so this is often even less important in outdoor tablets, which are either used in a business environment where image quality isn't as important or have a limited budget due to the emphasis on case robustness.
The Galaxy Tab Active4 Pro also has a rather basic camera setup: a 13-megapixel lens with autofocus and an LED flash on the back. The sensor is from Samsung and appears to take usable pictures at first glance. Videos can be recorded in 4K resolution at 30 frames per second. Overall, image quality is very good.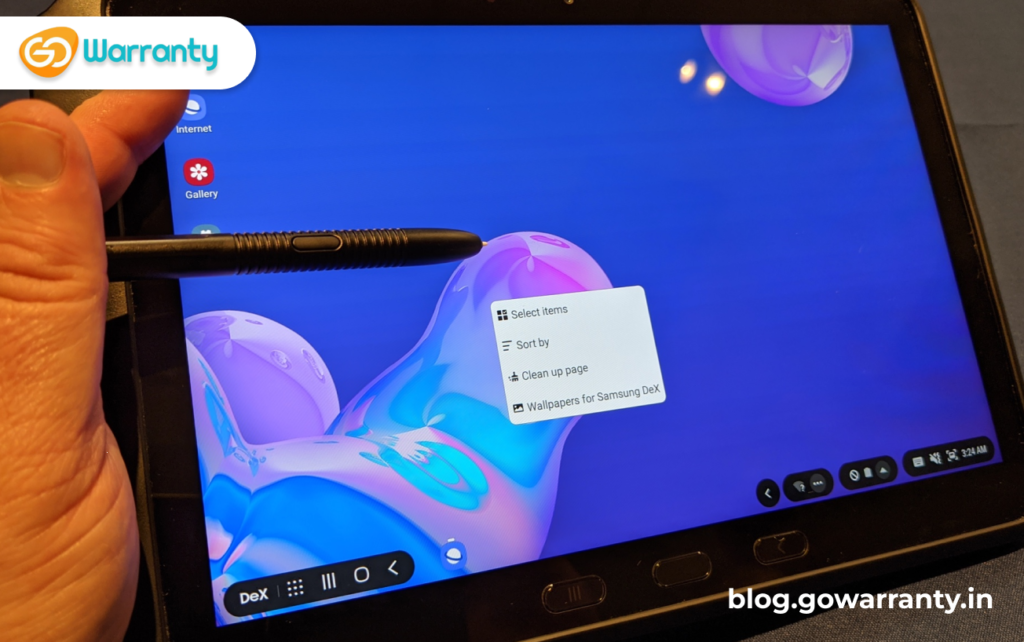 Pen Input
The operation of business tablets is critical: the conditions for a touchscreen are frequently not ideal, or you work with protective clothing. The Galaxy Tab Active4 Pro is easy to use even when the display is wet, and because the touchscreen sensitivity can be adjusted, even gloves are not an issue.
We also like the various input options provided by the water- and dust-resistant S-Pen: not only can notes or drawings be made on the screen, but you can also hover the pen over text on a website. Other commands, such as the camera shutter release, can be activated by pressing a button on the pen. There is also a fingerprint sensor for unlocking, which is integrated into the home button.
Display
The display is 10.1 inches in size and has a resolution of 1,920 x 1,200. As a result, the 60 Hz panel has an adequate resolution for its size, offering a good compromise between performance and image quality. In our tests, the screen of the Galaxy Tab Active4 Pro delivered very similar results to its predecessor, such as a decent average maximum brightness of 574 cd/m2, which should often be adequate for outdoor use. Since the black level is quite high, the contrast ratio is only satisfactory. Colours appear similarly dull on the display.
The screen performs excellently outside, even when subjected to strong reflections on very bright summer days. On cloudy days, the brightness is usually sufficient for clearly displaying screen content. The display is stable from all viewing angles, leaving no room for complaint.
Performance
The Qualcomm Snapdragon 778G 5G SoC is an upper mid-range SoC that provides a significant performance boost in Samsung's robust tablet. The tablet has more than enough power to run the system, and it can also handle more complex tasks at acceptable speeds. The graphics performance is also noticeably faster than in other outdoor tablets, but it falls short of high-end SoCs. However, if you do not intend to run any graphically complex applications, this should not be an issue.
Gaming
The Tab Active4 Pro is not your average gaming tablet. After all, the screen only operates at 60 Hz. In Diablo Immortal, the SoC is sufficient for frame rates at the screen limit, but in PUBG Mobile, only 30 fps is achieved at high settings as well as 40 fps at low settings.
Battery Life
In our Wi-Fi test, the battery lasted 14:12 hours. Not a world record, and much shorter than all comparison devices, but completely sufficient for everyday use. Even if you spend some time working with complex apps, you should be able to get through an average working day. Two or more days without a socket are also possible under moderate load.
Verdict
The Samsung Galaxy Tab Active4 Pro is a heavyweight that comes with a thick protective case and a similarly well-protected S pen. The stylus is enjoyable to use because of its versatility, but the tips are very short and the pen is rather thick, so it cannot be held too flat. The removable battery is a plus, as it theoretically allows for twice the runtime with an additional battery. The tablet can also be used without a battery by connecting to the mains, which is certainly useful in some situations. Although it does not overheat, the tablet is quite power hungry in general and must therefore make impacts in terms of battery life.