The Galaxy S23 series smartphones and the Galaxy Book3 series laptops, which included the Galaxy Book 3 360, Galaxy Book 3 Pro, Galaxy Book 3 Pro 360, and Galaxy Book 3 Ultra, were both unveiled earlier this month at the Galaxy Unpacked event. Here are our thoughts on Samsung's most ambitious laptop to date, the Samsung Galaxy Book3 Ultra, which is the line's flagship and which we got to spend some quality time with at the Samsung Opera House in Bengaluru, India.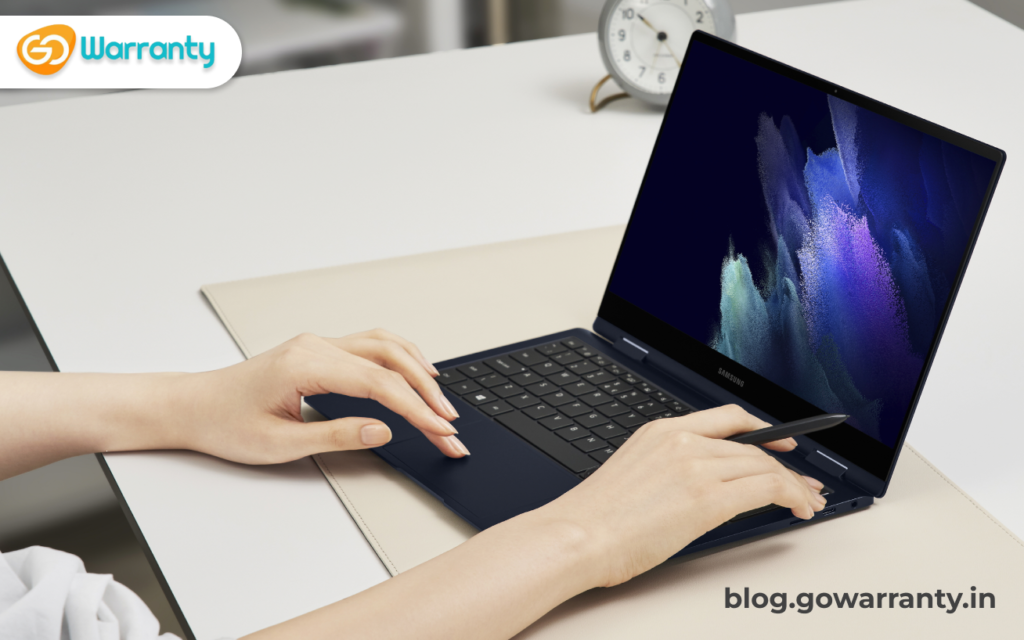 Galaxy Book3 Ultra Overview
The Galaxy Book3 Ultra is the most powerful model in the Book3 series, offering a choice of Intel's newest Core i7-13700H or Core i9-13900H 45W processors, up to 32GB of LPDDR5 RAM, and up to 1TB of PCIe 4.0 SSD. Additionally, discrete graphics exist in the form of the RTX 4050 or RTX 4070. Modern 16-inch 16:10-aspect Dynamic AMOLED 2x with a resolution of 2880x1800px serves as the front-facing display. The panel can reach up to 500 nits for HDR content (Vesa DisplayHDR 500 certified) or up to 400 nits for non-HDR content and can refresh adaptively from 48Hz to 120Hz. A 100W USB-C charger and a 76Wh battery are included with the Galaxy Book3 Ultra.
Price
The Samsung Galaxy Book3 Ultra costs INR281,990 ($3,415/€3,190) in India for a single Core i9/32GB/1TB/RTX4070 configuration, compared to €2,799 ($2,995/INR247,360) for a Core i7 model with 16GB RAM, 512GB storage, and RTX4050. No matter where you purchase the Galaxy Book3 Ultra, there is only one colour choice: graphite.
Design and Build
The Samsung Galaxy Book3 Ultra weighs 1.79 kg and has a thickness of 16.5mm. It has a completely aluminium frame and a contemporary design. The laptop's overall construction quality and the finish on its lid, which extends to the area around the keyboard, are both excellent. But because the lid is so easily smudged, it needs to be cleaned frequently. On the lid of the Galaxy Book3 Ultra, the Samsung logo is positioned off-center, which is common these days, but some people might prefer it centred. Although Samsung refused to let us look under the Galaxy Book3 Ultra, you can anticipate some air vents and rubber grip pads.
Ports
The HDMI 2.0 port, two USB-C Thunderbolt 4.0 ports, and a charging indicator are all located on the Samsung Galaxy Book3 Ultra's left side, while the USB-3.2 Type-A port, a microSD card slot, and a 3.5mm audio combo jack are all located on the device's right.
Display
The Samsung Galaxy Book3 Ultra's 16″ Dynamic AMOLED 2X screen, which has a 2,880×1,800 resolution and a 16:10 aspect ratio, is visible when the lid is open. It has an adaptive refresh rate of 120Hz (48-120Hz), which varies depending on the content on the screen, and a brightness of 500 nits for HDR content (typically 400 nits). However, you can restrict it to 60 frames per second.
A 1080p web camera is housed in one of the display's slim, non-plastic bezels, which also has a 120% DCI-P3 colour volume and a blue indicator that illuminates when the camera is active. The Samsung Galaxy Book3 Ultra's hinge seemed sturdy, but only time will tell how stable it will be over time.
Keyboard
Additionally, the Samsung Galaxy Book3 Ultra has a power button in the top-right corner with an integrated fingerprint scanner, an Island Type keyboard with 3-level backlighting, and other features. At the event, we typed a few lines and discovered the keyboard to be easy to use. But extensive testing is necessary to verify the keyboard's quality in normal use. The dedicated numpad on the Galaxy Book3 Ultra's keyboard is a nice addition for slim laptops. When we questioned Samsung about whether they intended to add the integrated LED-illuminated numeric keypad found on the Asus Zenbook 14X OLED Space Edition, the product team for the Korean conglomerate informed us that the company still believes a physical numpad offers the best experience, so don't anticipate seeing a similar integrated solution on Samsung's laptops any time soon.
Trackpad
Having said that, the Samsung Galaxy Book3 Ultra's non-glossy trackpad was pleasantly responsive, and its enormous size ensures you have enough space to execute gestures for a variety of purposes.
Software
The Samsung Galaxy Book3 Ultra has an Intel 13th Generation Core i7-13700H or Core i9-13900H CPU and, depending on the region, an NVIDIA GeForce RTX 4050 or 4070 GPU. For instance, Samsung only offers the Core i9-powered Galaxy Book3 Ultra with an RTX 4070 GPU for sale in India. Although some regions also offer the choice of 16GB RAM and 512 SSD storage, it ships standard with 32GB of LPDDR5 RAM and a 1TB SSD (PCIe).
Battery
The laptop comes pre-installed with Windows 11 and a 76Wh battery (73.8Wh/4,757mAh rated), which can be charged with the 100W USB-C power adapter that is also included. AKG-tuned quad-speaker system (Woofer Max 5Wx2, Tweeter 2Wx2), "studio quality" dual mics, Wi-Fi 6E, and Bluetooth 5.1 are among the other highlights of the Samsung Galaxy Book3 Ultra.
Galaxy Book3 Pro Overview
While the Galaxy Book3 Pro 360 only has a 16-inch display, the Galaxy Book3 Pro is available in two sizes: 14-inch and 16-inch. They are very similar to the Ultra in terms of underlying technology. First, all four models share the same display specifications: a variable-refreshing AMOLED panel with a resolution of 2880x1800px. There are many ports, including a 3.5mm jack, microSD slot, two USB-C Thunderbolt 4 ports, one full-sized HDMI port, one USB-A port, and more (spec 1.4 on the Pros and 2.0 on the Ultra).
With Intel's 13th-generation 28W Core i5-1340P or Core i7-1360P processors, 8/12/16GB LPDDR5 RAM, as well as 256GB, 512GB, or even 1TB PCIe 4.0 SSDs, the Galaxy Book3 Pro and Galaxy Book3 Pro 360 can customise. Finally, Samsung has added the Smart Switch and Samsung Pass to the Galaxy Book3 series.