Bored with traditional brushing style, then brink some energy into your life and Discover more than just the daily brushing experience. With Realme M1 Sonic Electric Toothbrush.
After the great success in the gadget, world Realme is here with the launch of Electronic Toothbrush.
We all need to revolutionize our brushing experience with futuristic toothbrush technology. Indeed, it has superior cleaning technology, a pressure sensor, and a professional timer. Moreover, Realme has come up with the best brushing solutions to ensure you and your family get a healthier and cleaner mouth.
Let us go into depth and know-how the Realme all-new Sonic Electric Toothbrush will keep our gums safe and protected.
Features Of Sonic Electric Toothbrush
Realme perfectly knows our teeth and gums, moreover how it needs to be protected. Undoubtedly, it has Dynamic movement that helps you achieve enhanced results. Secondly, it can remove up to 100% plaque than a regular manual toothbrush. Moreover, it has been clinically proven that it has premium bristles which rotate and pulsates to break up and remove plaque than a regular manual toothbrush. Additionally, this will have a high-frequency sonic motor and Dupont antibacterial brush. 
Box Consist Of
Brush Handle
Realme M1 Regular Electric Toothbrush Head with protective cover
Realme M1 Sensitive Electric Toothbrush Head with protective cover
Wireless charge dock
Power shaft protective cover
User manual & Warranty
Premium Design
The premium look will steal the spotlight. It comes with a 3.55mm thin metal brush head. Moreover, it has a curved body and friction coating to make it comfortable to hold and non-slippery. Additionally, there is only one button on the handle that lets you switch between different cleaning modes highlighted with white indicator LEDs. Besides this, there is a green battery indicator close to the bottom.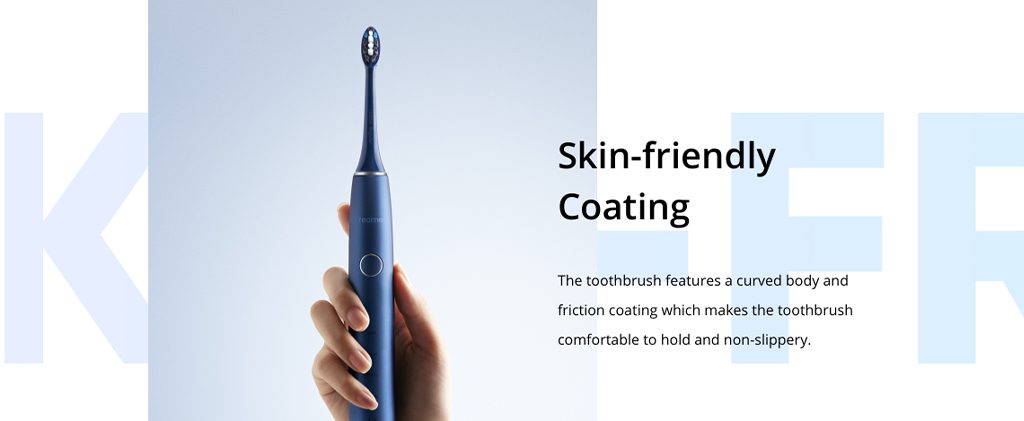 Superior Cleaning
It is equipped with Dupont bristles that have 99.99 percent antibacterial properties. Moreover, it includes 98 percent end-rounded bristles, which will reach every place where it is hard to get. Additionally, because of its design, it effectively prevents any oral injuries. In contrast to this, the bristles come with a blue indicator that eventually fades in color to let users know when it is time to replace the brush head.
Criss Cross Bristles
The super technology of Crisscross bristles cleans with 3 D action. Secondly, it has a 10-degree stable swing to penetrate deeper into the little corners. Moreover, it can give the whitest teeth that you have ever experienced.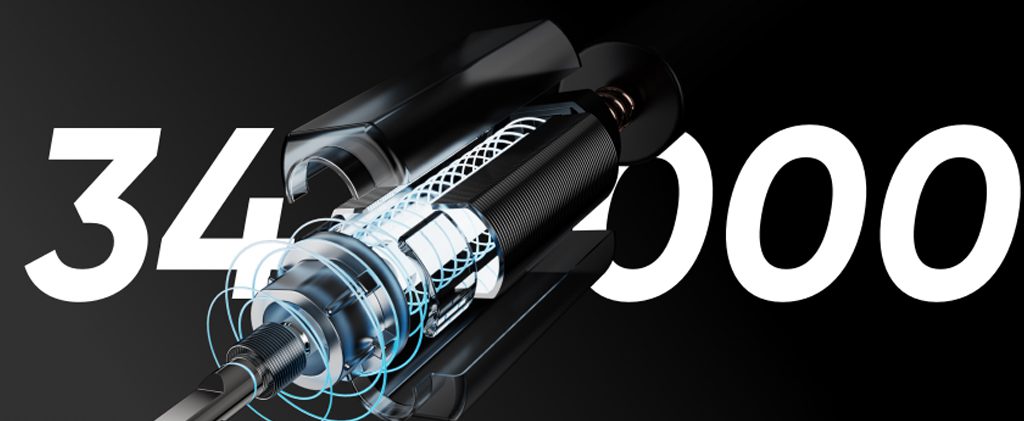 Super Sonic Cleaning
Realme M1 electric toothbrush has a high-frequency motor, which vibrates up to 34,000 times per minute to clean all areas in the mouth effectively. Along with this, it has a compact motor also, which makes your teeth cleaning less noisy. Furthermore, the compact motor comes with very little 60dB of noise.
Water Resistance
The brush comes with IPX7 water-resistant, so you do not need to handle it with care. Moreover, you can wash it with water too. So, it will give you traditional handling with professional action.
Power Saver
As brush comes with an 800mAh battery, which gives you 90 hours battery backup. Whereas you do not need to wake up every morning and plug in the toothbrush. Hence, once you charge it and use it for endless 90 hours. Moreover, it comes with wireless fast charging, and it gets fully charged within 4.5 hours.
There are different modes, and charging depends on that:
Soft way – 360 minutes 
Cleaning mode – 215 minutes 
Whitening mode – 165 minutes 
Polishing mode – 220 minutes
Super Friendly
As we all have kids and older adults in the family. So, Realme takes care of everyone as it comes in four modes. Such as Soft mode for sensitive teeth, Clean mode for daily use, the White mode for deep cleaning, Polish mode for shining teeth. Moreover, as it is perfect for everyone, it will never hurt your loved ones' gums or teeth.
Secondly, if i use any of the modes, it is still soft on my gums. In short, this is perfect for sensitive teeth/gum people.
Pros
Decent design 
Good quality brush heads
Long-lasting battery
Cons
Does not pair with a proprietary app
It does not have a pressure indicator
Specification
Modes: Soft mode for sensitive teeth

Clean mode for daily use
White mode for deep cleaning
Polish mode for shining teeth

Colour: Blue and White
Bristles: Dupont bristles
Battery: 800mAh 
Charging: Wireless
Water resistance: IPX7
Brush heads: Dupont Staclean Antibacterial 
Sonic Motor: 34000 RPM
Weight Brush handle:101.67 grams 
Brush head: 4 grams 
Auto-cut: 2 minutes
Warranty: 1-year
Conclusion 
I want to sum up that we will have a completely new experience of brushing with Realme M1 Sonic Electric Toothbrush. It has made brushing Efficient with Up to 100% More Plaque Removal. Moreover, it is not every day that you get to experience a professional dental clean-up. Indeed, Realme has made it possible.
Therefore, an Electric toothbrush delivers up to 34,000 times per minute to clean effectively. Additionally, Oscillation- Rotation- Pulsation action removes more plaque and reduces gingivitis more effectively. While brushing, the round brush head pulsates to break plaque and rotates to clear it away. Not only this, but the Criss Cross bristles angled at a 10-degree stable swing to penetrate deeper into the little corners.