In India, Realme has released its first air conditioner. The manufacturer claims that their innovative convertible air conditioner is specifically intended for the Indian summer season. Also, the Realme air conditioner includes an auto cleaning mode and employs inverter compressor technology to provide effective cooling. Realme says that its air conditioners provide a wide variety of cooling capabilities while using little energy. Therefore, It has launched a Split Air Conditioner in India as part of its TechLife ecosystem. The new AC starts at less than 30,000 and comes in a variety of versions depending on your needs. Also, there are two capacities available: 1 tonne and 1.5 tonnes. However, You may choose between 4 and 5 stars for energy efficiency. Realme has introduced a number of options that you may be interested in in addition to these basic settings.
On top of that, these Realme air conditioners have the ability to adjust cooling capacity depending on the number of people in the room. It also has inverter compressor technology, which the firm says may provide quicker cooling and longer compressor durability. Also, The inverter compressor technology can extend the life of the compressor while also providing quicker, more efficient, and accurate cooling.
The firm has been introducing mobile phones, computers, and accessories in India since 2018. However, it is now pushing into the air conditioning sector with its air conditioners. Also, everything you need to know about Realme's first air conditioner in India is provided below; first, let's look at the price.
Price
Realme's new convertible air conditioner will be offered online in 1 tonne and 1.5-tonne capacities. Therefore, A 1.5-ton model with four stars costs INR 30,999, and a one-ton model with four stars costs INR 27,790. For INR 33,490, a five-star 1.5-ton model is also available.
Realme says that their convertible air conditioner is particularly developed for Indian summers and can keep you cool even in temperatures as high as 55 degrees Celsius. However, Air conditioners have three cooling modes: dry, sleep, and eco and there are 1 tonne and 1.5-tonne capacities available. Also, customers can also select between 4 and 5-star energy efficiency ratings. On top of these fundamental options, Realme has included a slew of new features that you should be aware of.
Realme Split AC Price List
33,490 Rs – Realme 1.5 Ton 5 Star Inverter Split AC (TechLife 155SIAA22WR)
27,790 Rs – Realme 1 Ton 4 Star Inverter Split AC (TechLife 104SIAA22WR)
30,999 Rs – Realme 1.5 Ton 4 Star Inverter Split AC (TechLife 154SIAA22WR)
These are the prices of the air conditioners available in India. Also, customers can buy these on Flipkart. Therefore, they can order any one of the models as all three of them are available on Flipkart.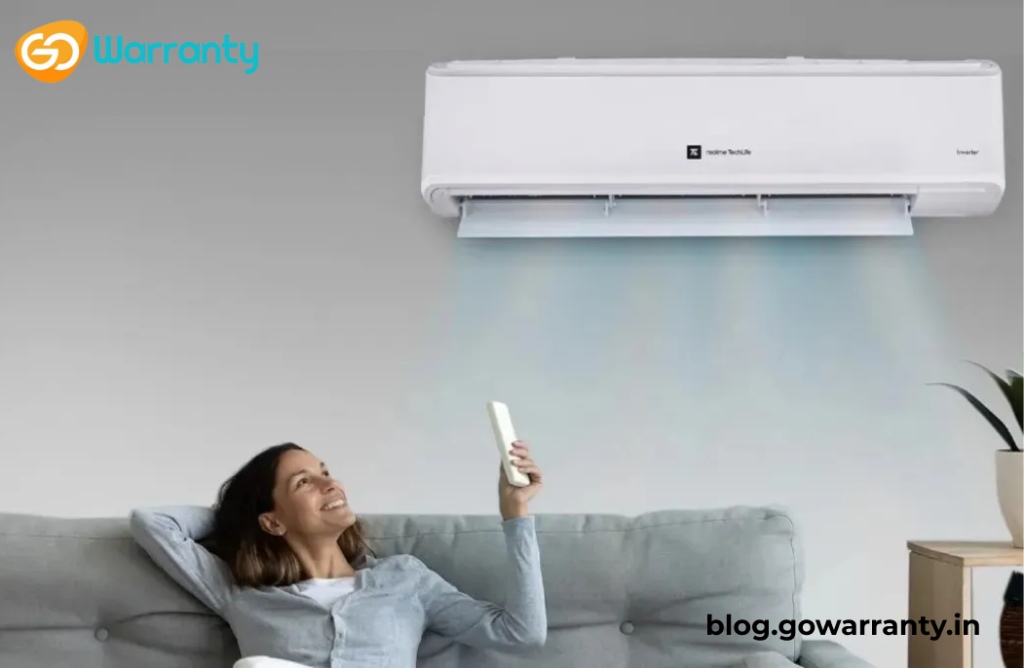 Realme convertible air conditioners: Top features
These air conditioners include 4-in-1 cooling for more energy savings. Also,  According to the manufacturer, the cooling capacity may be adjusted between 40%, 60%, 80%, and 110%. However, other features include Blue Fin Technology, Auto Cleaning, Silent operation, and Stabiliser-free operating. When the machine is turned off, the auto cleaning mode runs for 30 seconds and uses a vigorous air blast to dry water droplets. Water droplets, salt, and acid deposits are also well protected by Blue Fin Technology. The Realme TechLife AC also has an environmentally friendly R32 coolant, Stabiliser-free operation (within the 165265V range), and silent operation.
However, the capacity to provide cooling at peak temperatures of 55 degrees is one of the primary features that distinguish Realme Techlife ACs. It helps the people living in Very hot conditions where summer lasts most of the year. The models also have an automated cleaning system that, according to the firm, protects the appliance against moisture, dust, and mold. Also, Dry, Eco, and three sleep modes are available on these machines. Aside from these intriguing characteristics, the new Realme TechLife ACs use R32 Eco-friendly refrigerant and can operate without a stabilizer. They also adhere to the "quiet operations" philosophy in order to provide a seamless experience.
Also, inside the package, purchasers will find one indoor unit, one outdoor unit, installation plates and screw set, wiring, user manual, 3m copper pipe, and two AAA batteries.
Table
| | |
| --- | --- |
| Brand | Realme TechLife |
| Type | Split |
| Star Rating and Year | 4 Star BEE Rating, 2022 |
| Panel Display | Hidden 7 segment Display |
| Condenser Coil | Copper Condenser |
| ISEER | 4.12 W/ W |
| Turbo Mode | Yes |
| Noise | 43 dB |
| Child Lock | Yes |
| Sleep Mode | Yes |
| Dust Filter | Yes |
| Dry Mode | Yes |
| Anti Bacterial Features | No |
| Active Carbon Filter | No |
| Remote Control | Yes |
| Auto Restart | Yes |
| Refrigerant | R32 |
| Cooling Capacity | 5150 W |
| Star Rating | 4 |
| Compressor | Inverter Compressor |
| Voltage Required | AC 140 – 290 V |
| Auto Restart | Yes |
| Night Glow Buttons | Yes |
| Timer | Yes |
| Inverter Technology | Yes |
| Other Remote Control Features | Convertible Option Access Button |
| Remote Control Battery Type | AAA Battery |
Inverter Technology
Inverter technology with such a variable speed compressor enables rapid cooling, minimum power use, and prolonged compressor lifetime. Therefore, resulting in energy savings and improved performance.
Warranty Plan
| | |
| --- | --- |
| Warranty | 1 Year, 10 Years Warranty on Compressor |
| Warranty Type | Manufacturer |
| Extended Warranty | 2 years Extended Warranty from the GoWarranty for the Realme convertible air conditioners |
Realme is launching air conditioners in the country for the first time. Also, the firm already provides a selection of smart home products. However, Realme recently launched a new line of semi-automatic washing machines with antibacterial silver ion wash technology. However, the company claims it reduces infection risk. Last year, the company launched the Realme TechLife portable vacuum cleaner, robot vacuum-mop, as well as air purifier in India.
The Realme Washing Machines are designed specifically for Indian customers, featuring a 1400 RPM spin cycle, Air Dry technology, Hard Water Wash, and collar scrubber, as well as pulsation technologies, to provide deep, multilayer cleaning with every wash. Furthermore, the washing machine's outside body is composed of sturdy plastic, which makes it rust and corrosion-free, according to the company. However, the new line is equipped with a heavy-duty engine, which assures the appliance's extended life.