Razer has changed his mind. It is still following its iconic thin-and-light design philosophy, however with the new laptops introduced at CES 2023, there is a new emphasis on performance. This is most evident in the new Razer Blade 18, the company's largest and most powerful laptop to date. Combine that with some really interesting new Razer Blade
16 features, and you have a pretty compelling update to Razer's lineup.
Price
The Razer Blade 16 will be available in the first quarter of 2023, with a starting price of $2,700. The Razer Blade 18 will also be available at that time, with a starting price of $2,900.
Design
The Razer Blade 16 and 18 are both new additions to the lineup, and Razer has yet to confirm whether they will completely replace the 15 or 17. They certainly appear to be full replacements. They now have 16:10 aspect ratio screens, which significantly reduces the size of the bottom bezel. They also include the most recent Intel and Nvidia chips. Razer prefers to keep performance configurations simple, so all configurations include at least 16GB of RAM and 1TB of storage.
Notably, both laptops come with the option of up to an RTX 4090. Razer did not provide performance figures, but expects improved performance on the 18-inch model thanks to a redesigned thermal system. It now has a larger vapour chamber as well as liquid metal cooling.
The Razer Blade 16 is also expected to be a powerhouse. According to Razer, it has the highest performance per cubic inch in other words, it is the most powerful laptop of its size. The cooling system has not been updated this time, despite the fact that it is identical to that of the Razer Blade 15. The Razer Blade 16 has a slightly larger footprint than the current 15-inch model. Other features that haven't changed are the keyboard, webcam, trackpad, chassis, & ports.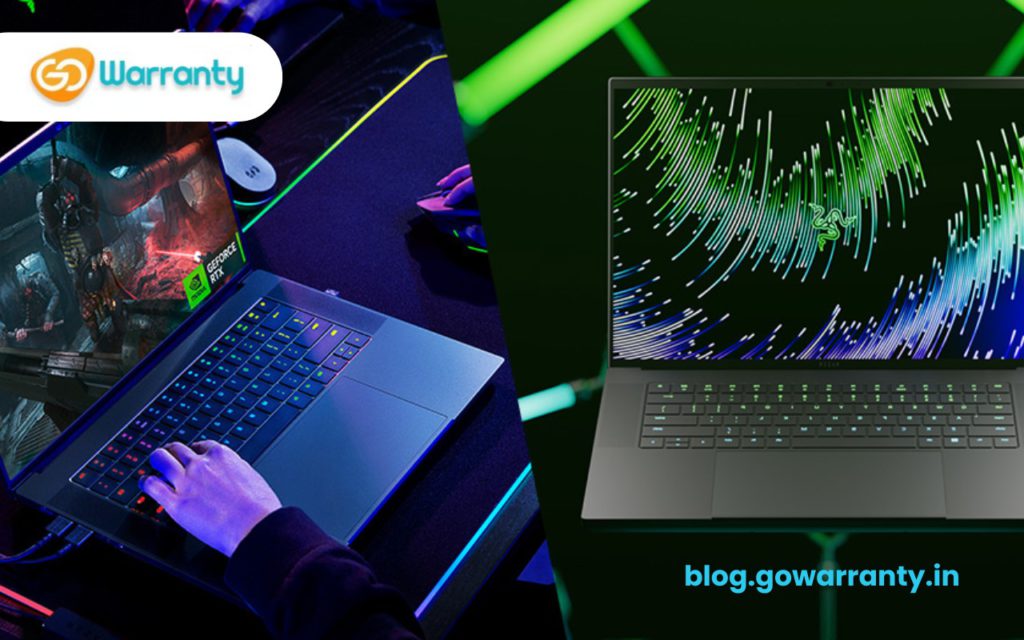 Display
However, one difference is that the screen is not identical. The Razer Blade 16 is distinguished by two features. First and foremost, it has a mini-LED screen, which, like many of the new crop of flagship gaming laptops in 2023, Razer has upgraded to a truly stunning mini-LED panel capable of 1,000 nits of peak HDR brightness. Though it won't be alone in this regard, the Blade 16 should offer some pretty fantastic HDR performance, possibly even better than last year's Blade 15's excellent OLED display.
The screen on the Razer Blade 16 has one more interesting feature. The top-tier mini-LED model will have a dual-screen mode display, which means it will be able to switch between native resolution and refresh rate. When using the laptop for work, you can enjoy the sharp 4K resolution and 120Hz refresh rate, and when switching to gaming, you can drop it to 1200p 240Hz for even smoother animation.
This isn't the first time we've seen a display like this, but it does offer a no-compromise solution. The only catch? The setting to switch between modes is in Razer's Synapse software, but changing it requires a hard reboot. The Razer Blade 18 lacks these distinguishing display features but sells itself on its larger screen.
Features
Aside from that, it has a couple of advantages over its 16-inch sibling. It has an Ethernet jack, which the Blade 16 does not. It also has a 5-megapixel webcam with higher resolution and a more advanced speaker system. It now has eight speakers, including four tweeters and four subwoofers. The speakers are definitely better than the previous models, but they didn't blow me away on first listen.
All of these quality-of-life enhancements, according to Razer, are intended to make the Razer Blade 18 a "desktop replacement." In other words, it doesn't expect you to lug around the 7-pound chassis or stuff it into your work bag every day. It's no Alienware m18, but this is a large laptop, and its success will most likely be determined by its performance. However, with the mini-LED Razer Blade 16 on the table, I know which one I'd prefer to play games on.
Razer Blade 16 vs Razer Blade 15
Design
In terms of design, the Razer 16 sticks to the line's signature black-on-black scheme. The Blade 16 is slightly taller than the Blade 15, thanks to the long-overdue switch to a 16:10 display, but not by as much as you'd expect given the slightly larger display. That's because Razer has finally trimmed down the bottom bezel, giving the device a much more modern appearance.
Display
The Blade 15 has a huge (and confusing) selection of displays, ranging from Full HD IPS at 144Hz to QHD IPS at 240Hz to 4K at a more pedestrian 60Hz. There's even a great 240Hz OLED panel to choose from. The Blade 15 has everything you need. Without the low-end options, the Blade 16 takes a very different approach to the same essential result. You could select the QHD+ IPS display at 240Hz, which is adequate for gaming and productivity.
Performance
Unlike the current Blade 15, which offers a few CPU options, primarily 45-watt H-series 12th-gen CPUs outside of the Base model, the Blade 16 goes all-in on Intel's super-fast Core i9-13950HX. That's a 55-watt, 32-thread, 24-core (eight Performance at 16 Efficient) CPU running at 5.5GHz Turbo. It should be an extremely fast CPU that outperforms the Blade 15 in CPU-intensive tasks.
The Blade 16 then receives an upgrade to Nvidia's most recent GPUs. You can select from the RTX 4060 to the RTX 4090, giving the machine a lot of pricing and power flexibility. The RTX 4090 should make the Blade 16 an extremely fast gaming laptop capable of 4K titles, as well as a significant boost in GPU-dependent performance.