Surround sound speakers are fantastic for increasing game immersion, especially if you don't want to wear a gaming headset. However, positioning speakers around the room can take up a lot of space and may be impossible depending on your setup. The new Razer Leviathan V2 Pro promises to address this issue by delivering the immersive 3D audio of a surround sound system in a single sound bar.
That sounds absurd, doesn't it? Even so, Razer has accomplished this feat by launching the world's first beamforming soundbar with head-tracking AI. The Leviathan V2 Pro can create the illusion that even a surround sound setup is blasting audio at you from multiple sources by detecting the precise location of your head.
The new Razer Leviathan V2 Pro sound bar, which promises an AI-powered head tracking beamforming audio solution for the desktop, was just announced at CES 2023. It all sounds pretty futuristic, but thankfully, I've had the chance to test it out at home over the last few weeks to see if it's the real deal or not.
Overview
The Razer Leviathan V2 Pro is such a clever soundbar that it appears to be working by magic. The ability to generate 3D audio using only a soundbar and subwoofer is impressive, and could come in handy for those who don't want to bother setting up speakers around their desktop PC. It's also surprisingly affordable for a soundbar, subwoofer, and room-filling 3D audio. Do you want a Sonos speaker surround sound system? You'll have to pay significantly more for the privilege.
Before I give this speaker a final verdict, I'll need to test it thoroughly to ensure that the 3D audio sounds just as good at home and that there are no technical issues that could detract from the experience. But, based on what I've seen (or rather, heard), the Razer Leviathan V2 Pro is a fantastic device that promises a cinema-quality audio experience.
Design
Sondbar comes with a subwoofer.
Top-mounted buttons make it simple to change settings.
An infrared camera is used to determine the location of your head.
The Razer Leviathan V2 Pro is a soundbar with a subwoofer included. Normally, you'd need to add more speakers to this setup to get surround sound, but that's not the case here thanks to clever beamforming technology. The soundbar is quite long and bulky, but it should be easy to slide underneath any monitor you own. You should have plenty of desk space even with such a simple setup and the subwoofer on the floor.
The Leviathan V2 sound bar has five buttons on the top. The large one in the centre is for power, and there are buttons for audio profiles, Bluetooth, and a Chroma lighting toggle to cycle through various eye-catching effects. It was incredibly simple and quick to change the settings thanks to these buttons. By pressing a single button, I was able to disable the 3D sound effect. And switching the source from the computer to my smartphone via Bluetooth was a breeze.
A clever light panel at the front indicates which audio profile you've selected or where anything is blocking the sensor. If something blocks the front camera, the soundbar will be unable to deliver 3D audio because it will not know where your head is positioned. As the sensor employs an infrared camera rather than face-tracking technology, it doesn't matter if you're wearing a mask or have the lights turned off.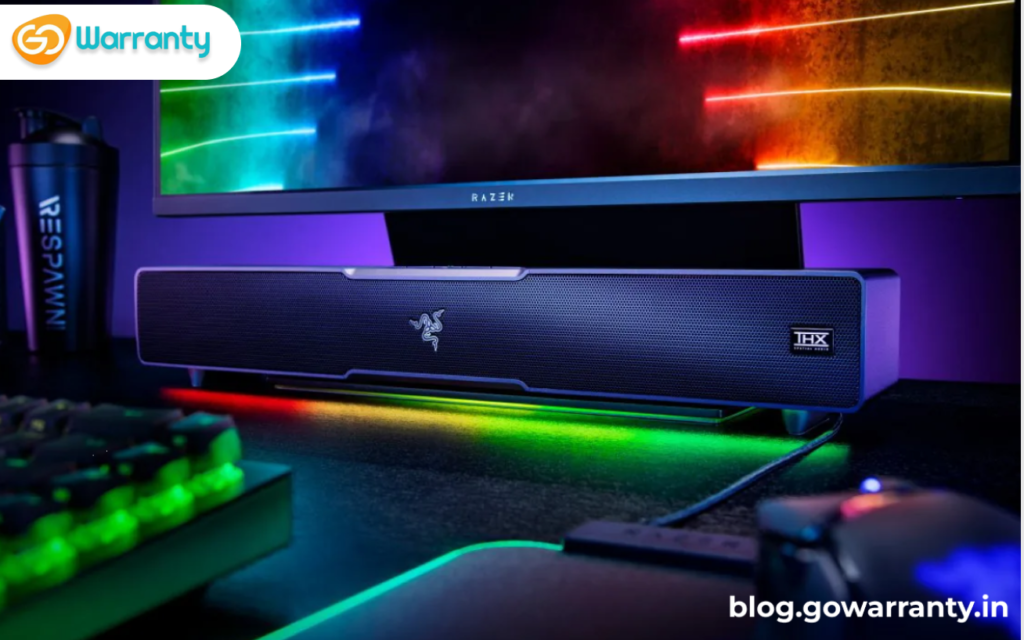 Audio and Performance
Cinema-quality 3D audio without additional speakers
Can work on both films and video games
Works with only one person at a time
The Razer team activated a THX video demo with 3D sound while I was sitting in front of the Razer Leviathan V2 Pro soundbar. The demo featured several impressive effects, including the beating wings of a wasp that sounded as if it were hovering near my right ear. It also demonstrated a robot that sounded like it was walking around me, as well as a few bass-booming explosions behind me. It felt like I was watching a movie in a theatre, but I was in a hotel room with only the soundbar and subwoofer pumping out sound. It was a truly unforgettable experience.
Razer then demonstrated a Cyberpunk 2077 demo. I wasn't able to play this myself, but I did see gameplay footage in which I could hear the boom of gunshots coming from various directions. It was similar to wearing a high-end gaming headset, but with room-filling sound instead.
Stereo Mode
I was able to compare how a standard sound bar would sound by cycling through different sound modes. There's a stereo mode, a headset mode that only uses directional audio from the sides, and the main attraction, room-filling 3D. However, there is one significant disadvantage to using the Razer Leviathan V2 Pro instead of a proper surround sound system: it only works with one person at a time. If you watch a movie with two people, the 3D audio will not work properly; in such cases, you should turn off the 3D sound entirely.
To work properly, you must also be seated fairly close to the soundbar's sensor. This means that the Razer Leviathan V2 Pro isn't ideal for a living room TV, but it could be a valuable asset for a desktop PC.
So far, first impressions have been favourable. I was expecting to be blown away by the price: it's $400. This is $150 more expensive than the Razer Leviathan V2. I want to do more testing with this sound bar before making any conclusions. The Leviathan V2 Pro will be available for purchase on January 31, so I have plenty of time to decide.