In September 2021, the company released its first APSC digital rangefinder. The PIXII Digital Rangefinder Camera Review does not have an LCD screen or an SD card slot; it is intended for the next generation. "Bridging the gap between authentic photography and the digital world," their website says. Leica recently announced the release of their new flagship camera, the Leica M11, in January 2022. However, given the price, this is probably not for everyone. Please keep reading if you want to start with a rangefinder and are looking for a less expensive rangefinder camera to play with.
I believe the last digital rangefinder M mount camera produced by a third party (other than Leica) was the Epson RD1x, which is still on my wishlist. I understand that there are many cameras that can use EVF or Liveview to focus, such as the Sigma FP, Sony A7IV, and so on. But I love how simple the rangefinder coupling mechanism is because shooting at eye level through the frame lines in the viewfinder suits my photography style. Simply compose and click to look through the framelines. I am more of a traditionalist, but I do notice that images taken through an EVF or LCD Live View look different to me.
Design and Build
This PIXII Camera design is minimal, futuristic, and provides both digital and analogue experiences. This camera has no LCD screen and only one OLED screen on top that displays the shutter speed, file type, and mode you are using. The most appealing aspect of this camera is most likely its space grey aluminium body. It matches my MacBook Pro perfectly and won't leave any fingerprints on it. The camera feels like a Leica M5 in size and weight (460g including the battery), but the ergonomy is different and it lacks grip.
An extra thumb rest would be ideal. To view your images and perform camera firmware updates, you must connect your phone via their app from the app store or the Google Play store. Overall, the connectivity experience is faster than with my Leica M10 and the Leica App.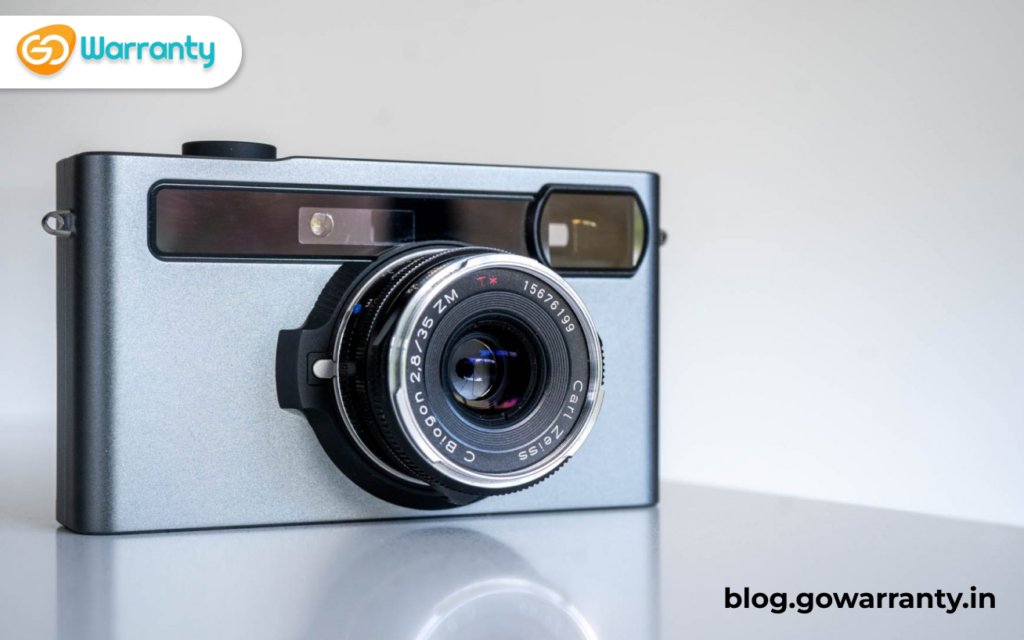 Specifications
Sensor
It has a 26MP BSI-CMOS sensor, which means it has a back-illuminated sensor, which increases the amount of light captured and improves low-light performance. The sensor size is an APS-C optical format (1.5 ratio to 35mm), so using a 35mm focal length lens will result in 35mm x 1.5 factor = 52.5mm. I thought I was shooting with a Leica M9 because the images were so vibrant and 3D-like. Except for the size, it doesn't feel like an APSC camera.
Shutter
It only had an electronic shutter with speeds ranging from 2s to 1/32000 (ideal for fast lens enthusiasts who want to shoot wide open during the day!!). The trade-off is banding or the "rolling shutter effect", which occurs as the electronic shutter rolls down the sensor from top to bottom. As a user, you may want to consider whether you want to capture mostly still images or actions. The shutter button is shaped in a flat piece; I wish they could have made it pop out so that pressing the shutter was easier.
Light Meter
It has an accurate internal metre, and they added a lightmeter to its body to help users pre-determine readings before capturing an image, which I like and is similar to what I did with my Leica M2 with an external Voigtlander VC II metre on top.
Storage and Buffer
It has 8GB to 128GB of storage space, which is more than enough for my photography style. The buffer is insufficient for continuous shooting. I can take up to 3-4 images, but if you take more than that, the camera will not let you. So this was something that bothered me as I attempted to capture a few more images.
Controls
I installed the most recent firmware on the camera. The top OLED screen is very fashionable and reminds me of the Fujifilm GFX100S. Overall, the menu and settings are straightforward. Connectivity is simple on both the phone and the laptop. It just took me a while to figure out how to use it. The camera body has two buttons on the back. On the right, there is a scrolling dial, a menu selection button, and a USB-C port.
Colour Performance
First and foremost, I am a huge fan of the colour of the Leica M9, so I spent months trying to replicate it on my M10-P, and each time it just feels different. When I first connected PIXII Camera to my laptop and transferred the photos I took with it, the colour from this APSC camera was quite impressive. I thought I was using a Leica M9 camera, and it hooked me on trying to figure out when and how it performs best. In terms of colour profile, it has a general blue tint, a slightly pinkish skin tone, and an overall image seasoned with heavy magenta.
Battery and ISO Performance
The PIXII Camera main advantage is that it can be charged using either a proper charger or a USB type C cable; the only drawback is the cable cover. The battery will last for a day, but bring a spare battery with you.
I'm not going to go into technical details or make comparisons between ISO speeds and cameras because I'm more of a practical guy. So, one night, I went out with Faith and set the camera's ISO speed to 6400; obviously, the grain wasn't as pleasant as it was on the Leica M10-P, but the grain structure is just fine and I think it is acceptable at 6400; however, the amount of details preserved in low light situations is impressive.
Verdict
Overall, I think the camera is enjoyable to shoot because it lacks a screen, unlike a Leica M10-D or Leica M2, where I only need to focus on what I see as well as keep the camera settings correct. So it kind of fits my photography style in that I don't check the images very often, preferring to enjoy the process of making images. The only thing I have trouble with is the focusing, which is difficult to tell whether it is in focus or not.